TEMPE, Ariz. (January 24, 2023) – The Sundt Foundation, the charitable giving arm of Arizona-based general contractor Sundt Construction, presented a check to St. Mary's Food Bank for $70,440 last week. The donation came as the result of the company's annual holiday fundraising drive. The Sundt Foundation distributes approximately $1 million per year to nonprofit organizations in the communities where Sundt's employee-owners live and work.
"We are proud to share that our employee-owners donated an unprecedented $35,220 for St. Mary's Food Bank during our recent holiday giving campaign. With the company's dollar-for-dollar match, this amounts to $70,440 to feed families in need throughout our community," said Sundt President & CEO Mike Hoover.
The Sundt Foundation has been supporting St. Mary's Food Bank through the annual fundraising drive, quarterly grant awards, and volunteer events for more than 15 years, giving over $238,000 throughout that time.
St. Mary's Food Bank is Arizona's largest food bank, providing food to families throughout Phoenix and nine Arizona counties.
"The generosity from the Sundt team has been truly incredible. Your drive will help feed 7,044 families for a week. We cannot thank everyone enough for helping feed so many people," said John Drake, Corporate Giving Officer for St. Mary's Food Bank.
The Sundt Foundation is funded by employee-owner contributions that are then matched by the company. In addition to providing quarterly grants in 11 giving areas, the Sundt Foundation responds to community needs via special campaigns, disaster relief grants, and volunteer events. Sundt is consistently ranked one of the Valley's most philanthropic companies by the Phoenix Business Journal.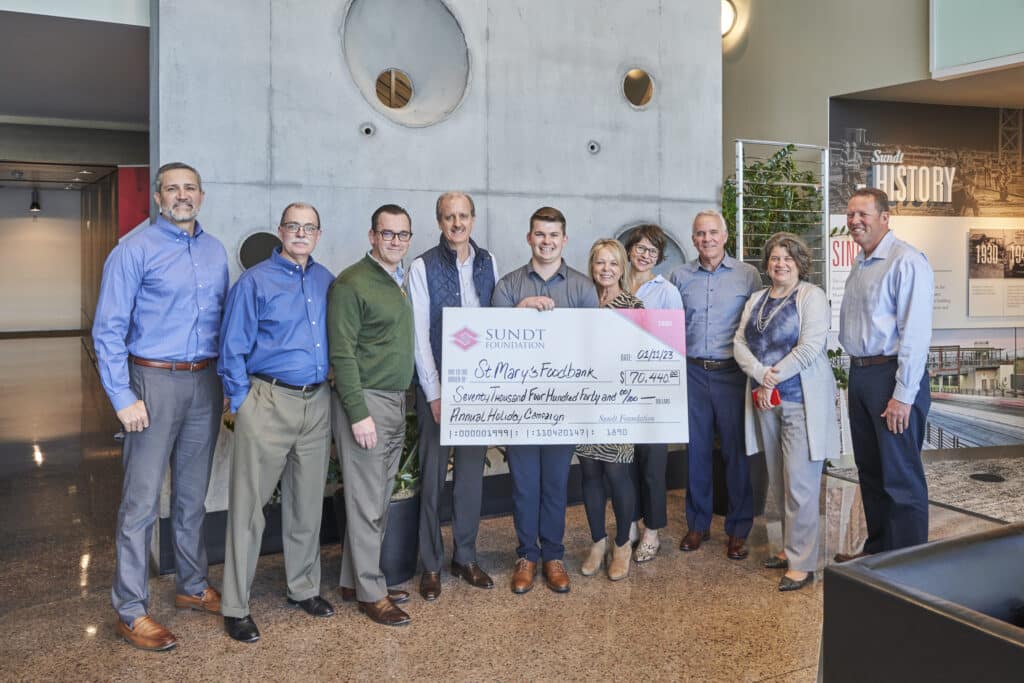 About the Sundt Foundation
Sundt's purpose is to build environments where its clients, employee-owners and communities prosper. The Sundt Foundation was established in 1999 as a way for employee-owners to give back to the communities in which they live and work. The organization is funded primarily by contributions from Sundt employees, which are matched by the company. To date, the Foundation has awarded more than $12 million in donations. Nonprofit organizations interested in applying for a grant may call (480) 293-3000 or visit www.sundtfoundation.org for more information.
About Sundt
Sundt Construction, Inc. (www.sundt.com) is one of the country's largest and most respected general contractors. The 133-year-old firm specializes in transportation, industrial, building, concrete and renewable power work and is owned entirely by its approximately 2,000-plus employees. Sundt is distinguished by its diverse capabilities and experience, unique employee-ownership culture and depth of self-perform expertise in nine major trades. Much of Sundt's workforce is comprised of skilled craft professionals who, together with the company's administrative employees, enable Sundt to fulfill its mission to be the most skilled builder in America. Sundt has 12 offices throughout California, Arizona, North Carolina, Texas and Utah and is currently ranked the country's 61st largest construction company by ENR, the industry's principal trade magazine.