SALT LAKE CITY (November 21, 2022) – Sundt Construction recently hired Jerri Lashlee as a new recruiter for the Northwest and Intermountain regions. She will focus specifically on recruiting and hiring skilled tradespeople for Sundt's projects across the two geographic areas.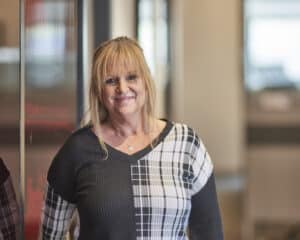 "I am excited to welcome Jerri to our team here at Sundt," said Lou Mantrom, Sundt's manager of craft talent acquisition. "She has a very impressive history and I am looking forward to seeing how she will help us grow our craft recruiting programs."
Lashlee joins Sundt with over 20 years of corporate and craft recruiting experience. She previously worked with several engineering and construction firms with an emphasis in recruiting for chemical, mining, refinery and pipeline projects.
Sundt employs a large skilled trades workforce, including one of the largest concrete trade forces in the industry. Its experienced tradespeople are offered hands-on, NCCER-certified training and assessment in core trades led by veteran instructors.
About Sundt 
Sundt Construction, Inc. (www.sundt.com) is one of the country's largest and most respected general contractors. The 132-year-old firm specializes in transportation, industrial, building, concrete and renewable energy work and is owned entirely by its approximately 2,000-plus employees. Sundt is distinguished by its diverse capabilities and experience, unique employee-ownership culture and depth of self-perform expertise in nine major trades. Much of Sundt's workforce is comprised of skilled craft professionals who, together with the company's administrative employees, enable Sundt to fulfill its mission to be the most skilled builder in America. Sundt has 12 offices throughout Arizona, California, North Carolina, Texas, Utah and Washington and is currently ranked the country's 61st largest construction company by ENR, the industry's principal trade magazine.
### 
Media Contact:
Stefanie Teller
Sundt Construction, Inc.
520.750.4611 (office)
sbteller@sundt.com