PORTLAND, Ore. (November 18, 2022) – Sundt Construction's Industrial Group recently hired Paul Laufer as a new project executive in Oregon.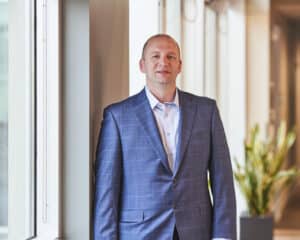 "We are very happy to welcome Paul to Sundt," said Sam Reidy, vice president and regional manager for Sundt's Industrial Group.  "He has an impressive history in construction, and we are excited to see him grow in this new role."
Laufer joins Sundt with 17 years of construction experience much of which has been focused on water and wastewater treatment plants. Having worked in the Pacific Northwest for the past six years, he brings a local presence that will help grow Sundt's regional industrial business.
Laufer will oversee the company's Willamette Water Supply construction project, a $405 million water treatment plant in Sherwood, Ore. He received a bachelor's degree in construction engineering management from Oregon State University.
Sundt's Industrial Group is nationally ranked in water/wastewater treatment plants and sewerage and solid waste construction and is a leading semiconductor and manufacturing construction expert.
About Sundt
Sundt Construction, Inc. (www.sundt.com) is one of the country's largest and most respected general contractors. The 132-year-old firm specializes in transportation, industrial, building, concrete and renewable energy work and is owned entirely by its approximately 2,000 employees. Sundt is distinguished by its diverse capabilities and experience, unique employee-ownership culture and depth of self-perform expertise in nine major trades. Much of Sundt's workforce is comprised of skilled craft professionals who, together with the company's administrative employees, enable Sundt to fulfill its mission to be the most skilled builder in America. Sundt has 12 offices throughout Arizona, California, North Carolina, Portland metro, Texas and Utah and is currently ranked the country's 61st largest construction company by ENR, the industry's principal trade magazine.
###
Media Contact:
Stefanie Teller
Sundt Construction, Inc.
520.750.4611 (office)
media@sundt.com