EL PASO, Texas (November 17, 2022) – Sundt Construction has promoted Joseph Riccillo to vice president and regional director for its El Paso Building Group. Riccillo has been with Sundt for nine years and previously served as project director and El Paso office leader until his recent promotion.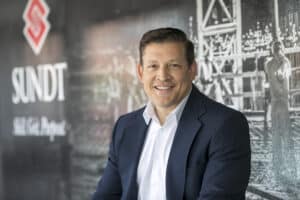 "We are very happy to announce Joe's promotion," said Chad Buck, senior vice president and manager of Sundt's Southwest District Building Group. "Joe has successfully led our efforts to establish a brand and presence in the El Paso community and developed a team capable of tackling the most complex projects in that market. I am excited to see what our team can achieve in El Paso moving forward under Joe's leadership."
Riccillo has over 24 years of construction industry experience. Prior to joining Sundt he served as vice president of field operations for another local El Paso contractor.
In his time with Sundt, Riccillo has amassed over $500 million in project experience. Most notably he has served as project director on the construction of the El Paso Regional Communications Center, the City of El Paso's Eastside Regional Park, Texas Tech University Health Sciences Center Medical Sciences Building II and multiple projects for the Housing Authority of the City of El Paso.
Riccillo graduated from the University of Texas at El Paso where he received a bachelor's degree in electrical engineering and a master's degree in business administration. He is a member of the United States Green Building Council, an accredited Project Management Professional (PMP) a designated design-build professional (DBIA) and a LEED accredited professional (LEED AP).
During the past ten years, Sundt has completed over 1.5 billion dollars' worth of construction in the El Paso region. The company recently revitalized the historic Blue Flame building in downtown El Paso and the Texas Department of Transportation's I-10 Connect project. The company has offices in El Paso, Dallas and San Antonio and over $3 billion of past work throughout Texas.
About Sundt 
Sundt Construction, Inc. (www.sundt.com) is one of the country's largest and most respected general contractors. The 132-year-old firm specializes in transportation, industrial, building, concrete and renewable energy work and is owned entirely by its approximately 2,000-plus employees. Sundt is distinguished by its diverse capabilities and experience, unique employee-ownership culture and depth of self-perform expertise in nine major trades. Much of Sundt's workforce is comprised of skilled craft professionals who, together with the company's administrative employees, enable Sundt to fulfill its mission to be the most skilled builder in America. Sundt has 12 offices throughout Arizona, California, North Carolina, Oregon, Texas and Utah and is currently ranked the country's 61st largest construction company by ENR, the industry's principal trade magazine.
### 
Media Contact:
Stefanie Teller
Sundt Construction, Inc.
520.750.4611 (office)
media@sundt.com