SAN DIEGO (November 9, 2022) – Sundt Construction recently added Jackie Guilfucci to its California District. She replaces DeAnna Andrews, a 20-year industry veteran who is retiring. Guilfucci will develop and implement small business and diverse subcontracting programs across California.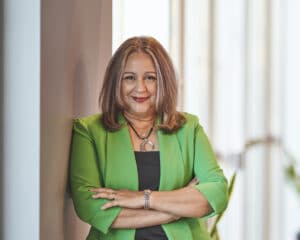 "Jackie will be a great asset for our California District," said Ryan Nessen, senior vice president and California district manager for Sundt's Building Group. "As we take this time to celebrate DeAnna's many contributions to our company, I know that Jackie will do an excellent job and help the California District continue to engage with the communities we work in."
Guilfucci has worked for several contractors in the construction industry for over 20 years. She has held several positions and served as a small business compliance officer and a senior project and outreach administrator for several years.
Guilfucci holds a bachelor's degree in construction management from Florida Atlantic University and a master contract compliance degree from Morgan State University.
Andrews is retiring after a successful career at Sundt. During her time with the company, she increased small and diverse subcontractors' overall participation in the firm's projects across Southern California.
About Sundt 
Sundt Construction, Inc. (www.sundt.com) is one of the country's largest and most respected general contractors. The 132-year-old firm specializes in transportation, industrial, building, concrete and renewable energy work and is owned entirely by its approximately 2000 employees. Sundt is distinguished by its diverse capabilities and experience, unique employee-ownership culture and depth of self-perform expertise in nine major trades. Much of Sundt's workforce is comprised of skilled craft professionals who, together with the company's administrative employees, enable Sundt to fulfill its mission to be the most skilled builder in America. Sundt has 12 offices throughout Arizona, California, North Carolina, Portland metro, Texas and Utah and is currently ranked the country's 61st largest construction company by ENR, the industry's principal trade magazine.
### 
Media Contact:
Stefanie Teller
Sundt Construction, Inc.
520.750.4611 (office)
media@sundt.com