SAN DIEGO (November 3, 2022) – Sundt Construction recently promoted Regina VanderWerff to District Business Development Manager for its Building Group's California District.
"Regina has been an instrumental part of our team ever since she joined Sundt," said Ryan Nessen, Sundt's Senior Vice President and California District Manager for the Building Group. "We are all excited to see what she will accomplish in this new role."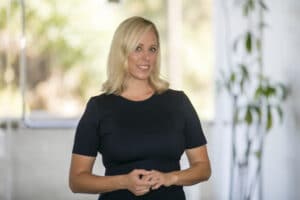 VanderWerff will be responsible for developing and maintaining client relationships as well as assisting the California District account managers in pursuing construction opportunities across the state. She will be working out of Sundt's Southern California offices (San Diego and Irvine) and will support the entire state in her new role.
VanderWerff has over a decade of business development experience in the architecture/engineering/construction industry, with special expertise in the hospitality, workplace/office, senior housing, science and technology, aviation, and higher education and K-12 education sectors.
She is a member of the National Association of Industrial and Office Properties, Construction Manager Association of America, serves on the Design-Build Institute of America's Los Angeles/Orange County program committee and recently joined the Downtown San Diego Partnership board of directors. In addition, VanderWerff is a member of the Sundt Foundation, Sundt's charitable giving arm, and a frequent volunteer and supporter of various community causes.
Sundt has over 70 years of diverse project experience throughout California and a presence across the state with offices in San Diego, Irvine and Sacramento. The company has a history of performing award-winning aviation work and recently celebrated the topping out of San Diego Airport's new administration building. In the Bay Area, Sundt is offering water expertise on one of the largest in wastewater treatment projects for the City of San Mateo, as well as building the San Francisco Public Utilities Commission's new Southeast Water Pollution Control plant's new headworks facility. Additionally, Sundt has partnered with K-12 schools and Universities across California to build new, innovative facilities, and modernize existing structures.
About Sundt
Sundt Construction, Inc. (www.sundt.com) is one of the country's largest and most respected general contractors. The 132-year-old firm specializes in transportation, industrial, building, concrete and renewable energy work and is owned entirely by its approximately 2,000 employees. Sundt is distinguished by its diverse capabilities and experience, unique employee-ownership culture and depth of self-perform expertise in nine major trades. Much of Sundt's workforce is comprised of skilled craft professionals who, together with the company's administrative employees, enable Sundt to fulfill its mission to be the most skilled builder in America. Sundt has 12 offices throughout Arizona, California, North Carolina, Portland metro, Texas and Utah and is currently ranked the country's 61st largest construction company by ENR, the industry's principal trade magazine.
###