PHOENIX (August 4, 2022) – Brad Tackett recently returned to Sundt Construction as the business development manager for its Industrial Group. In his new role, he will provide leadership, guidance and supervision to the Group's business development team.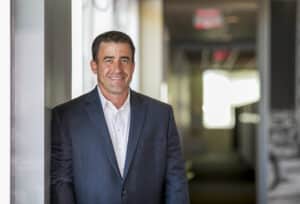 "We are happy to welcome Brad back to Sundt," said Clint Sundt, Sundt's vice president of its Industrial Group.  "We are excited to work with him again and look forward to seeing him succeed in his new role."
Tackett returns to Sundt after working for an engineering firm on integrated project delivery. Previously, he spent nearly five years at Sundt as a project manager for the Industrial Group. Tackett worked on numerous water and wastewater treatment facilities as well as semiconductor facility projects. Before first joining Sundt in 2016, he worked as a project engineer, senior project manager and office director.
Tackett received a bachelor's degree in civil engineering from the University of Toledo and earned his master's in civil and environmental engineering from Arizona State University. He is a Design-Build Certified Professional, an Envision Sustainability Professional and holds his professional civil engineer license in Arizona and Nevada.
Sundt's Industrial Group is nationally ranked in water and wastewater treatment plant and sewerage and solid waste construction and is a leading semiconductor and manufacturing contractor.
About Sundt  
Sundt Construction, Inc. (www.sundt.com) is one of the country's largest and most respected general contractors. The 132-year-old firm specializes in transportation, industrial, building, concrete and renewable energy work and is owned entirely by its approximately 1,500-plus employees. Sundt is distinguished by its diverse capabilities and experience, unique employee-ownership culture and depth of self-perform expertise in nine major trades. Much of Sundt's workforce is comprised of skilled craft professionals who, together with the company's administrative employees, enable Sundt to fulfill its mission to be the most skilled builder in America. Sundt has 12 offices throughout Arizona, California, North Carolina, Oregon, Texas and Utah and is currently ranked the country's 61st largest construction company by ENR, the industry's principal trade magazine.
### 
Media Contact:
Kimberley Hoidal
Sundt Construction, Inc.
480.293.3001 (office)
520.282.3018 (mobile)
kahoidal@sundt.com