HUMBOLT, Calif. (July 29, 2022) – As a leading student housing builder in California, Sundt Construction was recently selected by California State Polytechnic University, Humboldt, to build its new Craftsman Student Housing project, located along St. Louis Road just north of the campus.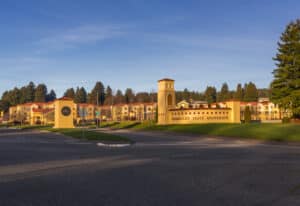 Cal Poly Humboldt is preparing to conduct an environmental impact report and anticipates breaking ground in January 2023. The $150 million, 1,050-bed housing complex will provide apartment-style student residence units.
"We are excited to partner with Sundt on this historic and unique housing project for Cal Poly Humboldt," says Sherie Cornish Gordon, Vice President of Administration & Finance. "Our work with Sundt on this project has enabled Humboldt to evolve our vision and accelerate our ability to increase housing and other important amenities for our students. This will be the first hallmark project of our polytechnic transformation."
This will be Sundt's seventh California State University project delivered under a design-build contract. Sundt is teamed with SCB Architects, DCI Engineers, Guttman & Blaevoet and BKF on the project.
"This is an exciting time for the university," said Sean Falvey, Sundt's project executive. "We are thrilled to be a part of the beginning of their transformation."
Sundt has over 70 years of diverse project work throughout California. A higher education building leader in California, Sundt has redefined student living across the various campuses in the state. Sundt recently completed the Hornet Commons complex near the Sacramento State campus and is nearing completion on the $108 million student housing complex for California State University Fullerton. The company has offices in Sacramento, Irvine and San Diego.
About Sundt 
Sundt Construction, Inc. (www.sundt.com) is one of the country's largest and most respected general contractors. The 132-year-old firm specializes in transportation, industrial, building, concrete and renewable energy work and is owned entirely by its approximately 1,500-plus employees. Sundt is distinguished by its diverse capabilities and experience, unique employee-ownership culture and depth of self-perform expertise in nine major trades. Much of Sundt's workforce is comprised of skilled craft professionals who, together with the company's administrative employees, enable Sundt to fulfill its mission to be the most skilled builder in America. Sundt has 12 offices throughout Arizona, California, North Carolina, Oregon, Texas and Utah and is currently ranked the country's 61st largest construction company by ENR, the industry's principal trade magazine.
### 
Media Contact:
Kimberley Hoidal
Sundt Construction, Inc.
480.293.3001 (office)
520.282.3018 (mobile)
kahoidal@sundt.com