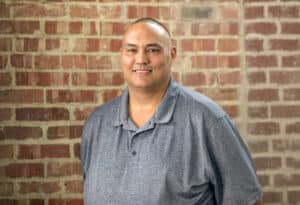 Born and raised in El Paso, Brian Smith feels fortunate to be able to work in his home city. After graduating college, he worked throughout central Texas. He was placed on a project back in El Paso and never ended up leaving. "I just never left. I can stay close to my family, my wife is close to hers, and it made everything much easier on us." He joined Sundt in 2015 and is the construction manager for the Interstate-10 (I-10) Widening project.
What is the biggest difference in El Paso from when you were growing up?
The biggest thing I have noticed is the sheer amount of people. There has been so much growth in almost every part of the city. El Paso has always been slow to get the big chain restaurants and places you might see in large cities such as Dallas or Phoenix, but those businesses are finally settling in our city. Everyone who has never been to El Paso always has the misconception that it is just this tiny, dusty border town. When in reality, El Paso has constantly been growing.
El Paso is a unique city, in my opinion. Everyone knows everyone here, and you can develop relationships with most people you meet. The people here are really what drive the small-town feel; it is such a close-knit community–the same shows in our workforce here at Sundt. Throughout the time that I have been at Sundt, we all have gotten to know each other on more than just a work level.
What is the most rewarding aspect of your work?
I have been involved in quite a few large-scale jobs throughout my career in construction. The most rewarding part of my work is that all the transportation projects serve their purpose and stand the test of time. Sundt is known for the quality of what we do and are held to that higher standard of work.
How has Sundt helped advance the growth of El Paso?
Sundt has been a part of some of the most significant transportation projects in the city. At the time, the Go-10 collector distributor lanes project was the largest project that the Texas Department of Transportation's El Paso district had through conventional design-bid-build contracts. I-10 Connect was another substantial project that helped connect El Paso to the border. These massive transportation projects, alongside our current I-10 widening project, help with the mobility to and throughout the city. If more people can at least drive through our city, more people will realize what they have been missing when it comes to El Paso.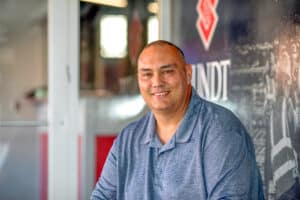 What makes working at Sundt different?
I have enjoyed my time with Sundt. Everyone here tries to help each other out, which was not always the case at other companies. The main drivers for this are the community around us and the employee stock ownership program (ESOP).  As employee-owners, we're motivated to build high quality, successful projects, and those projects allow us to build a better El Paso.
Do you have any recommendations on where to eat and what to visit in El Paso?
There are two restaurants that I recommend to any visitor that comes to El Paso, Kiki's Mexican Restaurant and Chicos Tacos. Kiki's is a very small restaurant with limited capacity, but in my opinion, it has some of the best Mexican food in the region. My favorite dish from Chicos Tacos is the "drowning flauta," a deep-fried rolled corn tortilla. It is served in a bowl with tomato sauce and topped with cheese. Both of these restaurants are a must and represent El Paso well.
Aside from the great food, there are many biking and hiking trails throughout the city's mountains. Carlsbad National Park and Lincoln National Forest are short one-to-two-hour drives from El Paso and offer excellent camping, trails and views. El Paso also has a series of mission trails where you can visit the churches constructed hundreds of years ago by the different groups who established the El Paso area.