For many college students in California, rising rents are making higher education unlivable. Shortages of affordable housing and inflated costs of living are forcing more students to live in hotels, campers, or cars as they earn their degree. The most direct response available is for campuses to add more units, specifically affordable ones, as fast as possible. This is the plan behind the state's recently passed student housing grant bill, SB 169.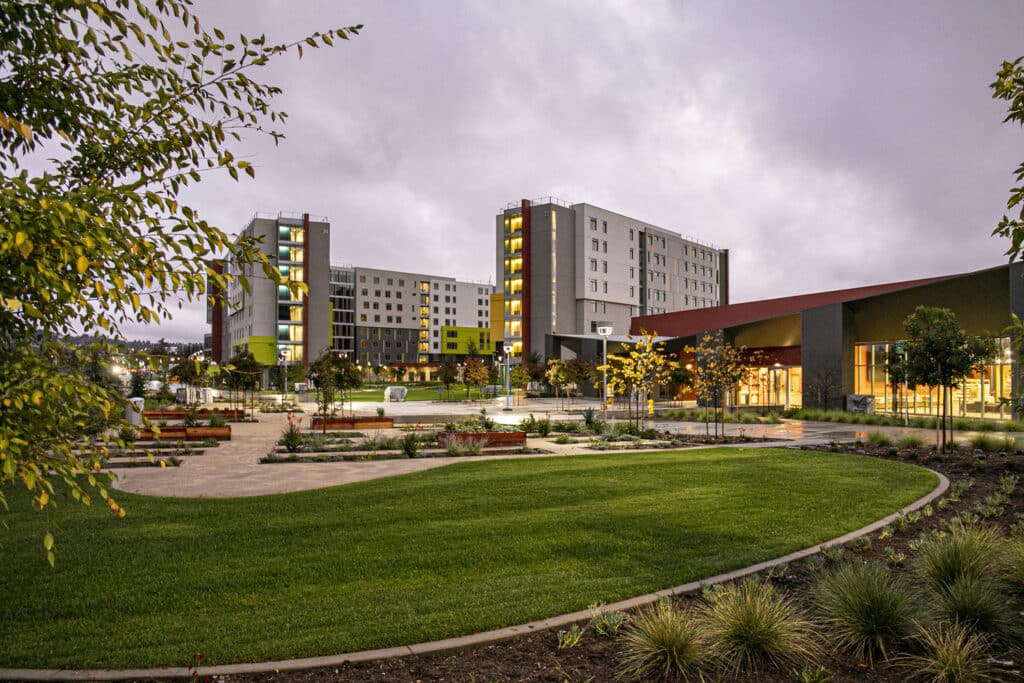 While the legislation is a big win in terms of funding, colleges and universities are still aware of the challenges that lie ahead in actually constructing the housing their students need. Escalated material and labor costs, tight footprints and regulatory constraints, and expedited schedules within full, active campuses are all obstacles that builders will need to meet head-on.
According to Sundt's student housing market leaders, these are issues that a builder should tackle alongside their client. Speaking from experience, the most successful contractors in this space are those who do the following.
1. Keep a Pulse on the Market
Navigating shifting costs and availability is everything in today's construction market. Between skilled craft shortages, wage wars, rising inflation and supply chain delays, a contractor's relationships with trade partners and knowledge of market conditions can make or break a project before it even breaks ground.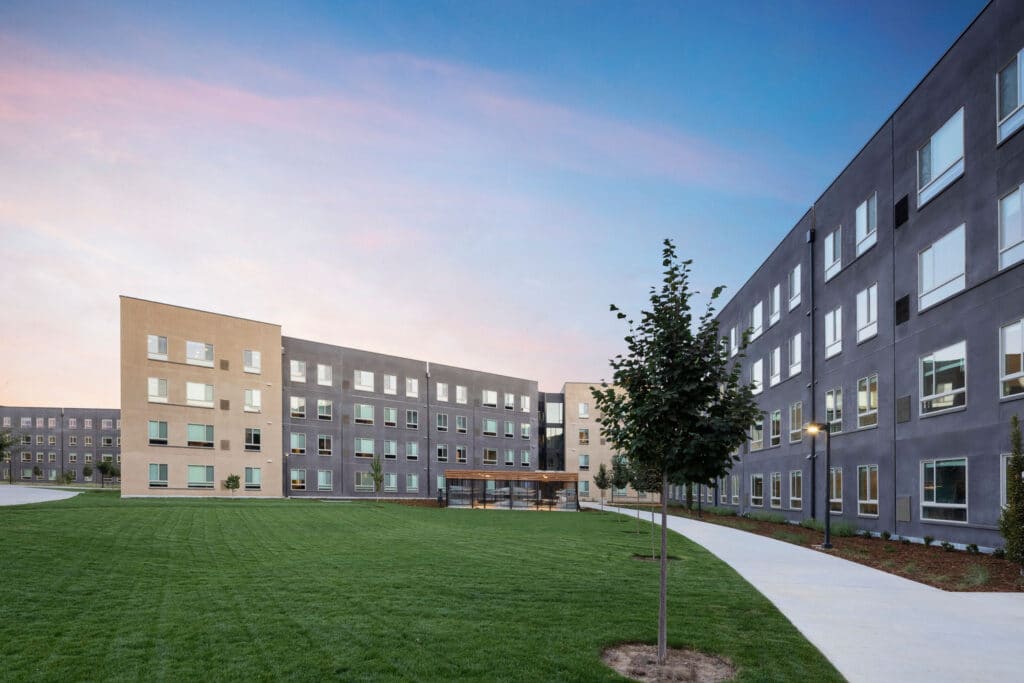 Sundt not only has deep relationships with local trade partners, but we treat them as extensions of our project team. "Bringing our trade experts in during design helps us to create more constructible and predictable outcomes," said Project Executive Sean Falvey, who oversaw the recent completion of Hornet Commons, a new $168 million student housing complex on the campus of California State University, Sacramento (CSUS).
"As experienced student housing builders, we know the market, and we can provide accurate schematic estimates early on," added Sean. "From there, as we work collaboratively with the owner and designer, we can drive down costs and keep the project within range."
2. Provide Fast, Accurate Budgets
Having access to lots of data is one thing; turning it into information that clients can understand and act upon is another entirely. Using our in-house Cost Modeling Tool, Sundt project team members can sit down with an owner and generate a cost model for their proposed project—adjusted for location, market conditions, and building type and materials—in a matter of minutes. As the project moves through design, we use parametric or model-based estimating to build fast and accurate budgets.
According to Sean, who is now heading up a progressive design-build housing project for CSU Humboldt, it's about setting expectations and empowering the client and project team to make informed decisions. "On Humboldt, which is more remote than other CSU campuses we've worked on, our Preconstruction Manager Dylan Rogers helped us to benchmark costs and set realistic goals. As a design-build team, we can now effectively design to the budget, and it gives us flexibility—as the project develops and the market changes—to adjust and stay on course."
3. Focus on Quality and Long-term Maintainability
Nailing down quality early is that much more important on a student housing project because, simply put, changes can become exponential. "If an outlet is not in the ideal location, or some other element needs to be changed in a few rooms, you might think, 'Oh, that's just a few thousand dollars; it's minor.' But if that same scenario is multiplied over 200 rooms? That adds up quickly," said Sean. "This is why we designate so much manpower from our project team to quality."
Having the right quality control people and tools in place, before and during construction, allows us to address issues before they evolve into major problems. For our current CSU Fullerton Student Housing Expansion project, one of our biggest quality control measures was to lean on the self-perform skill of Sundt's Concrete Division. According to Preconstruction Project Manager Mary Homan, this trade "sets the tone" for all others across the site.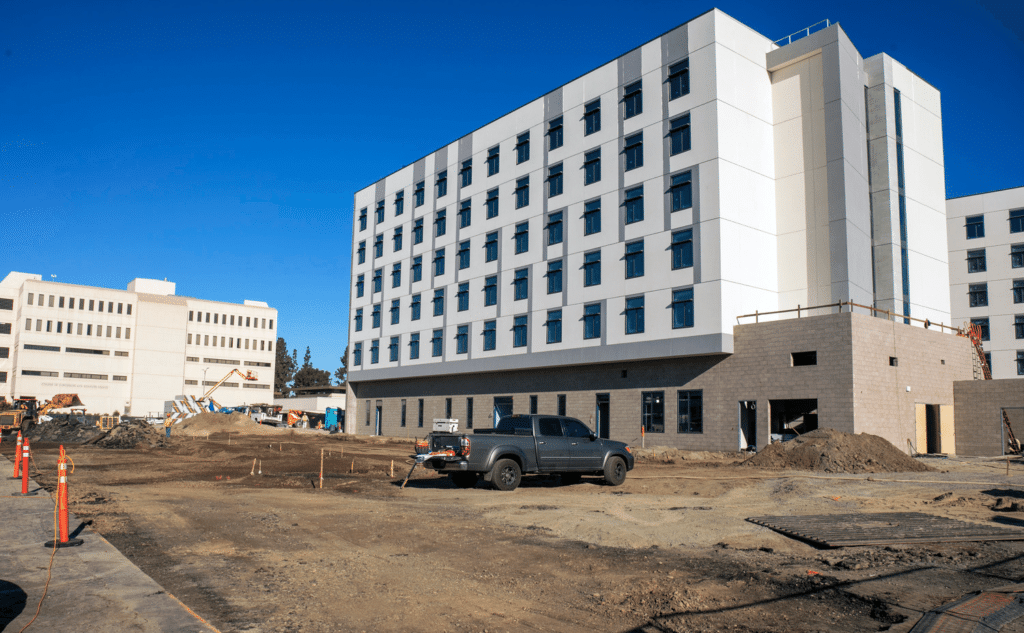 "Sundt Concrete was involved as a design-assist partner, working closely with our structural engineer to ensure the design was the most efficient to build. This paid off later during construction," said Mary. "If we needed to shift something by inches, or even feet, or squeeze something here or there, they were in every meeting giving input on structural design. This helped us to maintain not only quality, but schedule and cost. When construction began, all of that translated to the field where they set the tone for other trades and drove the schedule. This was the case here at Fullerton, but also on our work at Cal Poly Pomona and San Diego State."
Another QC measure we employ is building mockups or "first-in-place" units, where everything is finished ahead of time. "It's an additional cost up front, but it pays dividends in several ways," said Mary. "We're able to see up close how the room feels, making sure everything is working together as it's supposed to—furniture, access panels, whatever it may be—so that each unit is functional and easily maintainable. It also gives the owner a finished unit to showcase to potential students who are considering attending. Seeing a new room in person goes a long way."
4. Serve as Trusted Partners who Lead by Listening
Effective builders have longstanding relationships with key project stakeholders, including Authorities Having Jurisdiction (AHJs) such as the state fire marshal and division of the state architect. Building these takes time.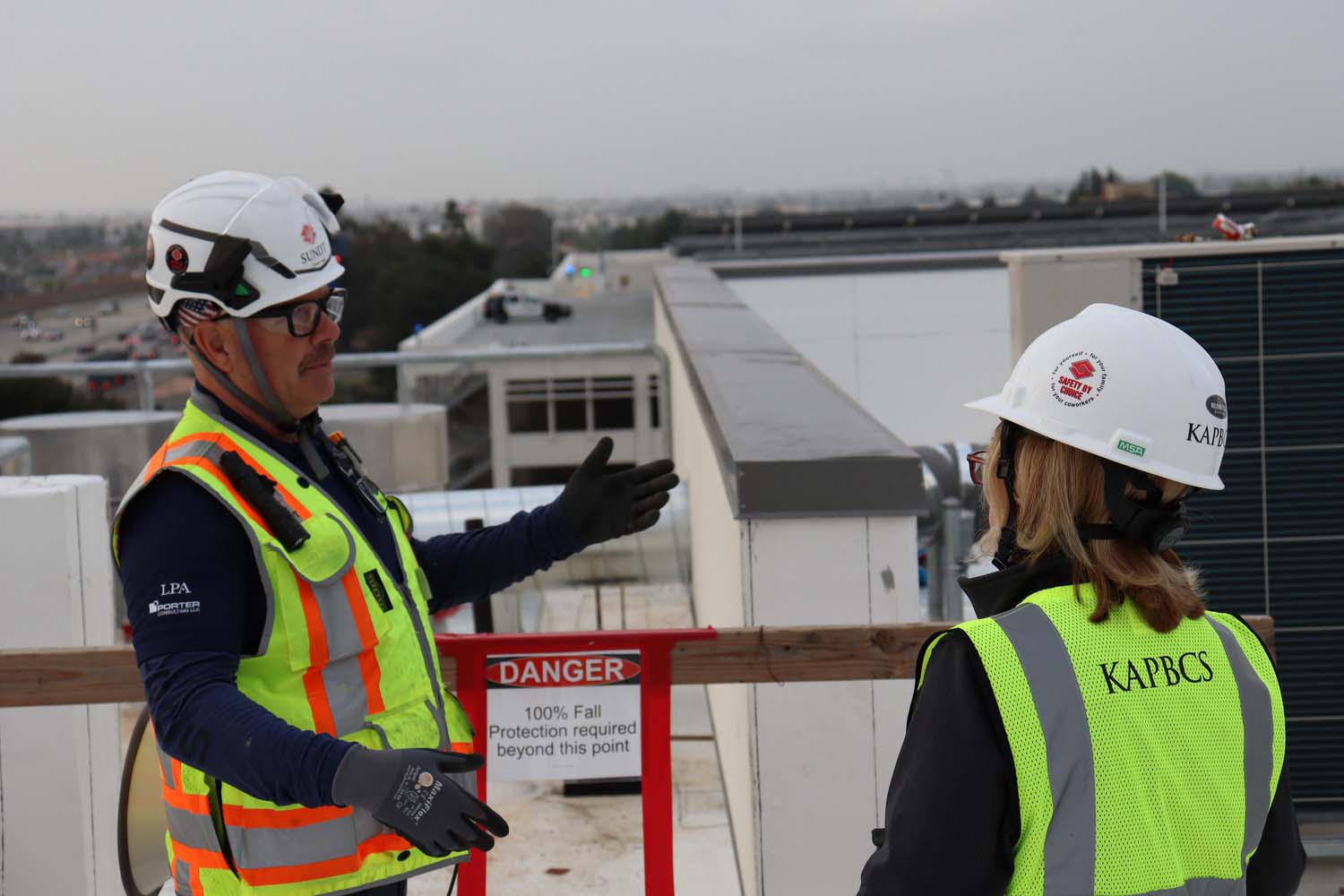 "The CSU system was actually creating their own fire safety department as we were in the middle of permitting for the Cal Poly Pomona project in 2018, so we formed a really good relationship with that department," said Mary. "On our current CSU Fullerton project, we received our first permit from the State Fire Marshal with no back-check required. And on our second permit, we had minimal comments—and we had the permit back within two weeks of receiving comments. Looking back a decade ago to the SDSU South Campus Plaza project, you can see how we've improved at this process."
For preconstruction veterans like Mary, it's second nature to begin with the end in mind. Sometimes items will be approved in design but flagged later during inspections. At Fullerton, this happened with low-lying exit signs. "I requested a cost for low level exit signs from our design-build electrical contractor and carried this as an allowance. This was during design in 2020, when it wasn't required," said Mary. "So, when we were told this spring that we actually did need them, we could add them without a change order and avoid using the owner's contingency. This is another reason we've been able to give the owner back over a million dollars of their contingency before project completion, and we plan to give back even more at project completion."
As seasoned student housing builders, Sundt project teams have been delivering successful projects across California for decades. Our knowledge of these projects spans all levels, from stick frame to structural concrete, from access panels to student collaboration areas down to the types of locksets that are most efficient for facilities management.
Sundt is uniquely positioned in this market to help colleges and universities increase their housing supply, without sacrificing on cost, quality, speed, or safety. And we firmly believe in creating prosperity for students and their communities—housing shouldn't be a barrier to the opportunities promised by higher education.
Please contact us to discuss how Sundt Construction can help you plan for and deliver your next student housing project.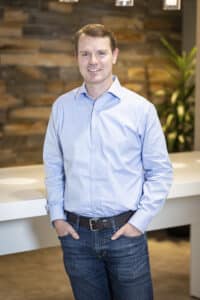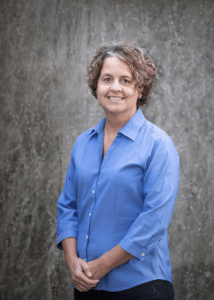 Sean Falvey, MBAMary Homan
Project ExecutivePreconstruction Project Manager
skfalvey@sundt.com mchoman@sundt.com