EL PASO, Texas (May 31, 2022) – The Sundt Foundation awarded $7,000 to two nonprofits in El Paso during its current giving round. Project Vida received $4,000 and the El Paso Holocaust Museum & Study Center received $3,000.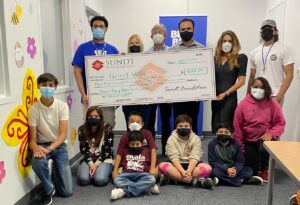 "Both grants are going to organizations dedicated to making a difference in our community," said Joseph Riccillo, the Sundt Foundation's Vice President and El Paso region board member. "It is inspiring to be able to help them both in their efforts."
Project Vida works to break the cycle of intergenerational poverty by improving the lives of at-risk youth through Project Vida's Best Buy Teen Tech Center. The grant will go toward a robotics-engineering specialist to help expand the computer science and technology-based knowledge related to creative exploration for youth.
El Paso Holocaust Museum & Study Center's grant will help curate and present a special exhibit: All People Have Voice. The interactive exhibit tells the story of individuals who experience hardship caused by intolerance recounting experiences from the Holocaust, Asian-Pacific Islanders, Latin Americans, and modern-day refugees.
The Sundt Foundation awards quarterly grants to local El Paso-area charities that support disadvantaged children and families. Nonprofits are selected through an application process and reviewed by a committee of local Sundt employee-owners.
About the Sundt Foundation
Sundt's purpose is to build environments where its clients, employee-owners and communities prosper. The Sundt Foundation was established in 1999 as a way for employee-owners to give back to the communities in which they live and work. The organization is funded primarily by contributions from Sundt employees, which are matched by the company. To date, the Foundation has awarded more than $11 million in donations. Nonprofit organizations interested in applying for a grant may call (480) 293-3000 or visit www.sundtfoundation.org for more information. Sundt has offices in Tempe and Tucson, Arizona; Salt Lake City, Utah; Portland, Ore., Charlotte, N.C., San Antonio, Dallas and El Paso, Texas; and Sacramento, San Diego and Irvine, California.
About Sundt
Sundt Construction, Inc. (www.sundt.com) is one of the country's largest and most respected general contractors. The 132-year-old firm specializes in transportation, industrial, building, concrete and renewable energy work and is owned entirely by its approximately 1,500-plus employees. Sundt is distinguished by its diverse capabilities and experience, unique employee-ownership culture, and depth of self-perform expertise in nine major trades. Much of Sundt's workforce is comprised of skilled craft professionals who, together with the company's administrative employees, enable Sundt to fulfill its mission to be the most skilled builder in America. Sundt has 12 offices throughout Arizona, California, North Carolina, Oregon, Texas, and Utah and is currently ranked the country's 58th largest construction company by ENR, the industry's principal trade magazine.
###
Media Contact:
Kimberley Hoidal
Sundt Construction, Inc.
480.293.3001 (office)
520.282.3018 (mobile)
kahoidal@sundt.com