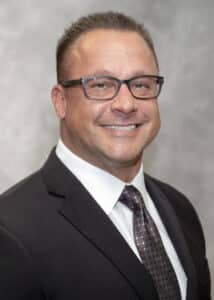 Senior Vice President Ryan Nessen began his career "building things the hard way" with the U.S. Navy. He spent eight years as a Seabee Builder traveling the world constructing everything from bases to bridges, to schools, to military readiness facilities. Entering his 18th year with Sundt, Ryan is now overseeing all operations for the Building Group's California District, and he is bringing the same can-do mindset to his role as a board member for the Sundt Foundation.
The Foundation was established in 1999 as a way for Sundt employee-owners to give back to the communities where they live and work. To date, the Foundation has awarded more than $11 million in donations to nonprofits across the country, primarily funded by monthly contributions from our employee-owners, which are matched dollar-for-dollar by the company.
We caught up with Ryan this week to discuss his passion for supporting nonprofits through grant funding and volunteer work, as well as his plan for increasing the Sundt Foundation's impact across California in 2022 and beyond.
Ryan, when did your involvement with the Sundt Foundation begin, and what led you to become the board member for your region?
I became a member in 2003 when I first joined Sundt, so since day one. But, for a while, the value of being more involved with the Foundation was kind of in the background for me—working as an operations manager, you're constantly travelling, putting out fires. I just thought, 'That's a great cause, but how can anybody have time for that?' Eventually, as I started seeing the impact the Foundation could have, I realized this is something I could help promote to our employee-owners throughout the California District. When it comes down to it, being involved with our communities is part of Sundt's culture. Plus, people follow what their leadership celebrates, so I wanted to push the cause to produce better results.
Is there a moment that stands out for you, from past volunteer events or grant distributions, that made it real? When did you realize this work was directly making a difference in people's lives?
There are two that really resonated with me. For context, when my son was born, he had severe medical issues; they were about to call hospice—that's how bad things were. And when you have a child who is on life-saving equipment, they qualify for a wish to be granted through the Make-A-Wish Foundation. So, a few years later, they granted our son a wish, and we took him to Disneyland which meant the world to him. About 10 years later, I was at Make-A-Wish of San Diego delivering a grant check, and I saw my son's star up on their wall. It was a full-circle experience.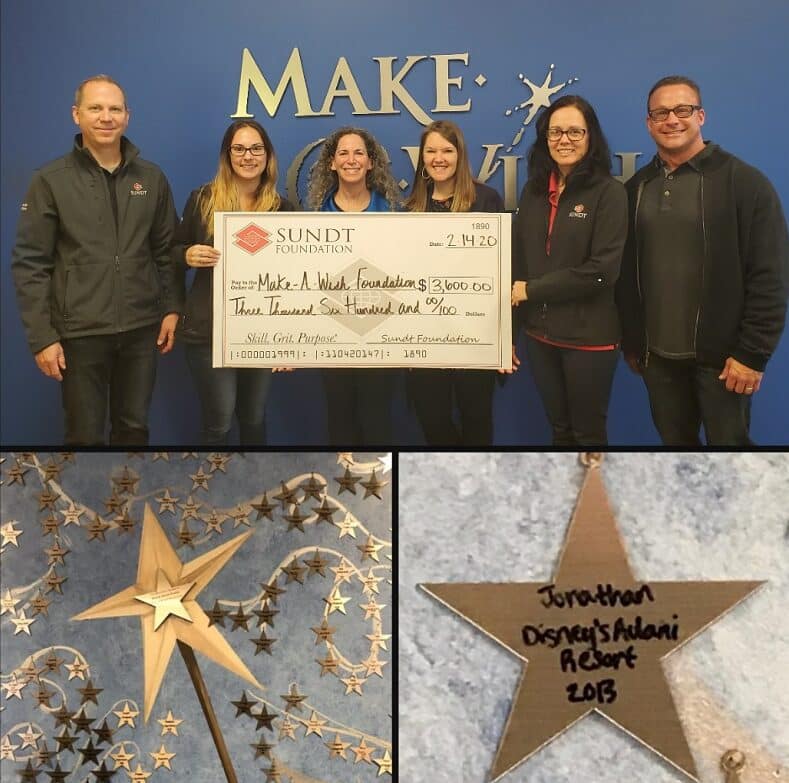 The second experience that stands out was with a boy named David, who lives in San Diego and uses a specialized wheelchair. His family told Make-A-Wish, "We just need to have a path in the backyard for him, so he can roll around and have fun." They contacted me, and I got on the phone with some of our concrete leaders and rallied a few local carpenters and superintendents to make it happen.
We built a really nice bike path around their backyard, landscaped it, and added some retaining walls. They sent us a video of David trying it out, and he was so excited. So, obviously it was a pretty moving experience, and I've had Make-A-Wish come in and talk to our people at Sundt quite a few times. The Sundt Foundation also likes to support them because they have very low overhead expenses, meaning most of the money they receive goes directly to the cause.
What other kinds of organizations does your region support—what other aspects do you all look for beyond making sure funds get to the right people?
We support several kinds; one quarter it could be a food bank, and the next it could be a blood bank. We do partner with a lot of veteran-focused organizations because San Diego has a big military presence, and supporting veterans is important to our employee-owners. Having been in the service, I can obviously connect with that. It's important to realize that this area has a very high cost of living, so for people stationed here, sometimes it's hard to do things for their families like buying Christmas presents.
Organizations like Wounded Warriors and Support the Enlisted Project (STEP) do an amazing job in helping families address that challenge. Each year, we "adopt" families through STEP, and our people go above and beyond—even going out sometimes with their own money to buy gifts. It's a big deal for the families, and it's a big deal for us too.
We're also very involved in supporting the La Jolla Family House each year. They're a local organization that provides families a place to stay while they have loved ones in the hospital. They don't receive direct funding from the Foundation, but we've donated several toiletries and other items to the organization.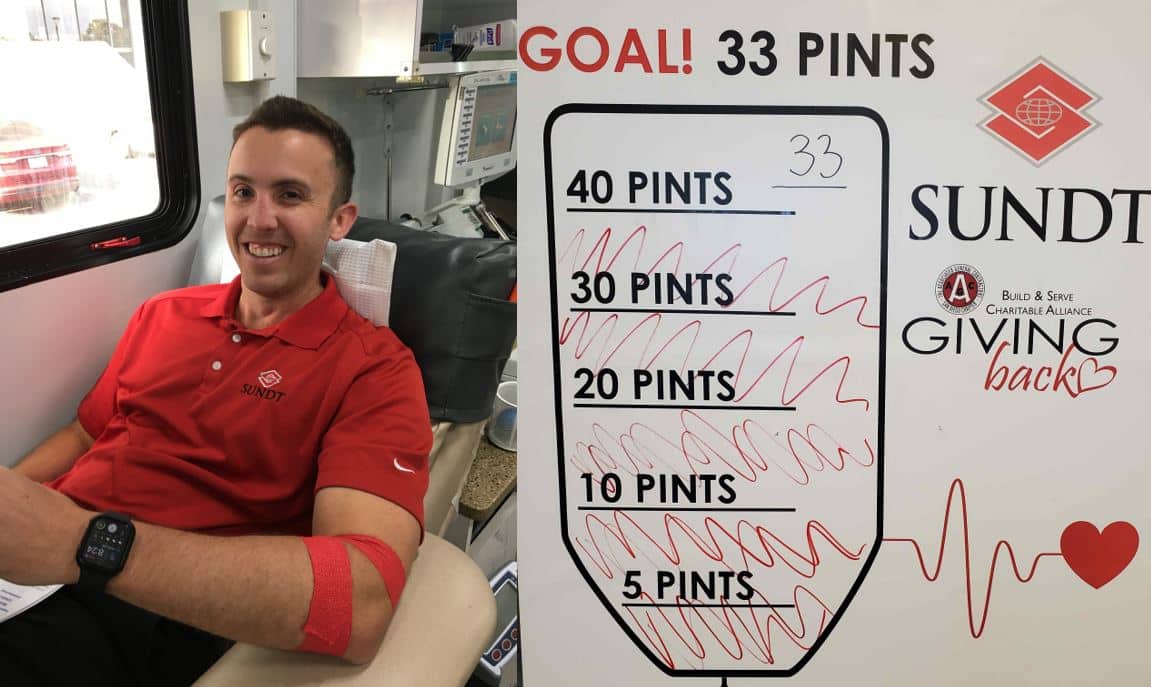 The San Diego region has our company's highest Sundt Foundation membership levels for administrative and craft employees, at 96% and 88% respectively. What's behind your area's success in getting people more involved?
I think we're intentional, and we're building on what works. The spirit of giving back was already strong in San Diego when I stepped into this role. Elizabeth Tague was the board member before I was elected. She made a significant amount of progress during her tenure, and she continues to be heavily involved to help me support the Foundation today. In fact, Elizabeth received the Community Steward Award during her time on the board. It's a very special recognition given each year to a single Sundt employee-owner.
In terms of getting people more involved, I think to take it to the next level I've tried to promote what the Sundt Foundation is really about and give people ownership. We've removed financial obstacles by creating a lower minimum membership contribution. And we've also gotten buy-in by expanding the grant recipient voting process to all our employee-owners in the region; everyone gets the chance to vote, not just our committee. I think in general we continue to encourage our leaders in the office and the field to carry the message, and to give people opportunities volunteer and see the impact we have up close—again, people follow what their leaders celebrate.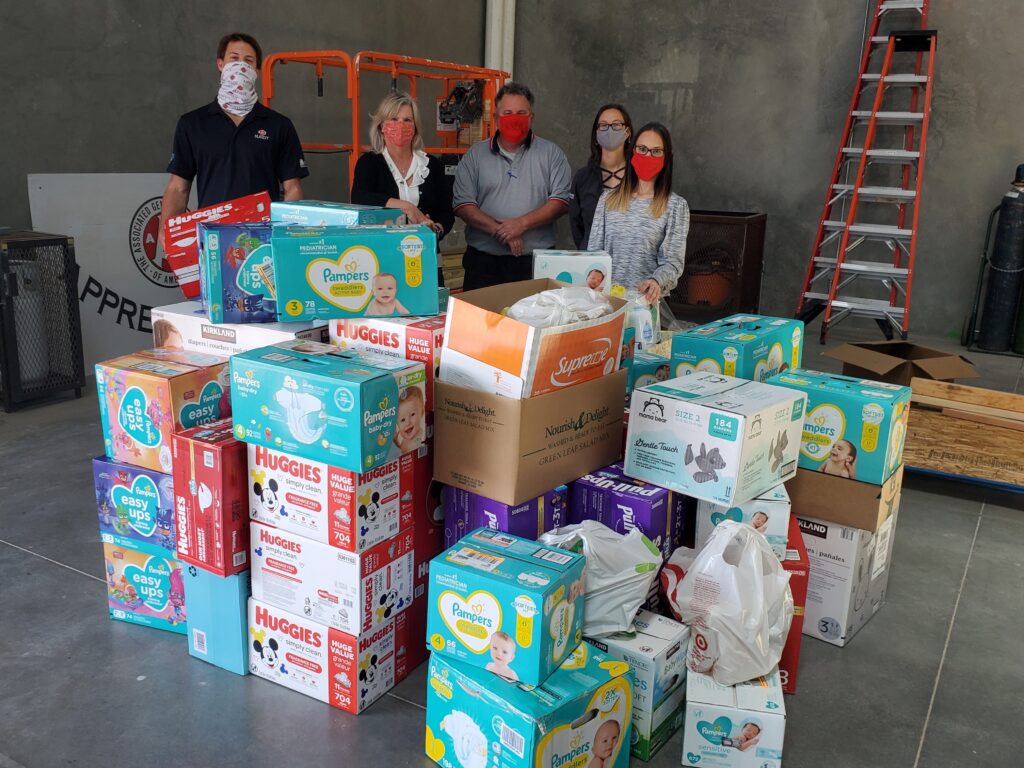 What are you looking forward to with the Sundt Foundation for 2022?
So we have multiple giving areas, three being in California with San Diego, Irvine and Sacramento. I'm in the unique position of being the board member for San Diego while at the same time leading the California District. I'm really looking forward to getting more engagement across our other giving areas, and just getting our employee-owners—especially new hires—excited about what we're doing. The more we have join, the more our communities benefit.
We're also resuming our golf tournament this year to raise money for ALS research in honor of former employee-owner Mike Gaines. It's a special event, and this year we're combining with the Irvine office in a more central location to increase our footprint throughout Southern California. That's scheduled for Monday, June 13 at the Twin Oaks Golf Course in San Marcos.
We also have plans to partner with the local Junior Achievement chapter by providing jobsite tours and internship opportunities. Sundt's San Diego region can help local K12 student to develop their "real world" skills and even guide them toward the construction industry. The future in our industry relies heavily on teaching these kids about pursuing construction careers and Sundt is a great example of a successful builder.
Overall, I'm looking forward to seeing how our employee-owners will step up. We've done it with the wildfires. We've done it with Covid. And whatever needs our communities have in the future, I think the Sundt Foundation will be there to step up and help.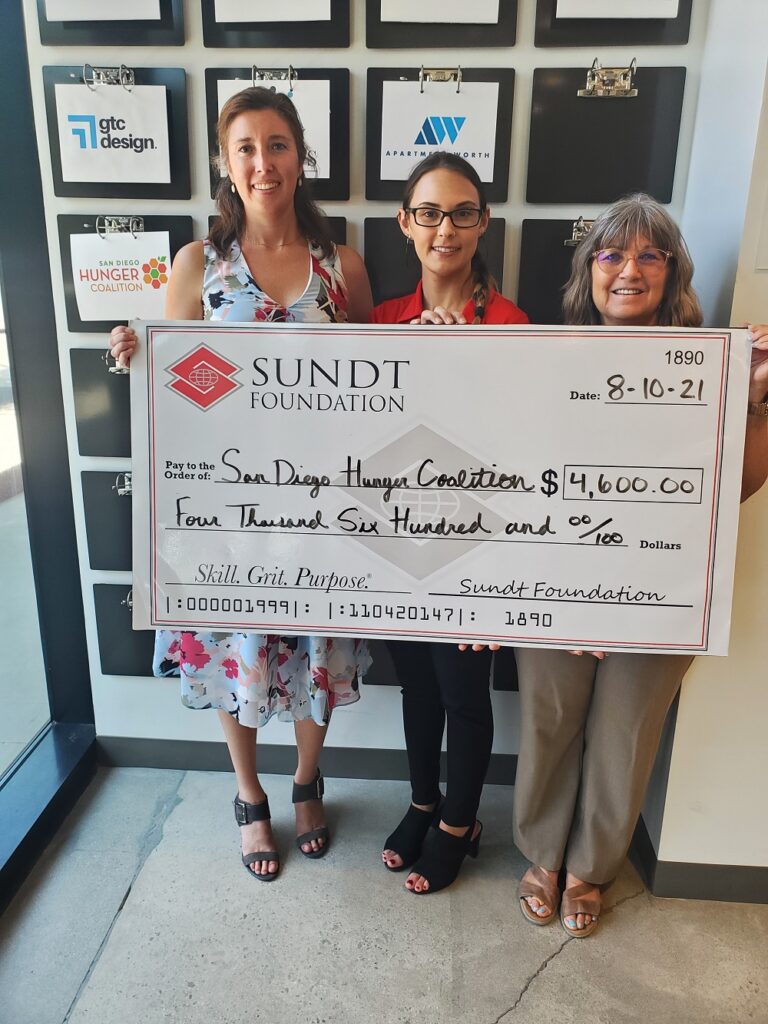 The Sundt Foundation has 11 giving areas including San Diego, Irvine, Sacramento, Tempe/Phoenix, Tucson, El Paso, North Texas, San Antonio, Salt Lake City, Charlotte and Portland. If you're involved with a nonprofit and are interested in a applying for a Sundt Foundation grant, please visit Sundt.com/Foundation/#apply.