Sundt specializes in transportation, industrial, commercial building, concrete, and renewable energy construction—and we've used drones in all of these markets with great success. Once seen as merely a surveillance measure, drone use on construction sites has evolved to include anything from progress updates to volumetric analysis (i.e., measuring dirt work with .01-inch accuracy), utility placement inspections, and even measuring a building's thermal energy loss. The coolest part? The time and money we save clients.
We began building out our drone operations for mapping in 2013, and we've expanded our program to 30 pilots and 40+ aircraft, running over 100 mapping missions per year. As early adopters of this technology, we've shown our clients how mapping their site with a drone generates a myriad of useful data. However, we've also learned doing this manually comes with its own set of challenges and risks.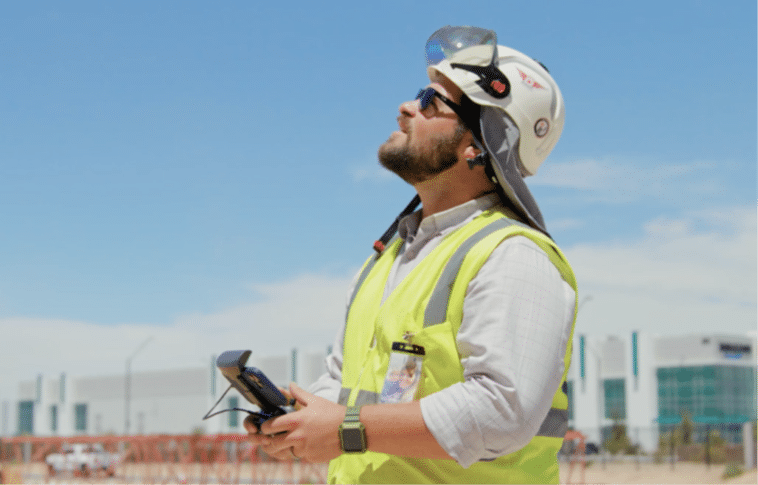 The potential for crashes, the demands of pilot training and inherent dangers pilots face on site, and the current inefficiencies of ground-based 3D modeling are all longstanding problems Sundt's drone program has been trying to solve. So, in 2020, we adopted Skydio 2 autonomous drones and 3D Scan software with the plan to phase out our older, manually operated DJI drones by the end of 2021. The following case study shows our findings.
Challenges
Ground-Based 3D Modeling Is Time-Consuming, Expensive and Dangerous
For industrial clients, Sundt inspects many high-pressure, high-temperature systems. For example, this model shows a crystallizer water cooling tower, which cools superheated water from over 1000 degrees Fahrenheit down to around 200 degrees. These systems need to be inspected monthly to ensure they are fully functional and operating safely.
One way that we inspect these systems is via ground-based methods, where field teams spend three to four hours up close to—within at least 20 feet of—the superheated structure and use expensive 3D modeling equipment. Risks to worker safety can include scalding hot steam or equipment failures. Also, for the duration of the inspection, the systems themselves must be shut down, which can result in hundreds of thousands of dollars in downtime costs for the client. Eliminating time spent scanning in these environments can save project teams money and even lives.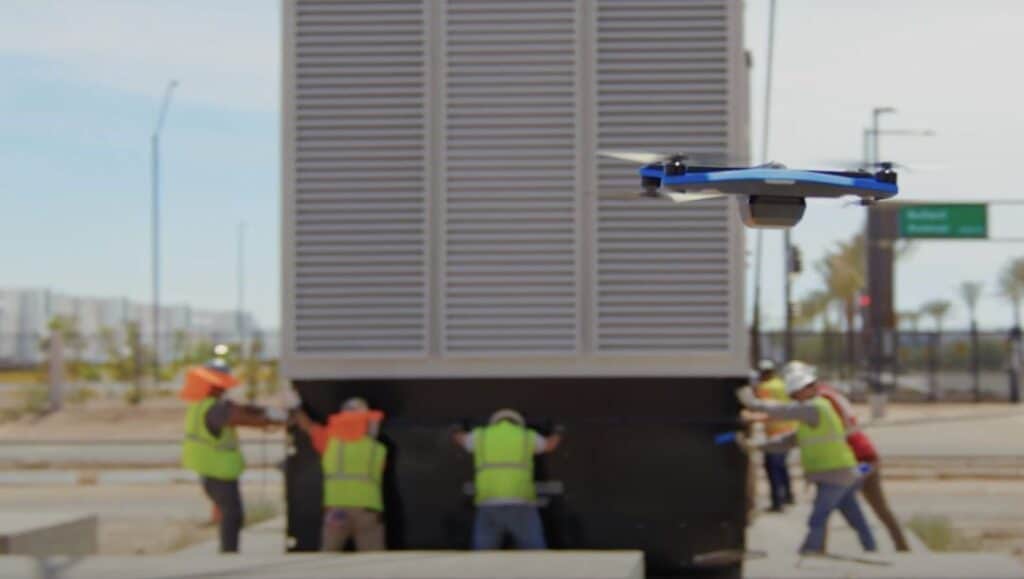 "With ground-based inspection, it takes the field team something like 2-3 weeks to work their way through the job site. Now, with Skydios, we could do that in a couple of days."

– Dean Miller, Sundt Virtual Construction Engineer
Expensive Hardware Requirements and a High Risk of Drone Crashes
As an early adopter of drones on construction sites, Sundt ran into the same problem all manual drone pilots encounter at some point. On obstacle-rich, unpredictable job sites, even expert pilots run the risk of crashing into any number of structures, from tower cranes to buildings to heavy machinery.
When these crashes happen, they can damage both the job site and the drone hardware, requiring expensive repairs and downtime. On top of that, a drone crash requires an incident report to management or the Federal Aviation Administration (FAA) and substantial research and time spent analyzing how the crash happened. At the end of the day, executives, job sites, and virtual construction engineers all have to spend time, money, and downtime dealing with the fallout from a drone incident.
Existing Manual Drone Modeling Methods Are Inefficient
To avoid inspections in high-risk areas, Sundt has tried using manual drones. A small team of highly trained pilots would fly the drone around the structure, manually operating the joysticks and taking overlapping photos of assets to generate a 3D model. However, because manual drones cannot fly in GPS-denied or high-electromagnetic interference environments, they cannot capture indoor or overhung angles, or generate up-close scans of metallic structures, which are common to job sites.
Manual drones are also prone to crash in environments with high reflectivity, shadows, windows, and hard-to-reach corners, factors which can also affect the quality of a 3D model. While working hard to keep their aircraft from crashing, these pilots also needed to focus on taking photos with approximately 80% overlap, so that reconstruction software can turn them into a 3D model—without any tools to indicate in real-time which areas of the scene have already been photographed.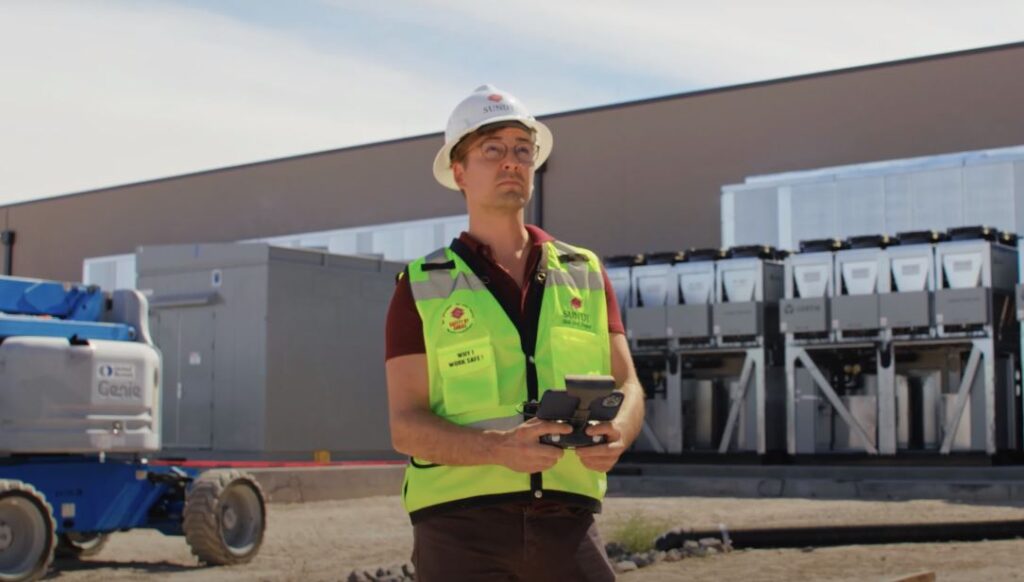 On top of that, the pilot has to wait for postprocessing of the model to confirm it has full coverage and correct overlap, rather than being able to confirm this in the field. For 1 out of 10 flights, the model is insufficient, and the pilot ends up needing to re-fly.
"Sundt is using 3D Scan to create incredibly detailed and highly accurate models. We're replacing traditional means of 3D modeling from manual drones or ground-based inspection, which are highly user-intensive and have high failure rates."

– Dean Miller, Virtual Construction Engineer
Solution: Artificial Intelligence and Automation
By switching over to Skydio Autonomy, we've significantly improved our drone operations. We can now fly with confidence through areas that we would never have dreamed of mapping with a manual drone. Also, the ease of flying a Skydio lessens the burden on pilots to avoid crashing, so they can focus on performing high-quality inspections and reports.
From BIM coordination to progress tracking, 3D Scan makes our process of capturing 3D models considerably easier and more accurate. It also reduces the amount of time inspectors and team members need to spend in the field.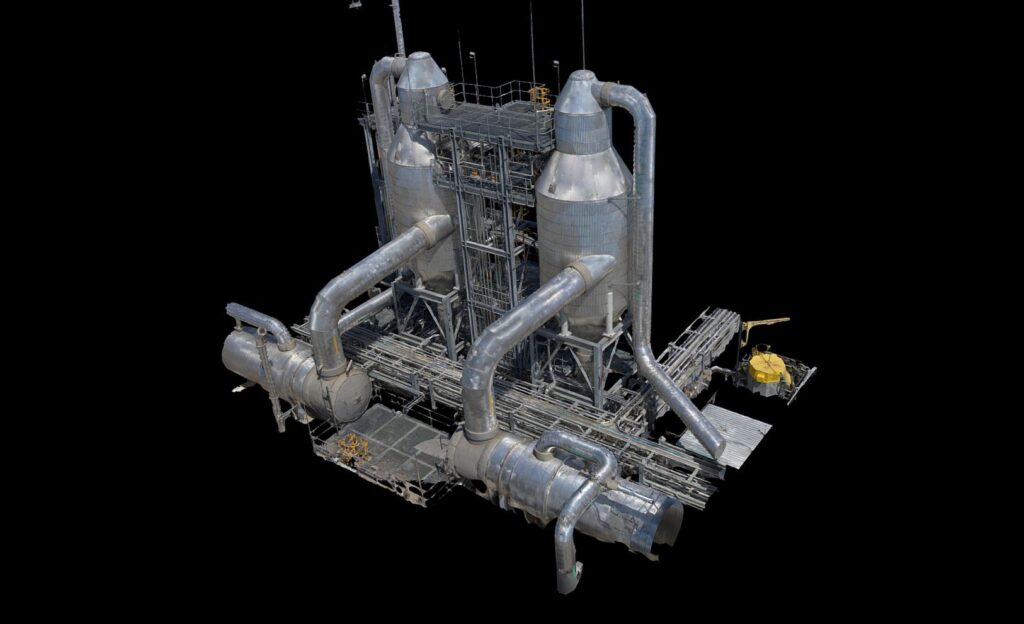 Results
Streamlined Job Cycle
3D Scan helps coordinate Building Information Management (BIM) as work is getting done among various subcontractors, perform regular as-built assessments for project managers, and provide proof of delivery at the conclusion of a project.
Better BIM Coordination
During the initial planning phase of a new build, there is significant coordination between various stakeholders and subcontractors. Our trade partners submit 3D models showing where they're planning to build, and Sundt puts the models together to identify conflicts. This type of Building Information Management (BIM) coordination is essential to preventing expensive rework. With 3D Scan, as-built models are more accurate and generated more frequently, helping teams stay on schedule and within budget.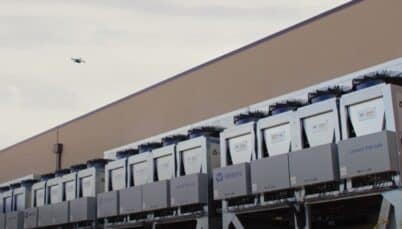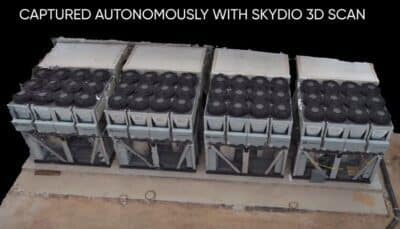 Progress Tracking and Visual Proof of Delivery  
Once the build gets underway, Sundt must regularly track the progress of the construction and report back to the client for billing purposes. Before, this reporting would consist of someone on foot taking cell phone photos of the site, leaving ample room for competing interpretations of the job status. With 3D Scan, the team can quickly and easily fly Skydios through the site to create high-quality 3D models of the job site progress. At project close-out, Sundt can use 3D Scan to create a model of the completed job site and have visual proof of equipment status at the time of delivery. This allows Sundt to provide a greater level of accountability than what ground-based photographs can offer.
"The autonomy of 3D Scan is incredible. The fact that the drone itself is able to create that reality capture and then determine its own flight path around the object you've put in the boundary reduces an enormous amount of time. The accuracy and detail is really impressive."

– Dean Miller, Virtual Construction Engineer
Improved worker safety
The typical methods for scanning and inspecting these high-pressure, high-temperature systems require workers to climb onto the platforms of the structures, exposing them to hazardous situations. With Skydio drones, pilots can scan from a safe distance with full confidence that the Skydio will avoid crashing, and get full photo coverage of the structure. With the new drones, Sundt is protecting our workforce without compromising job quality.
Reduced time to inspect by 90%
3D Scan's autonomous workflows maximize its efficiency when scanning, meaning an inspection that would typically require two people and 4 hours could be completed in 30 minutes by a single inspector. The result is a 90% reduction in labor costs per inspection, allowing Sundt to perform nearly 10 times as many inspections in the same amount of time. Also, these inspections do not necessarily require a job site to shut down, helping reduce downtime.
Reduced pilot training requirements by 50%
After adopting Skydio drones into our fleet, we noticed a substantial reduction in the amount of time it took to train new drone pilots. Skydio's ease of use allows operators to perform jobs after half of the training required to fly manual drones safely. Beyond that, Skydio's breakthrough obstacle avoidance gives pilots the confidence they need to execute complex mapping missions on obstacle-ridden job sites without worrying about crashing.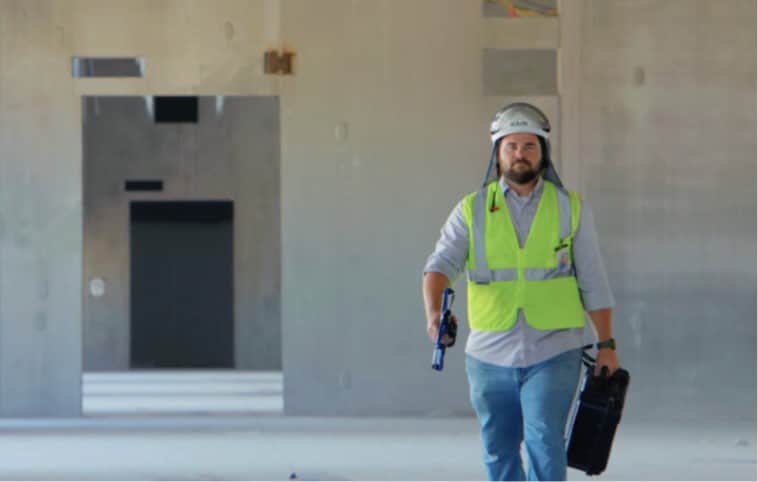 "We're training pilots in half the time because it takes little to no time for the pilot to learn how to operate the drone properly. Anybody of any skill level, whether you've flown any sort of drone before, you can pick up a Skydio and be in the air in 5 minutes."

– Dean Miller, Virtual Construction Engineer