A month has passed since Texas and much of the South saw some of their worst winter weather in recent history. Mass utility failures in Texas led to power outages, broken pipes, and food and water shortages across the state. While the rest of the nation has moved on with the 24-hour news cycle, many Texans are still recovering from the losses they suffered from the deep freeze.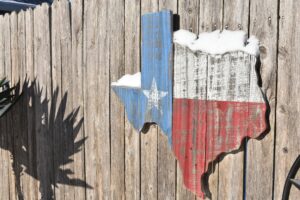 To support local relief efforts, the Sundt Foundation donated $10,000 in emergency grants, split equally between the Tarrant Area Food Bank and the Let's Help San Antonio emergency fund. At the peak of the outages, over 5 million Texans were left without electricity, many for multiple days. Among them was employee-owner Terri Pasley, Sundt Foundation board member and office manager for Sundt's San Antonio office.
"My home had no power for 80 hours," said Terri. "I stayed with my oldest daughter, who has a gas stove. Her family's house is luckily just down the street." For three days, Terri explained, they had 10 people and four dogs in one single-family home. "We pooled our food. We had to boil our water. Grocery stores were cleaned out or closed. At one point you couldn't even pump gas. We never imagined something like this happening here, but we got through it together."
For countless others living without this kind of support network, the nightmare was far from over. Families already facing hardships from the pandemic, elderly residents, and people struggling with homelessness were some of the many groups hit harder by the storms. City leaders in San Antonio and Dallas knew they had to raise and distribute emergency relief quickly. Yet, in an energy crisis inside a dangerous weather crisis, inside a public health crisis, the big question was: how?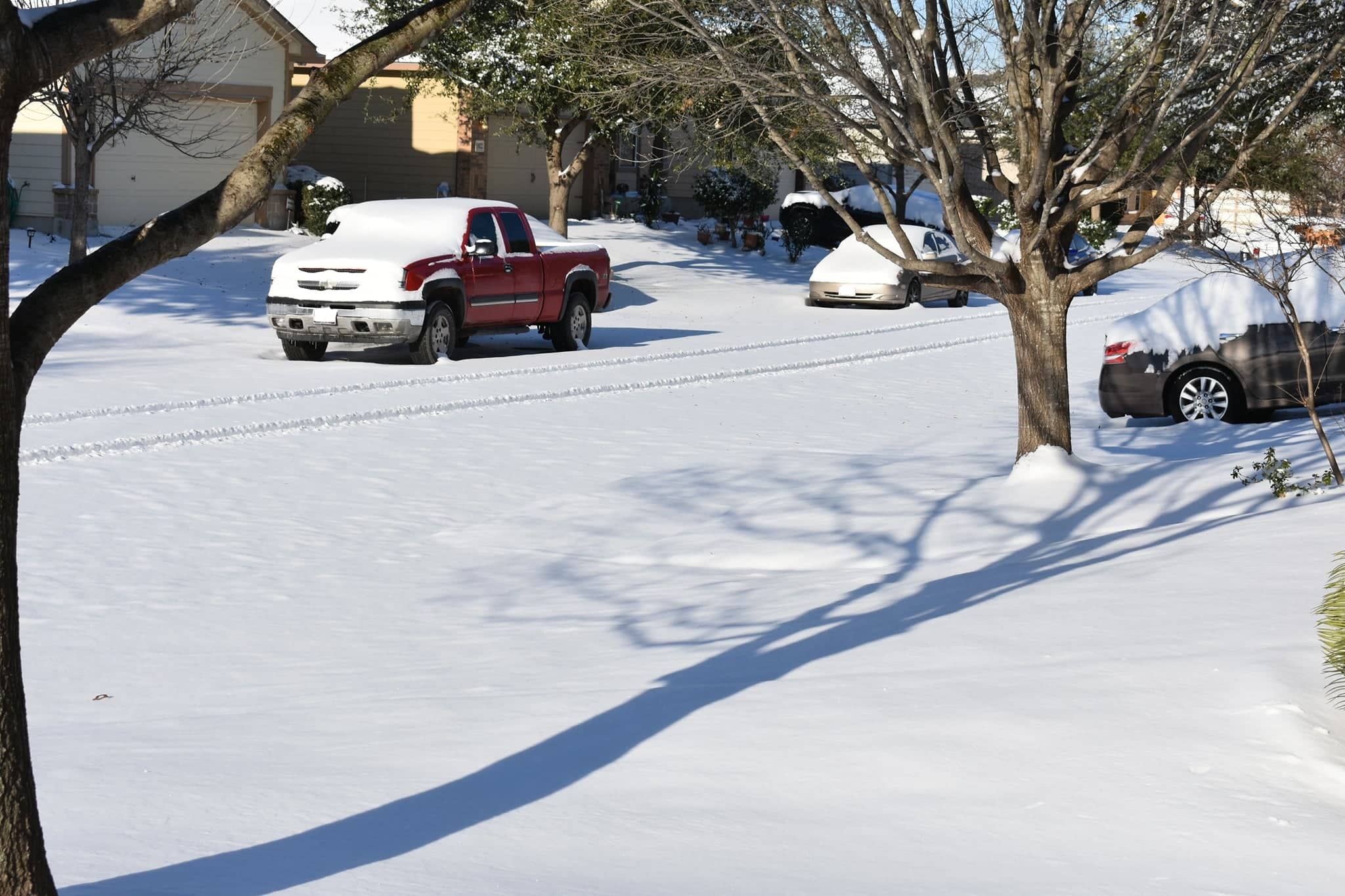 'Let's Help SA' Combines Multiple Nonprofits' Strengths to Provide Food, Water, Shelter and Hope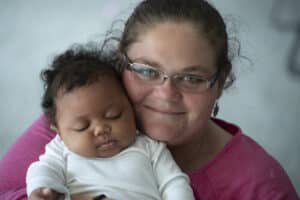 City officials in San Antonio brought forth the idea to help the emergent needs in the area to Gordon Hartman and his team at Morgan's Wonderland Inclusion Foundation (MWIF). Hartman is a well-known philanthropist and former homebuilder who founded Morgan's Wonderland, the world's first theme park designed with individuals with special needs in mind. On Friday, February 19, when rolling blackouts ended and the MWIF staff returned to work, they were given a monumental task: create an emergency fundraiser for San Antonio to provide food, water, and shelter, raising and distributing as many resources to as many people in need, as quickly as possible.
"Within 24 hours, we had identified the nonprofits who would receive funds, created a logo and website, and started a seven-day social media campaign to begin raising support from companies and individuals," said Brooke Kearney, Chief Mission Officer at MWIF. "The Let's Help San Antonio emergency fund has raised $3.17 million to help those in desperate need of food, water, and shelter, and nearly all of those funds have been distributed." The first $500,000 donated was matched dollar-for-dollar by three local foundations. Sundt's donation was included in this match, doubling its impact. The fund was distributed to three area nonprofits, San Antonio Food Bank, SAMMinistries, and Haven for Hope, all of which had previously received funding from the Sundt Foundation.
"We had calls from people whose homes had freezing temperatures, people with infants, 80-year-old grandmothers. But the roads were so iced over, you couldn't get to them safely," said Brooke. "There were first responders who worked and didn't go home for several days. It was just insane. I think we're coming out of this with more perspective. In a time when so many people didn't have their basic needs met, you see how much harder it is for people with disabilities or living in poverty. We're trying to bring about a cultural change as an organization, and I hope this experience creates more empathy, and as a result, more kindness."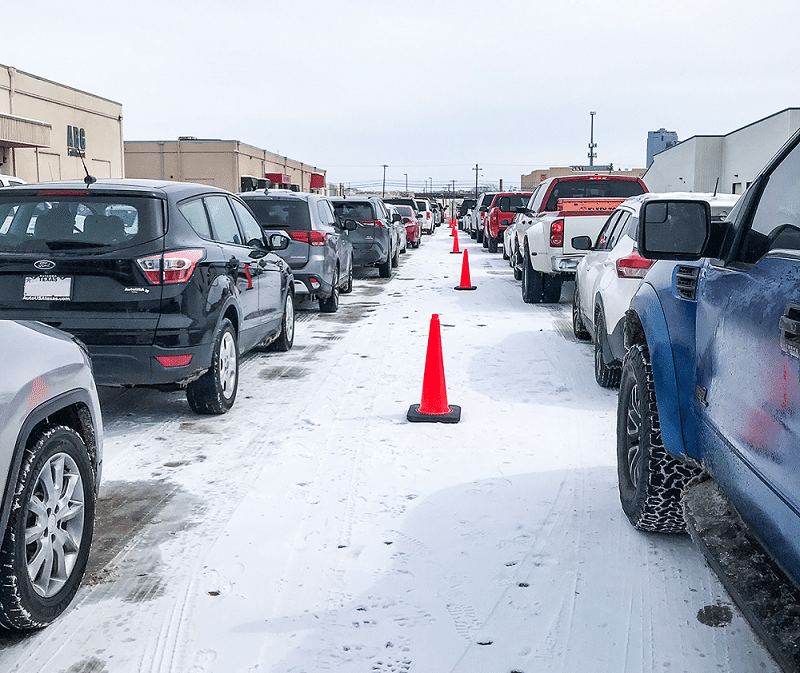 Tarrant Area Food Bank Serves as Core 'Human Infrastructure' to Help DFW Weather the Storm
Stephen Raeside, Chief Development Officer of Tarrant Area Food Bank (TAFB), has run out of adjectives to describe the past year, let alone the past month. "If you find one that's adequate, let me know," he said (half) jokingly. Before the pandemic, the TAFB was providing 600,000 meals a week to residents in Tarrant and 12 surrounding counties in the Dallas-Ft. Worth area. "After Covid hit, and all of the hospitality workers and people in other industries were laid off, that need just soared," Stephen said. "It happened almost overnight. We increased our distribution to 1 million meals a week to meet demand, and that demand has remained constant ever since."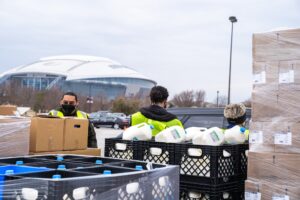 Before the winter storms, the pandemic had already caused major disruptions to TAFB's business model and distribution network. Several partner pantries shut down, delivery methods had to be changed, volunteers had to quit, and many of the volunteers who could work had limited opportunities due to Covid safety protocols. "When those volunteers were finally able to come back, and we were starting to get everything figured out, that's when this polar vortex reared its ugly head," said Stephen.
After the second storm hit Tuesday, February 16, TAFB's main facility was without power for 48 hours. "So, we had a skeleton crew here at our 80,000-square-foot distribution center on Wednesday," said Stephen. "The City of Ft. Worth Fire Department partnered with us to distribute food. They let us use their generator to power the lights, and our team scrambled to put together boxes of food, which their crews took on their fire trucks to warming centers around the city." In the following days, the food bank served thousands of families as well as other agencies in need of food.
Being able to support these relief efforts is why I love being a part of the Sundt Foundation. The contributions we make as employee-owners go directly to the people who need it most. We're helping our neighbors, and we're helping our hometown.

-Terri Pasley, San Antonio Office Manager and Sundt Foundation Board Member
To donate or volunteer with either of these causes, please visit LetsHelpSA.com or TAFB.org. Since 1999, the Sundt Foundation has empowered Sundt employee-owners to give back to the places where we live and work. Each year, the foundation awards approximately $1 million in grants to a diverse array of charitable organizations in Arizona, Texas, California and Utah. For nonprofits interested in applying for a grant, please visit sundt.com/foundation.