Lines for water, sewage, gas, power, and telecoms run beneath our communities like a network of veins, allowing vital buildings and infrastructure to function. Hitting one of these lines while digging can result in disaster, both for construction workers and the community members they serve. Strict OSHA requirements and the federal 811 "Call Before You Dig" program exist for this reason. However, as project managers like Lindsay Penzenstadler will tell you, a builder's safety culture is often the biggest difference in keeping utilities and people out of harm's way.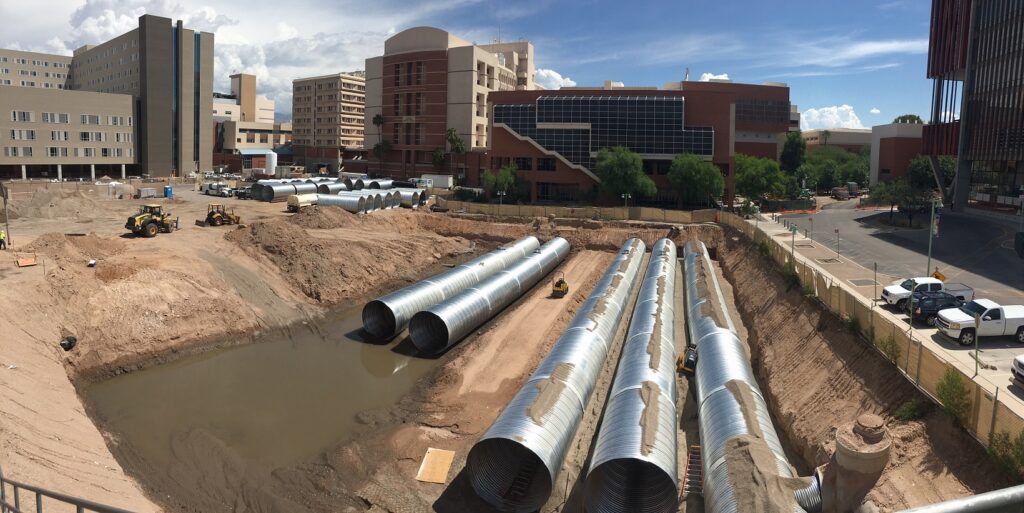 Now in her seventh year with Sundt, Lindsay has worked on nearly 20 projects, involving partnerships between our Transportation, Industrial, Building and Concrete units. These range from data centers, to power plants, to high-rise multifamily housing developments. Each involved complex underground utility scopes, many of which Sundt self-performed. It's national Construction Safety Week, so Lindsay took some time to share on what it means to dig safe.
As one of our experts in underground work, what would you say are some factors that make a project safe and successful? 
Well, I wouldn't call myself an expert! It's more that I've experienced utility strikes, unfortunately, and I have a lot of knowledge on how to prevent them from happening. In general, for a project to be safe and successful, you need to have solid relationships with your craft workers. They need to know that you care about them, and that everything we do relies on their work and their safety. And, just as importantly, they need to know their opinions matter.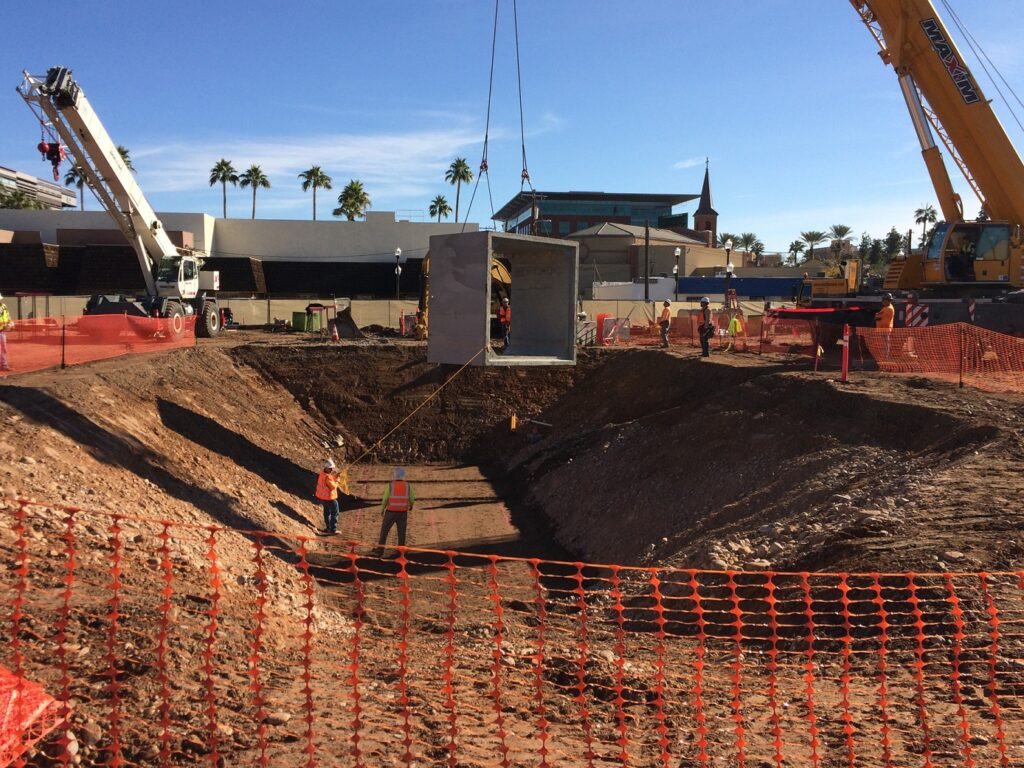 We're always trying to prepare for the unexpected by planning, coming up with the what-if scenario in order to reduce risk to those involved.  The best way to do that is to communicate. So, if one of our foremen runs into unforeseen conditions in the field, or notices something that causes them concern, they can communicate that directly to leadership. When people feel confident enough to speak up and stop work, we can re-assess the situation and then approach certain areas with caution. More than once, that's allowed us to locate unknown utilities without damaging them.
Beyond locating and marking utilities, or "blue staking" the site, how else do we ensure we're digging in the right place?
One thing that people may not realize is how much new work has taken place in a given area. There's a period of time between new work being registered as "active" and "complete." If that new work involves underground utilities, and it's still listed as active—even if it's technically finished, it's not going to show up on your blue stake ticket. So that requires knowledge of who's built what and where in the area, and being in contact with those builders to make sure everyone is on the same page.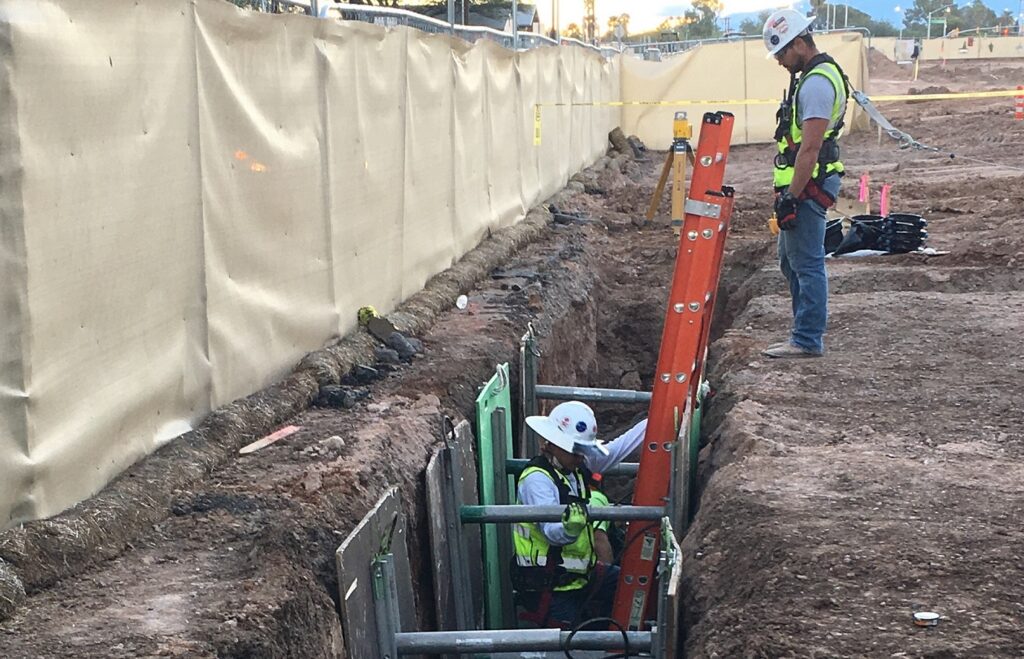 Another thing we consider is the type of utility lines we're working around, and how they were installed. For example, you have to differentiate: is this something that involved excavation, or did it involve jack-and-bore or "trenchless" installation? If it's jack-and-bore, like for fiber or conduit, there can be bore pits where the pipe doesn't sit flat at elevation as it would otherwise. So again, it comes back to understanding your surroundings and existing conditions.
What sets Sundt apart in how we approach underground work? 
There's just so much planning involved. Our project managers, superintendents, field engineers, safety managers and foremen are all a part of the planning process. Our superintendents work hard to create the work package associated with the underground installation and areas of risk. We hold weekly work plan meetings to prepare for the next week's activities and talk about constraints. Our foremen are key in creating the daily THAs and other permits associated with their tasks of the day. These are all reviewed with the crews prior to work beginning to ensure that everyone is aware of the potential hazards.
One of our biggest underground challenges was on a recent project with a joint-venture partner at Banner – University Medical Center. We were installing a new water line, and we had to work around so many lines feeding the existing hospital. You can't "err safe" enough in these situations. There's zero margin for error. So, we decided to use a soft dig machine to pothole an entire run of pipe. Even though it impacted cost, it was the safest way to ensure we wouldn't impact the existing hospital.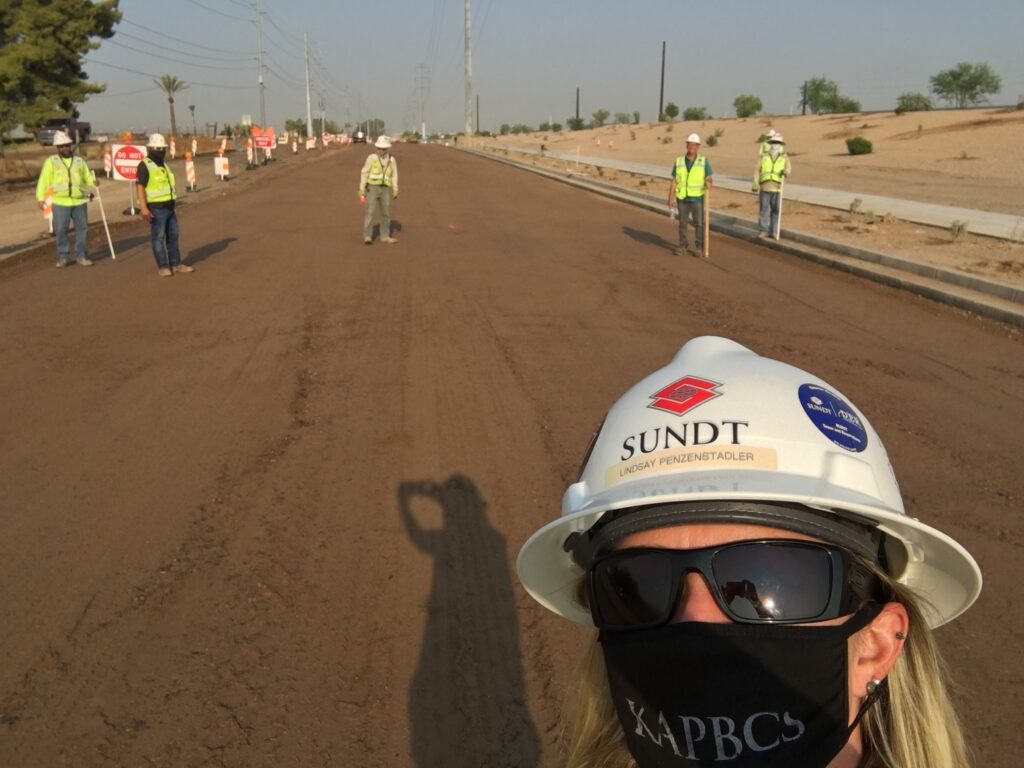 Beyond that, I'd say our experience and our relationships with different stakeholders are what make the difference. We can do things quickly without compromising on safety. Our Transportation Group has a deep resume in utility work, and our Building and Industrial Groups are able to leverage that in-house skill. We've also done a lot with alternative delivery methods, and those—especially design-build—allow us to work alongside the designer early, and address utility conflicts sooner. The same goes for our relationships with cities; we're able to work together and come up with solutions much faster.