Long before being recognized as essential in America's battle with COVID-19, long-haul truckers and construction workers alike had crucial yet unsung roles in keeping society running. Residents of Corsicana, Texas, understand this—perhaps because truckers have never been "behind the scenes" for them. Some 4,000 semi trucks travel through their downtown each day. Essential or not, that's a lot of trucks for a town of 24,000 to handle. Since 2016, Sundt has been building a major bypass here to clear up congestion and provide a safer, faster route for truck drivers and the traveling public.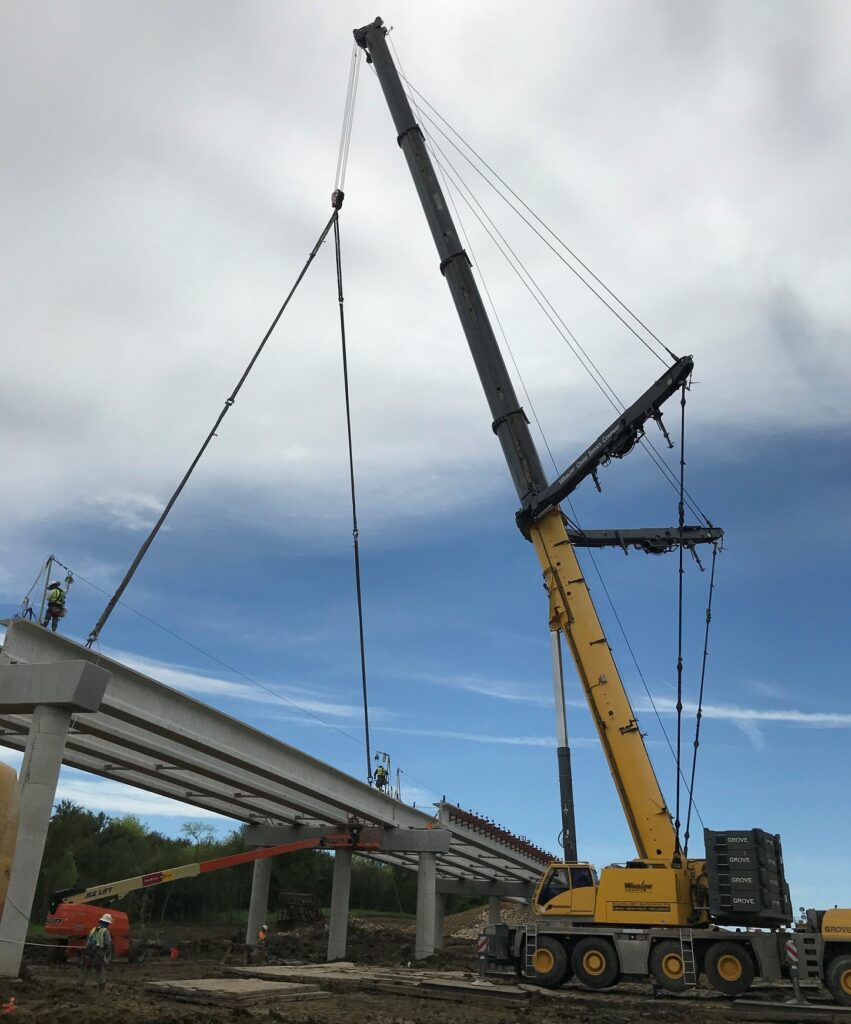 Valued at $105 million, the job includes a 14-mile stretch of new two-lane highway, involving nine bridges, grading, drainage structures, related site work, and over 1.5 million cubic yards of embankment. Bridges include one over the Interstate 45/State Highway 31 interchange, three going over rail lines, and one over Post Oak Creek, all of which have presented their own unique challenges.
Navarro County has seen record rains off and on since the project began, and in more ways than one our team has been swamped. Muddy conditions can wreak havoc on a jobsite, in particular on a true greenfield project that literally cuts through farmland and forest, where no infrastructure or drainage measures existed before. On top of that, an additional hurdle came up this past fall involving oil well rights on the east portion of the job.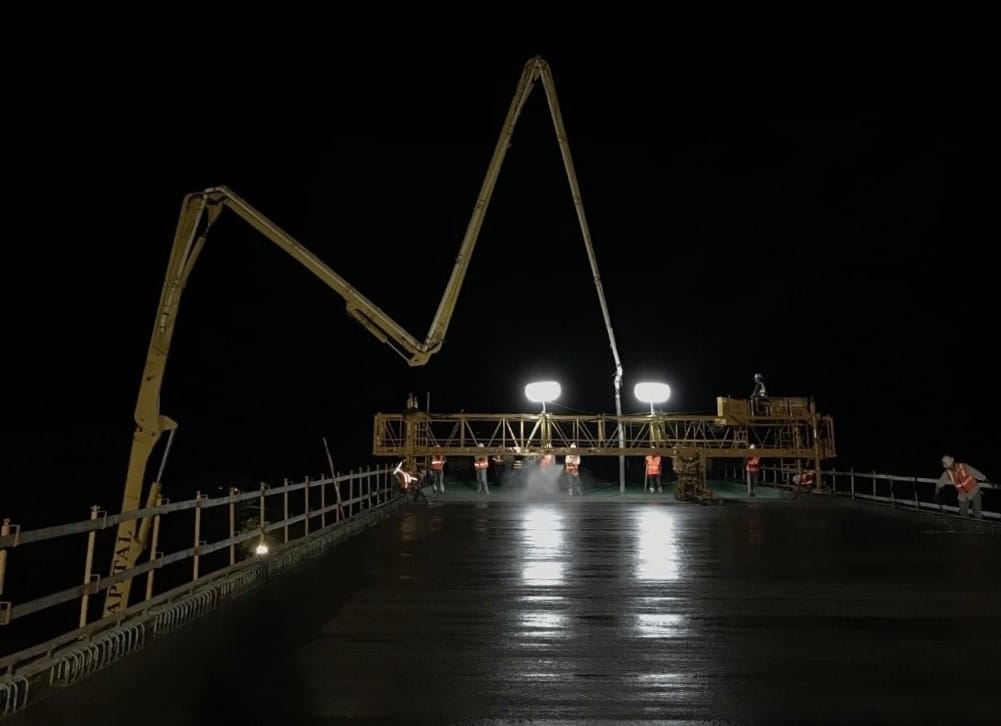 Through it all, the team has kept on trucking. Once TxDOT gave them the green light for the third phase, east of I-45, they wasted no time getting to work. Our dirt crew cleared the right of way from US 287 to East SH 31 quickly, and two structures crews built the substructure of the four bridges starting in mid-September 2019. This spring, the team set 225 girders for four bridges between March 31st and May 1st; that's half of the total girders on the entire job, set in just a month's time.
The grit displayed in the field has been bolstered by careful coordination in the office. "It's not like turning a faucet on and off," said Project Manager Josh Bunting, explaining the bridge construction process. "There are lots of factors; every move has to be calculated." And even with shifts, equipment, and materials planned to the T, sometimes site conditions call for extra creativity. To expedite bridge work at Post Oak Creek, the dirt crew made a temporary culvert by welding together four shipping containers, over which they built an earthen crossing strong enough to withstand a 300-ton crane.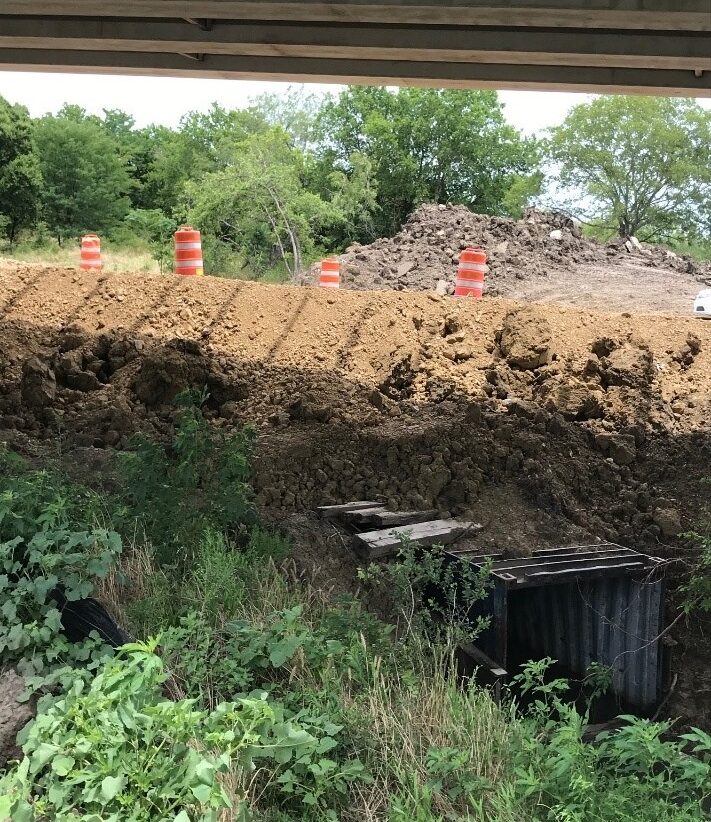 The crossing provided better access and sped up construction, one of many instances where the team made the most of their time and resources. "Every hour the crane sits idle, it affects our bottom line," said Field Engineer Madi Marcolina. "That's why we plan—we do months of prep for just a few days' work." We also make a backup plan too because, well, Mother Nature will have her say. In the middle of setting the bridge, the creek flooded unexpectedly and washed out part of the temporary crossing, rendering it impassable. "It was frustrating, but it only set construction back one day," Madi said, "thanks to the dirt crew's quick work to restore the crossing."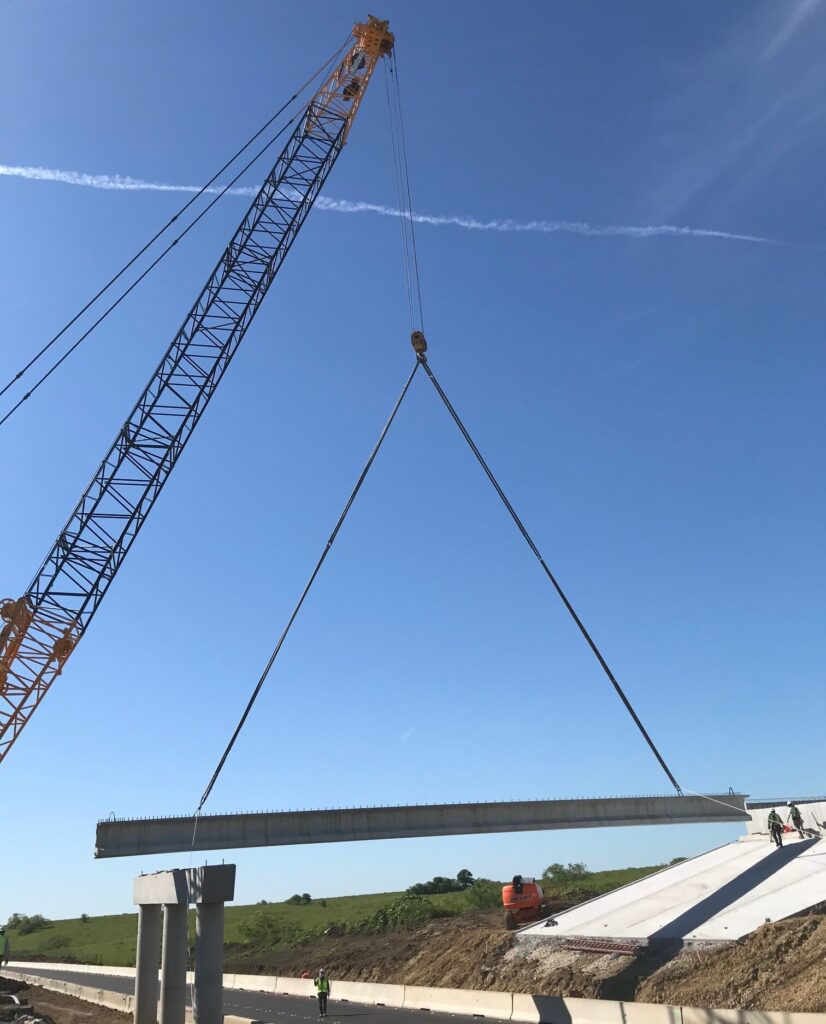 Other bridges haven't exactly been a cake walk either; the team had to perform multi-crane picks over the railroad right-of-ways and also lowered a detour for US 287 to set the bridge all at once rather than in phases. Despite difficulties, both expected and unexpected, team members have rallied to keep things moving forward and have shown true character in the process. "We really do have a good group of people out here," said Josh. "We have fun together, we love what we do, and we work as a team. There's a level of trust that we share." The project is scheduled to finish in the spring of 2022.