SALT LAKE CITY (February 10, 2020) – Sundt Construction, Inc. garnered Utah Department of Transportation's (UDOT) prestigious UDOT Partnering Award for its work on the I-215 and Redwood Road project.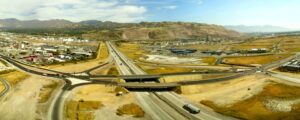 "This recognition goes beyond affirmation of the quality of work we do on our projects, but also how we deliver them," said Sundt project manager Thiago Bezerra. "I'm very proud of our project team for their perseverance to get us to the finish line with this well-deserved recognition."
The project had four distinct components. Over the course of a year and a half, the Sundt team resurfaced Redwood Road from 500 South in Bountiful to Center Street in North Salt Lake and Recreation Way to the County Line. The team additionally reconstructed and widened four miles of the I-215 from 2100 N to I-15. The reconstruction of I-215 required the placement of over 25,000 cubic yards of concrete.
Sundt then rebuilt and reconfigured the intersection of Redwood Road and Center Street, which included adding turning lanes, northbound lanes and signals.  The team also fully reconstructed and widened Redwood Road between Center Street and I-215. This reconstruction and widening will help address future traffic needs in the area.
The final piece of the project was the addition of a diverging diamond intersection (DDI) and bridge over the I-215. This kind of intersection is designed to improve the efficiency and safety of an interchange; it allows for higher volumes of traffic to cross, enter or exit the freeway.
The team was awarded four additional awards for their work on the design-bid-build project: the Utah Construction and Design's Highway Project of the Year for over $10M; the Associated General Contractors of America (AGC) Utah Chapter's Urban Highway Project of the Year; the Utah Department of Transportation (UDOT) Employee of the Year award for project manager and region preconstruction engineer Brett Slater; and finally, the American Concrete Pavement Association Utah Chapter 2019 Excellence in Paving award.
For more than two decades, Sundt has expanded and improved infrastructure in the Beehive State. In addition to the Redwood Road and I-215 Interchange project, other notable projects include our past runway work at the Salt Lake City International Airport and Michael Army Airfield at Dugway Proving Ground.
About Sundt
Sundt Construction, Inc. (www.sundt.com) is one of the country's largest and most respected general contractors. The 130-year-old firm specializes in building, transportation, industrial and concrete work and is owned entirely by its 2,000-plus employees. Sundt is distinguished by its diverse capabilities and experience, unique employee-ownership culture and depth of self-perform expertise in nine major trades. Half of Sundt's workforce is comprised of skilled craft professionals who, together with the company's administrative employees, enable Sundt to fulfill its mission to be the most skilled builder in America. Sundt has 11 offices throughout California, Arizona, Texas and Utah and is currently ranked the country's 54th largest construction company by ENR, the industry's principal trade magazine.
###
Media Contact:
Kimberley Hoidal
Sundt Construction, Inc.
520.750.4623 (office)
520.282.3018 (mobile)
kahoidal@sundt.com