Continuous Improvement Program Manager Dominic Daughtrey continues to push himself, Sundt, and our industry forward. Winner of the 2019 Industry Innovator Award at this year's Bluebeam Extreme Conference (XCON), Dominic took some time out of his busy schedule to talk with us about his experience. The conference is an immersive three-day event that features Revu training, AEC panels and roundtables, and networking functions. Above all, it's a great vantage point to see the future of the construction industry.
This award "honors thinkers and doers who don't back down from a technical challenge," which is essentially the kind of work you do every day. But what does it mean to you to be named "Industry Innovator"? It means a lot, especially at this conference with the people who attended. It's an assurance that I'm making a difference and that we're making progress together. You know, it's hard to change an entire industry. Sometimes it feels like you're going against the tide. But this allowed me to take a step back and realize that all the continuous improvement work Sundt is doing, and the work that our partners are doing, is moving us in the right direction. This work is benefiting a lot of people in the field and helping them to do their jobs better. So yeah, it really does mean a lot.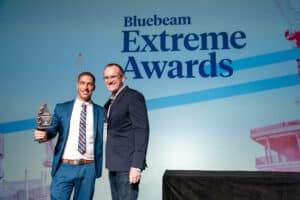 How was this year's Bluebeam Extreme Conference? It was great! This year it was in Washington D.C., which was a cool venue to witness all this new technology coming out. Bluebeam does a great job of bringing everyone together: competitors, companies with complementary technologies, and just a variety of industry professionals at the forefront of construction tech. There were several Sundt partners represented there, including Pype, Drone Deploy, and Raken, and it was great to connect with them. Also, last year I presented twice, but this year I was able to just go as an attendee and focus solely on learning. I didn't have to get up at 3:00 am Arizona time to prepare. It was kind of nice! But overall, it's a great conference, and it just has a different feel. People who attend really do want to make a difference. They care about the construction industry and want to make it better for everyone.
What were some topics that stood out to you this year? The one thing that stood out to me, which I think will be huge going forward, is a new platform Bluebeam acquired called Project Atlas. It's geospatial storage; this sounds weird, but think of it kind of like Google Maps for your project. Say there's an incident on your site. Instead of it being tagged on a set of plans somewhere that you have to track down, you can literally walk over to the area, open the app on your device, and just by being in that location you'll have access to all the relevant documents and data. RFI's, submittals, 3D models, 2D drawings—all relevant to that exact element or zone. You can access this immediately out in the field, and soon we'll be able to implement drone data as well with Drone Deploy already integrated into the platform. It's going to change the way we look at things.
Obviously, there's a "wow-factor" with new technology, but why make innovation a larger focus as a company? For Sundt, if we say we're the most skilled builder, that means we have the best tools in the hands of the best employees in the industry, and they're supported better than anyone in the industry. And that means working smarter not harder. Do we still have grit? Yes, absolutely. And grit gets us across the finish line in tough situations. But a lot of times, coming up with smarter solutions to complex problems is the real key to our company's success, and it's how we'll stay at the forefront of the industry.