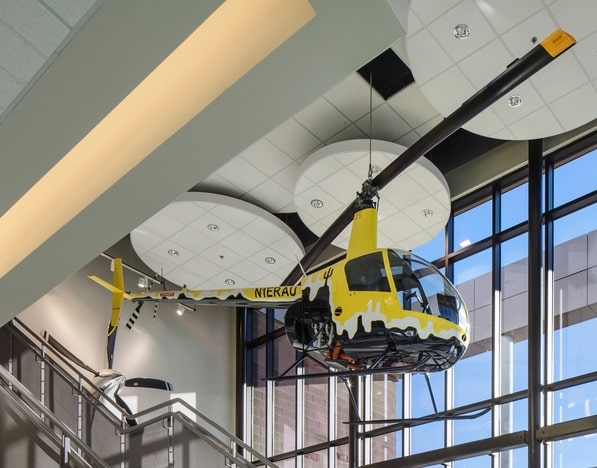 Embry-Riddle Aeronautical University is a high-flying place. Often referred to as the "Harvard of the Sky," the school is the world's largest, fully accredited university specializing in aviation and aerospace, with 125 locations worldwide.
We recently completed work on a classroom and laboratory facility on the school's Prescott, Arizona campus to support the university's STEM program, which has become equal in numbers to its aeronautical program. The project features a 52,570-square-foot facility that houses classrooms, laboratories and a domed auditorium/planetarium.
In an effort to reflect the university's aeronautical roots and theme, we were contacted late in the project by the University's Development team with a question: "What if we hung a functional helicopter in the two-story lobby of the building?"
Our on-site team went to work planning structural support, ways to erect the craft and how to disassemble it, bring it through entry doors and reassemble it in the lobby.
The team worked on structural supports for the final installation as well as temporary means to hoist the helicopter. We worked with Universal Helicopter to disassemble the craft off the shipping truck and transported it through the finished curtain wall systems. We then reassembled and hoisted the craft into position with a slight modification to the tail section support to capture the tilted position of a flight trajectory.
Equally pronounced in the lobby is the propeller donated by Raisbeck Engineering and Hartzell Propellers, which we also installed. It's impossible to miss the Swept Blade Turbofan prototype. With a look like something out of a sci-fi movie, its performance is just as striking.
The features further engage the aviation community, students, staff and locals in the University's mission. Keep 'em, flying, Embry-Riddle!