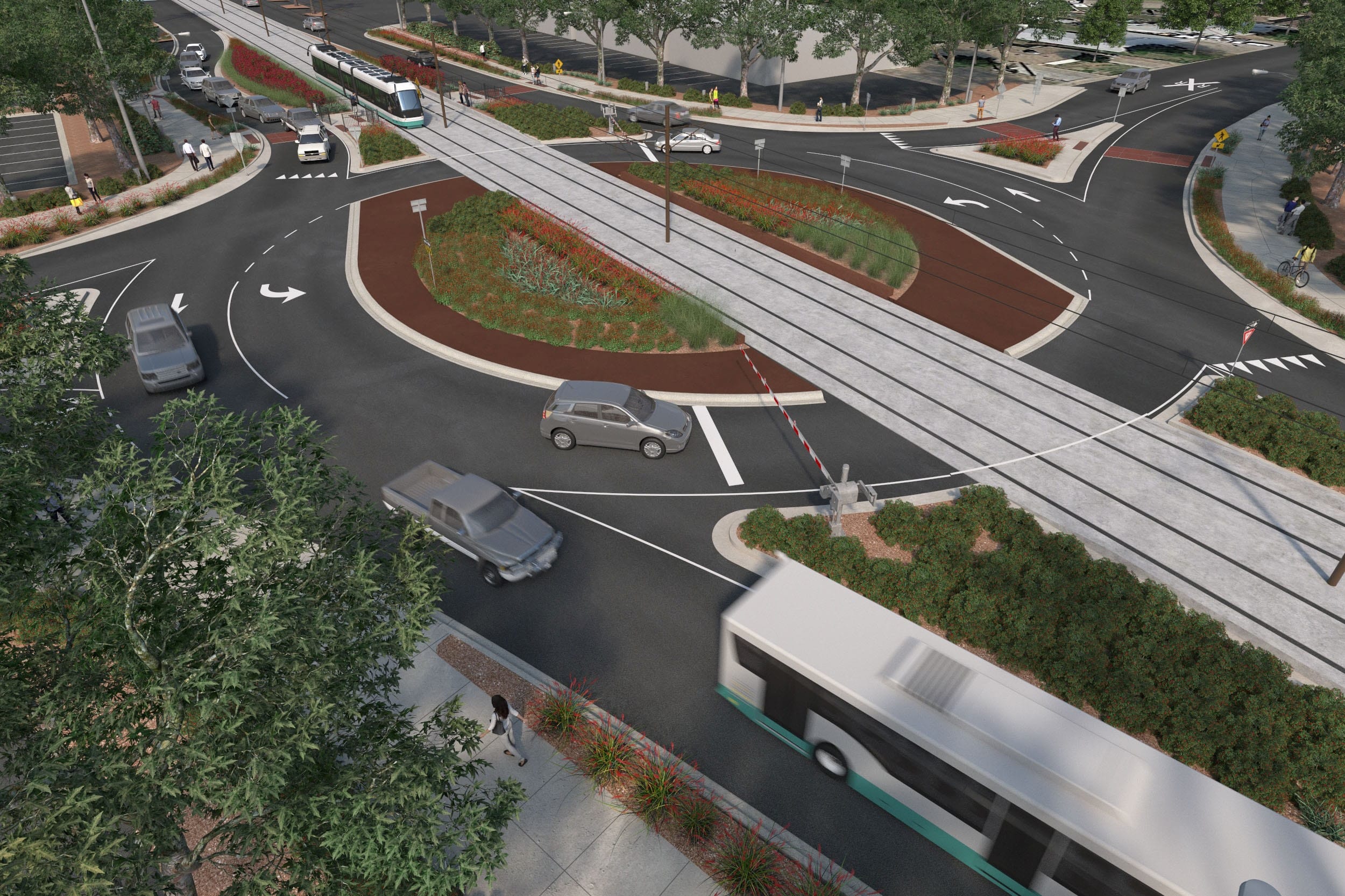 Sundt has a wealth of experience working on light-rail projects for Valley Metro in the Greater Phoenix area. Still, there's a first time for everything.
Our joint-venture team completed the award-winning Northwest Extension last year. In 2008, the team finished more than half of the original 20-mile starter section of the Valley Metro Light Rail transit system, plus the system's maintenance and operations facility.
But our work on the Gilbert Road Extension in Mesa, Arizona has a new wrinkle. Part of the scope is constructing a roundabout to create better traffic flow and eliminate the need for expensive traffic signals. The roundabout will be the first of its kind at a four-way intersection in a light-rail system and only the second overall in the United States.
The roundabout will be located at the busy intersection of Main and Horne streets and will allow cars, bikes and pedestrians to move freely. When a train is present, east- and westbound traffic will remain free-flowing without a traffic signal.
"A typical roundabout provides cost savings when eliminating the traffic signals required at conventional intersections. The cost of signals can range between $500,000 and $750,000," said Preconstruction Manager Jeff Hamilton. "A roundabout on a light-rail project has more complexities associated with controlling a portion of what would typically be a free flowing intersection in all directions."
Because the train will take priority in the east- and westbound directions of Main Street, north- and southbound traffic on Horne has to be controlled with a signalized gate.
"This was a challenge in the design phase," Jeff said. "The preconstruction team worked with traffic engineers to produce a final design that accounted for the space needed to build a functional roundabout with the appropriate radii that would stack enough vehicles in the cue for north- and southbound and still provide free-flowing movements east- and westbound when a train was present."
The $113 million Gilbert Road Extension includes 1.9 miles of track, two stations, one park and ride transit center. Guideway and track construction should begin this winter and substantial completion is scheduled for the end of 2018, targeting a May 2019 opening.