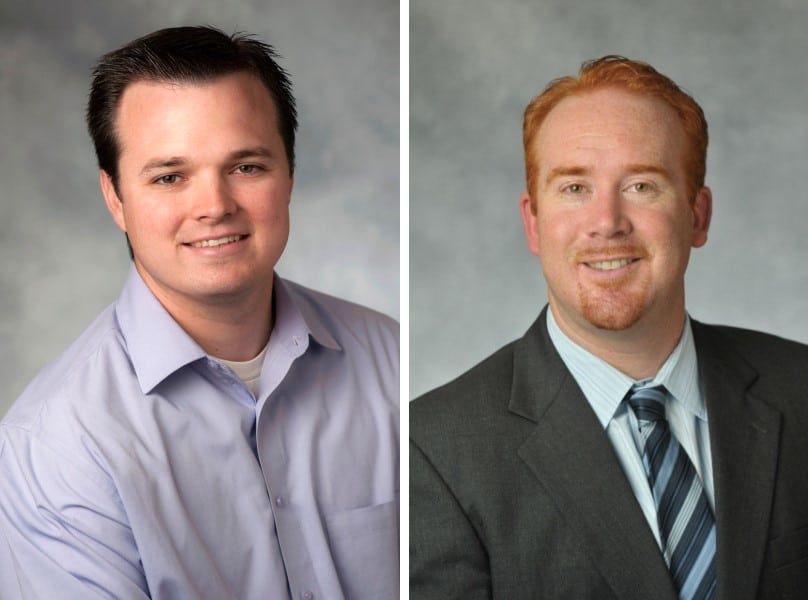 Two of Sundt's employee-owners have been named winners of 40 Under 40 awards from The Daily Transcript in San Diego.
Rob Foster and Brad Kirsch earned the honors as rising stars in the community. Rob is a Lead Estimator who has been in the field for 10 years. Brad is Vice President for Preconstruction in our California District and has been in the industry for 15 years.
Rob has been a key team member at our largest projects in San Diego. He was a Project Building information Modeling Manager and the lead for Mechanical, Electrical, Plumbing, and Systems for the $272 million San Diego International Airport (SDIA) Terminal 2 Landside Expansion. He held a primary role in reaching a Guaranteed Maximum Price Agreement, preconstruction planning and subcontractor procurement for SDIA's $232 million Rental Car Center.
He has shown that he is a results-oriented, focused team leader as well as an active member of the community through the Sundt Foundation and volunteer activities. He has worked with Embrace's Helping Our Heroes' Homes, which restores the houses of low-income, disabled veteran homeowners.
Brad has assembled an impressive resume of successful, well-executed projects valued at more than $742 million, including key work in the San Diego community including Cathedral Catholic High School, Mater Dei High School, Sony Electronics Corporate Headquarters, the SDIA Terminal 2 Landside Improvements and the SDIA Rental Car Center.
He is involved in the construction industry through the Associated General Contractors of America, San Diego Chapter. Brad has given to the Sundt Foundation for 15 years and is active on the San Diego committee selecting charities to receive grants. He also has been involved in numerous volunteer efforts and events.
Awardees came from real estate, construction, law, financial services and government. Some were individual business owners and operators.