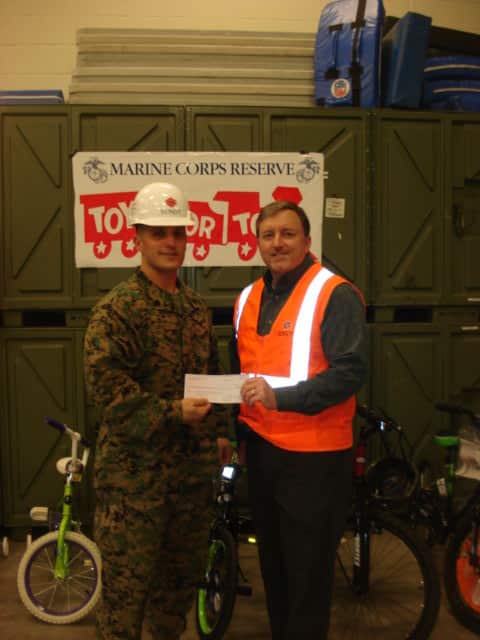 Many of our service members face tough times during the holidays. Long separations from their families, emotional and physical battle wounds, and even financial struggles can make this joyous time of year more challenging than it should be for those who dedicate themselves to keeping our country safe.
"Some of them come home from a long tour of duty overseas and don't even have money to buy gifts for their kids, or food for Christmas dinner," says Dan Arana, operations manager for Sundt's Federal Division. Dan, whose own family benefitted from the kindness of others when he was growing up, has made it his personal mission to identify and help meet the needs of our men and women in uniform at each of the military installations where Sundt has a current construction project. "We want them to know that people care about them. It makes their holidays brighter, and it makes us feel good to help."
Dan and his fellow Federal Division employees worked to put together the following holiday-themed activities to benefit military families this year:
At Marine Corps Base Camp Yuma, Ariz., they gave 40 $50 gift cards to the Officers' Spouses' Club and 60 $50 gift cards to the Marine Corps Community Service, totaling $5,000 all together. The organizations will distribute the commissary gift cards to young Marines and their families to help feed them over the holidays. This was in addition to 60 $50 commissary gift cards Sundt gave to the Marine Corps Community Service to help Marines and their families at Thanksgiving.
At Fort Sill, Okla., Sundt recently held a barbecue to celebrate two successful projects and used the opportunity to encourage a number of its subcontractors to match the Sundt Foundation's $3,000 grant to the Armed Services YMCA (see below). An additional $1,856 was raised from a number of subs and suppliers, bringing the total to $4,856. The check was given to the organization during the week of Thanksgiving, and was reported to be a huge help.
Federal Division employees working at Fort Sill also sponsored four military families for Christmas, which involves purchasing gifts for their families as well as toys for a "Holiday Joy" event that took place on Dec. 20.
The Sundt Foundation joined in the Federal Division's generosity by awarding $10,000 in grants to the following non-profit organizations that lend a helping hand to military families:
$3,000 – Armed Services YMCA – Fort Sill, Okla.
$2,000 – Hope for our Warriors – Camp Lejeune, N.C.
$1,000 – Operation Santa Claus – Fort Bliss, Texas
$1,000 – Santa's Workshop – Fort Hood, Texas
$1,000 – Toys for Tots – Camp Lejeune, N.C.
$1,000 – USO of North Carolina – Camp Lejeune, N.C.
$1,000 – Returning Heroes Home – Fort Sam Houston, Texas
Sundt also gave $5,000 to the following organizations at Fort Polk, La.:
$1,000 – Fort Polk Army Community Service (ACS) Baby Center
$1,000 – Fort Polk ACS Emergency Food Voucher
$1,000 – Fort Polk ACS Survivor Outreach
$1,000 – Fort Polk Child Development Center
$1,000 – Fort Polk Youth Services