EL PASO, Texas (September 19, 2022) – Sundt Construction recently broke ground on the Center for Advanced Manufacturing and Aerospace at the University of Texas El Paso (UTEP). The center will go hand in hand with the University's new undergraduate degree in aerospace and aeronautical engineering.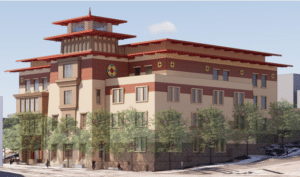 "Getting started on this much-needed, innovative facility is a huge milestone," said Joseph Riccillo, project director and Sundt's El Paso office leader. "UTEP is expanding on their capabilities to foster the next generations of manufacturers and aerospace engineers."
The $49 million project will consist of four levels and span 88,000 square feet. Once completed, the state-of-the-art building will bring research groups spread across the campus to a more centralized location.
UTEP is a national leader in additive manufacturing using specialty materials and embedding electronics in 3D-printed materials. The University has completed advanced research in this field during the past decade worth more than $100 million, sponsored by NASA, the U.S. Department of Defense, the National Science Foundation and other agencies.
During the past ten years, Sundt has completed over a billion dollars of construction in the El Paso region. The company recently revitalized the historic Blue Flame building in downtown El Paso and the Texas Department of Transportation's I-10 Connect project. The company has offices in El Paso, Dallas and San Antonio and over $3 billion of past work throughout Texas.
About Sundt 
Sundt Construction, Inc. (www.sundt.com) is one of the country's largest and most respected general contractors. The 132-year-old firm specializes in transportation, industrial, building, concrete and renewable energy work and is owned entirely by its approximately 2,000-plus employees. Sundt is distinguished by its diverse capabilities and experience, unique employee-ownership culture and depth of self-perform expertise in nine major trades. Much of Sundt's workforce is comprised of skilled craft professionals who, together with the company's administrative employees, enable Sundt to fulfill its mission to be the most skilled builder in America. Sundt has 12 offices throughout Arizona, California, North Carolina, Oregon, Texas and Utah and is currently ranked the country's 61st largest construction company by ENR, the industry's principal trade magazine.
### 
Media Contact:
Kimberley Hoidal
Sundt Construction, Inc.
480.293.3001 (office)
520.282.3018 (mobile)
kahoidal@sundt.com