PHOENIX (June 22, 2022) – The Sundt Foundation has added Scott LaPoint to its board of directors. He will represent the Phoenix region. 
 "Scott is passionate about giving back to the community, and I am confident he will be a great addition to the board," said Madison Jones, President of the Sundt Foundation. "His enthusiasm for the Sundt Foundation is apparent through his continuous involvement in volunteer activities throughout the Phoenix region."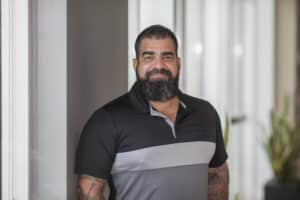 Following enlistment in the United States Navy, LaPoint started as a carpenter and worked his way up throughout many positions in the construction industry. He joined Sundt in 2018 and now serves as a senior talent development specialist. Since he started at Sundt, LaPoint has been an active member of the Foundation, joining the Phoenix region's committee in 2019, participating in grant check deliveries and orchestrating volunteer opportunities.  
"I am excited to represent the Phoenix region on the Sundt Foundation Board," said LaPoint. "We have made such a difference in the community since the Foundation's inception, and I look forward to doing my part in continuing its impact." 
The Sundt Foundation Board of Directors is composed of 12 employee-owners, four appointed by the company and eight elected by the membership. The board convenes quarterly to approve grants based on recommendations made by employee-owner committees in each Sundt office. 
Sundt recognizes the importance of community giving. Today, its employee-owners remain dedicated to ensuring the well-being of others, donating generously to charitable causes and volunteering thousands of hours each year to help various local organizations achieve their missions. For many employee-owners, the Sundt Foundation is the principal way they give back to the communities they call home. 
About the Sundt Foundation    
Sundt's purpose is to build environments where its clients, employee-owners and communities prosper. The Sundt Foundation was established in 1999 as a way for employee-owners to give back to the communities in which they live and work. The organization is funded primarily by contributions from Sundt employees, which are matched by the company. To date, the Foundation has awarded more than $11 million in donations. Nonprofit organizations interested in applying for a grant may call (480) 293-3000 or visit www.sundtfoundation.org for more information. Sundt has offices in Tempe and Tucson, Arizona; Salt Lake City, Utah; Portland, Ore., Charlotte, N.C., San Antonio, Dallas and El Paso, Texas; and Sacramento, San Diego and Irvine, California.    
About Sundt    
Sundt Construction, Inc. (www.sundt.com) is one of the country's largest and most respected general contractors. The 132-year-old firm specializes in transportation, industrial, building, concrete and renewable energy work and is owned entirely by its approximately 1,500-plus employees. Sundt is distinguished by its diverse capabilities and experience, unique employee-ownership culture, and depth of self-perform expertise in nine major trades. Much of Sundt's workforce is comprised of skilled craft professionals who, together with the company's administrative employees, enable Sundt to fulfill its mission to be the most skilled builder in America. Sundt has 12 offices throughout Arizona, California, North Carolina, Oregon, Texas, and Utah and is currently ranked the country's 61st largest construction company by ENR, the industry's principal trade magazine.    
###   
Media Contact:
Kimberley Hoidal
Sundt Construction, Inc.
520.750.4623 (office)
520.282.3018 (mobile)
kahoidal@sundt.com