As the sun rises over the Royal Oaks Campus Expansion project, all forms and phases of construction are under way. Framers are hammering together what will be three-story buildings with condo-style independent living units. Concrete finishers are smoothing out a nice, cake-like slab for a dining pavilion and outdoor amenity space. Above a new underground parking garage, there are luxury villas where stucco masons are wrapping walls in chicken wire.

Just over a year ago, this was an 8-acre dirt lot. A year from this spring, however, it will be a full community with nearly 370,000 square feet of space and 156 units. To do a phased turnover of a $100 million senior living campus expansion like this, especially at this speed, a contractor needs to cover a lot of bases.
"From the first design meeting we sat in on, we've been proactive in fine-tuning budget and schedule," said Project Director Tucker Macon, senior living expert from the Building Group's Southwest District. "Each building we turn over generates immediate return on Royal Oaks' investment. And these new units are going fast. The sooner a future resident purchases their unit, the more customization options are available in each phase of construction."
Customization is a major selling point, Tucker explained, with over 4,000 customization options for each unit, from structural and rough-in options to custom finishes. "For residents, that's amazing. For the builder, the owner, and their sales team, that's 4,000 line items to keep track of."
In a sense, everything Sundt builds is a "custom project" that has never been done before—and even with the most proactive plans, out in the field we still face unexpected challenges. For Field Superintendent Oswaldo Robledo, this happened with the phasing of the underground parking garage.
"We had existing power and gas running through the eastern portion, running right through where the parking garage ramp is now," said Oswaldo. "We provided new routes for these through the existing campus, but we had to wait for the utilities to actually switch over their services. Also, we ripped through a live phone line marked 'dead' by Blue Stake. These issues delayed the excavation of the garage as well as adjacent footings and walls. Fortunately, being a self-perform concrete builder, we were able to re-sequence and recover from these issues a lot quicker."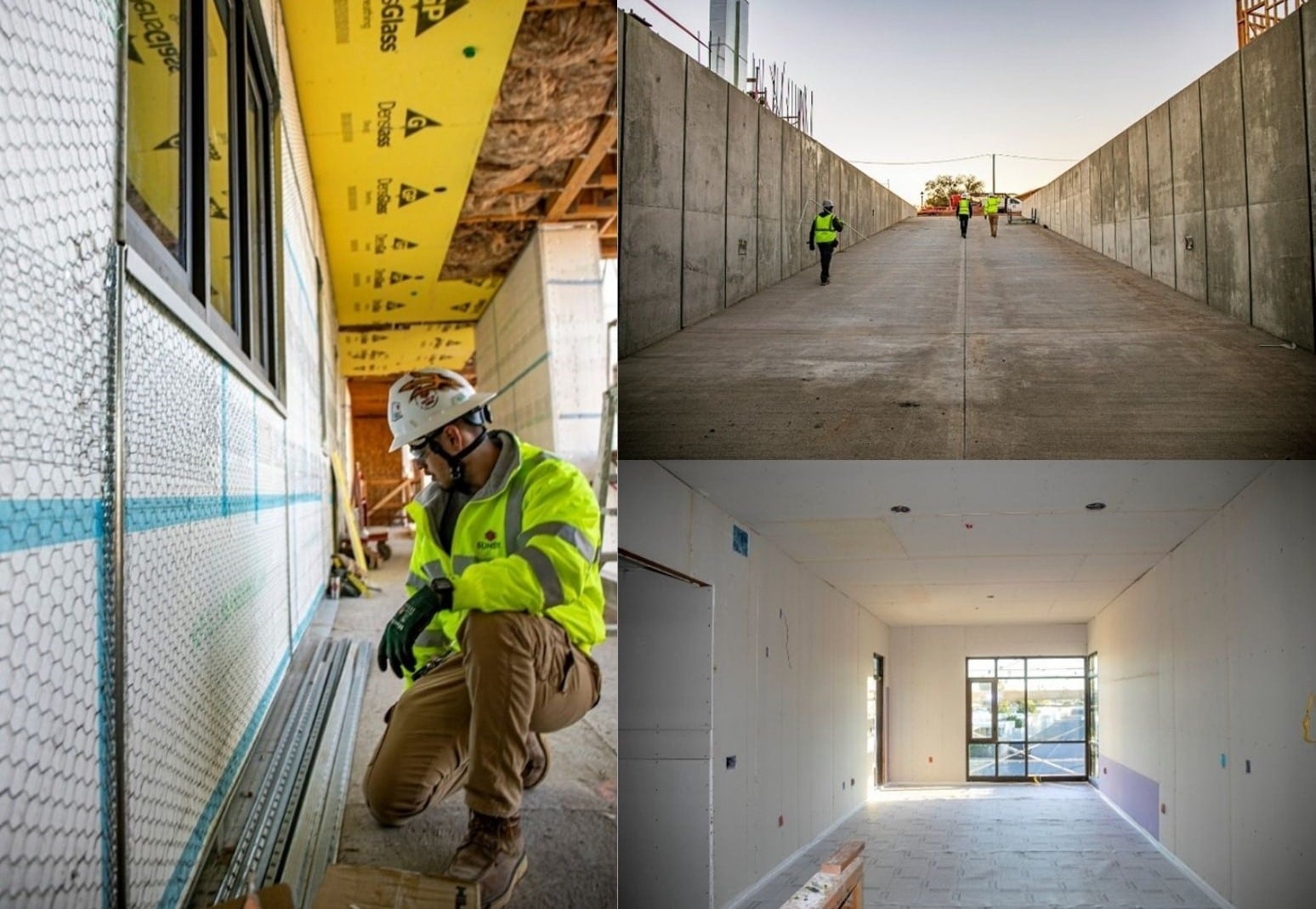 It's not always big issues that need immediate attention. As Oswaldo pointed out, the team is working in an active community, with seniors' homes literally a stone's throw from the site. "A lot of our work here is being a good neighbor," he said. "In one case, we had a resident raise concern over the privacy screen on the jobsite fence—it was blocking her view of the sunset, and watching the sunset was a big part of her routine. So, we made an exception and took that portion down."
It's little things like this that people remember, and that add up to a larger relationship with a community and a client. "Sundt's been performing work here at Royal Oaks for 17 years," said Oswaldo. "Obviously a big part of that is our skill as a builder, but there's a lot more that goes into this partnership."