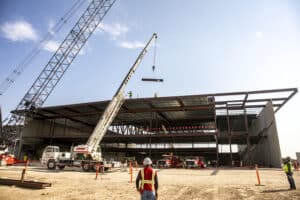 SAN ANTONIO (August 26, 2021) – Sundt Construction, Inc., recently celebrated the topping out of Port San Antonio's Innovation Center, located at General Hudnell Drive and 36th Street.
"This is a great milestone on this innovative project," said Jon McKelvain, Sundt's Project Executive. "Our team has worked hard to get to this point and looks forward to completing this project for the Port."
The 127,000-square-foot Innovation Center will prominently feature a 2,500-person multipurpose arena on the building's southeast side. The new facility will host various events, including concerts, electronic gaming, technology competitions and trade shows.
The facility will be in the heart of the 1,900-acre technology and innovation campus that is already home to over 80 employers and more than 14,000 employees, including leading names in the aerospace, cybersecurity, robotics, and defense sectors.
Sundt has 50 years and over $3 billion of project experience in the Lone Star state, with offices in San Antonio, Dallas and El Paso. The company is currently busy in San Antonio, working on the San Pedro Creek Improvements and the Broadway Street reconstruction.
About Sundt
Sundt Construction, Inc. (www.sundt.com) is one of the country's largest and most respected general contractors. The 131-year-old firm specializes in transportation, industrial, building, concrete and renewable power work and is owned entirely by its approximately 2,000-plus employees. Sundt is distinguished by its diverse capabilities and experience, unique employee-ownership culture and depth of self-perform expertise in nine major trades. Half of Sundt's workforce is comprised of skilled craft professionals who, together with the company's administrative employees, enable Sundt to fulfill its mission to be the most skilled builder in America. Sundt has 10 offices throughout Texas, Arizona, California and Utah and is currently ranked the country's 58th largest construction company by ENR, the industry's principal trade magazine.
###
Media Contact:
Kimberley Hoidal
Sundt Construction, Inc.
480.293.3001 (office)
520.282.3018 (mobile)
kahoidal@sundt.com