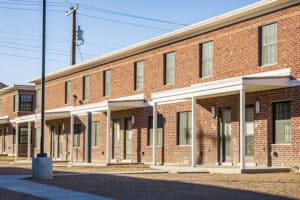 EL PASO, Texas (August 18, 2021) – Sundt Construction, Inc., recently completed its renovation of the Housing Opportunity Management Enterprises (HOME) Tays residential community.
"Our team is proud to deliver another successful property renovation to HOME," said Luis Licon, Sundt's project manager. "Our team took great pride in restoring this property and keeping its historical features intact."
The $40 million historical renovation project involved upgrades to 56 existing residential and multi-family buildings with 278 modernized units and a community center. Originally designed by famed architects Trost & Trost in the late 1930s, the complex is on the National Register of Historic Places.
Sundt's project team carefully incorporated modern, new elements while maintaining the historic features. The community center's cathedral-like ceiling shows the project team's close attention to every detail.  The design called for the 80-year-old wood beams to be re-painted. To maintain the historical element of the center, the project team hand-sanded and stained the wood, restoring the original wood beams. The construction manager at-risk project started in April 2019. El Paso's Carl Daniel Architects served as the architect of record.
Tay's renovation is part of HOME's initiative to revitalize all affordable housing communities in its portfolio throughout the Borderplex, using funding from the U.S. Department of Housing and Urban Development's Rental Assistance Demonstration program.
Sundt has renovated eight residential communities for HOME over the past five years. Most of the buildings were historic renovations similar to Tays. The most recognizable project was El Paso Natural Gas's former headquarters in downtown El Paso. Sundt's team converted six floors into 120 apartments, primarily for elderly and disabled tenants, and renovated the top three floors for HOME offices, Workforce Solutions and a community center on the 16th floor that provides a spectacular view of El Paso.  The company has also completed renovations of Sherman, Father Pinto, Chelsea, and Sun Plaza properties.
About Sundt
Sundt Construction, Inc. (www.sundt.com) is one of the country's largest and most respected general contractors. The 131-year-old firm specializes in transportation, industrial, building, concrete and renewable energy work and is owned entirely by its approximately 2,000-plus employees. Sundt is distinguished by its diverse capabilities and experience, unique employee-ownership culture and depth of self-perform expertise in nine major trades. Half of Sundt's workforce is comprised of skilled craft professionals who, together with the company's administrative employees, enable Sundt to fulfill its mission to be the most skilled builder in America. Sundt has 10 offices throughout California, Arizona, Texas and Utah and is currently ranked the country's 58th largest construction company by ENR, the industry's principal trade magazine.
###
Media Contact:
Kimberley Hoidal
Sundt Construction, Inc.
480.293.3001 (office)
520.282.3018 (mobile)
kahoidal@sundt.com