Every city has its well-known structures and infrastructure that shape residents' sense of place and hometown identity. Less commonly known are the stories of how these landmarks were built and who built them. This is true for at least two of the most recognizable features of the Dallas and Fort Worth skylines: Reunion Tower and West 7th Street Bridge. Sundt has over 50 years and $3 billion of work in Texas, including a central role in the history of these two iconic projects.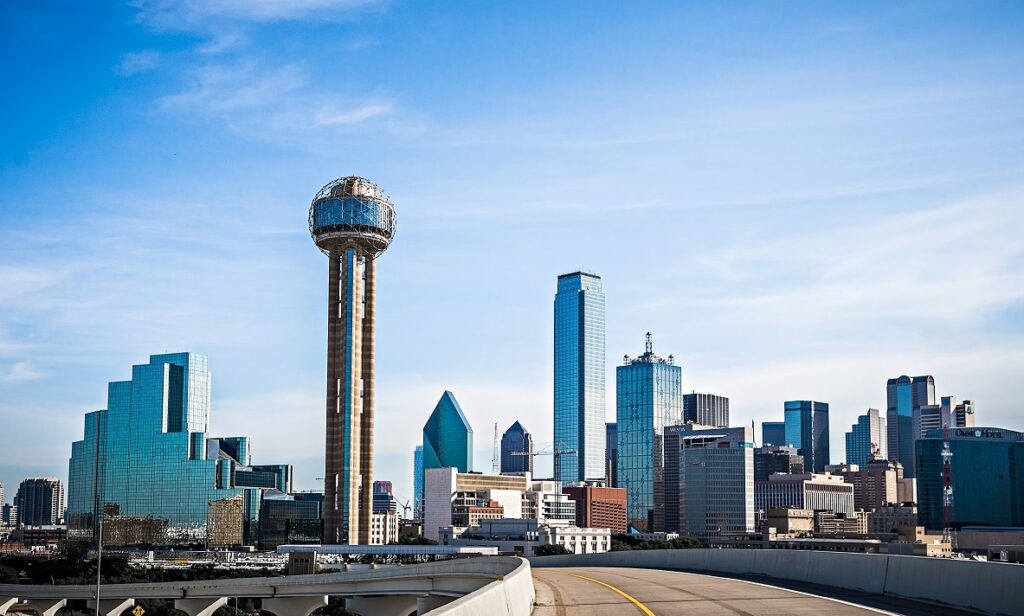 A Towering Presence in Slip Form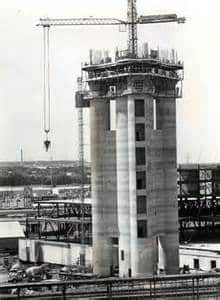 In the 1970s, Sundt leveraged its experience with missile silo construction to become a leading contractor in the niche market of slip formed concrete cores for high-rise buildings. Our most unusual slip form project was part of the Hyatt Regency Hotel in Dallas.
At 562 feet tall, Reunion Tower is a defining piece of the Dallas skyline and footprint, but it was built like any other high-rise structure: one floor at a time. The speed at which these floors were completed, according to former Sundt CEO Dave Crawford, is what really made its construction a sight to behold. "Everyone wanted to know: how are they doing a floor a day?" said Dave. "We did 50 stories in about two months—I mean, here we are in 2021, and I can't even remodel my kitchen in that time."
Having worked on Reunion Tower as a project engineer at age 25, Dave can recall only a handful of other projects in his career with the same feeling of time-lapse-like progress and constant public attention. Within the slip form market, precision became Sundt's calling card, according to Dave. "Our team was so good at 'steering' the tower upward, compensating for shifting weight and alternating directions for pours. That's how we could guarantee tolerances of an inch, inch and a half for structures this size. Very few builders could do that at the time."
A lot has changed in 45 years, but Sundt remains a superior builder. We keep asking the hard questions: How can we build it quicker? Safer? Better quality? We never have trouble putting a team together because people want to work with us—they know Sundt is innovative, fair, and appreciative of their efforts to contribute to everyone's success.

– Dave Crawford, Former Sundt CEO
No Bridge Too Far or Schedule Too Short
The 12 illuminated stainless steel 300-ton concrete arches that form the backbone of the West 7th Street Bridge in Fort Worth are an engineering and construction marvel. Using conventional techniques to remove and replace the nearly 100-year-old bridge would have meant closing the crossing over the Trinity River for a year or more. This was a non-starter for Fort Worth as 7th Street is the key roadway that links downtown to the cultural district, as well as the famous annual Fort Worth Stock and Rodeo Show.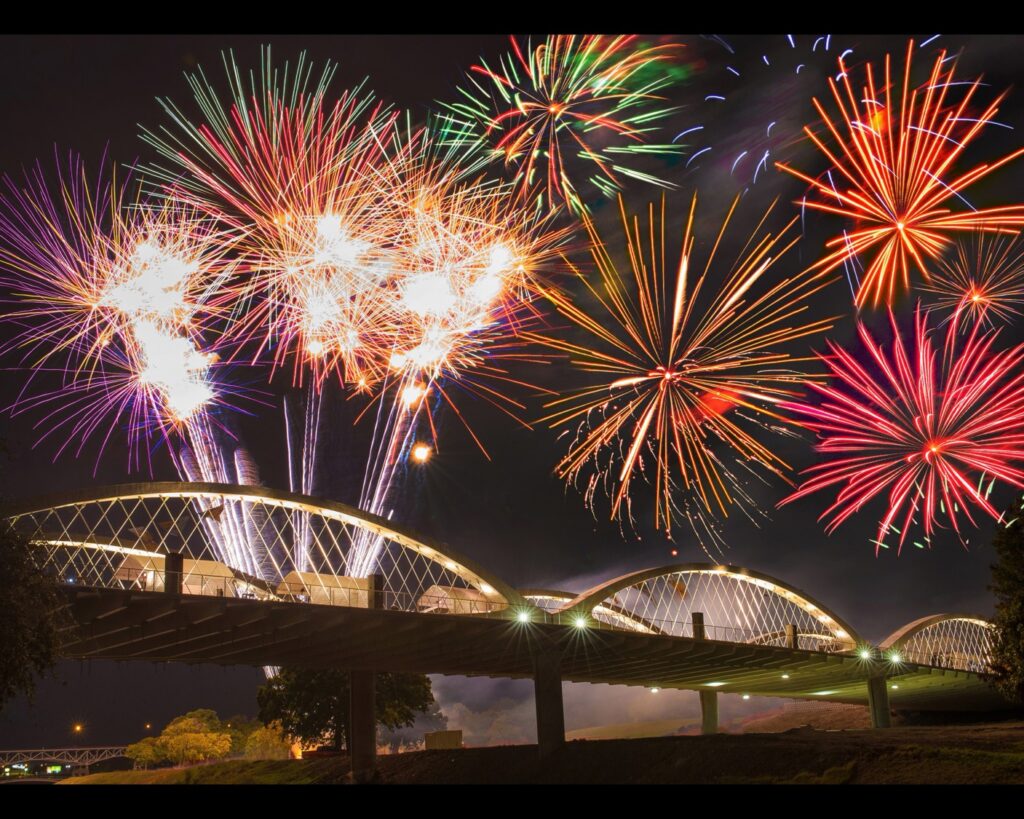 Instead, an expedited schedule was set forth, and Sundt came up with a creative approach to meet it. "We pre-cast and stored the arches off site, and our team used 3D modeling to plan and build them, as well as sequence the setting of the arches and critical floor beams," said John Carlson, Sr. Vice President and Strategic Business Director of Sundt's Transportation Group. "We began constructing the columns that supported the arches around the same time we started building the arches themselves. This alternative phasing helped speed up the work and eliminated road closure during column construction."
This was the first project I worked on that used 3D modeling on the actual pre-casting of the concrete arches and the setting sequencing of the arches and deck beams. It was notable because our modeling found multiple conflicts in the initial design. Had we not caught these prior to casting, it would have delayed completion by several months.

– John Carlson, Sr. Vice President and Strategic Business Director, Sundt Transportation Group
In May 2013, the first completed arch was loaded onto two self-propelled modular transport trailers and slowly driven the four blocks from the casting yard and across the old bridge. Here, twin Liebherr 1400 cranes lifted and set it into place on new foundations located alongside the original structure.
The remaining arch setting occurred over the next 30 days, mostly at night to minimize traffic disruptions. Once all of the arches were placed, the team closed and demolished the old bridge and constructed the new one in its footprint. According to John, "With the size and shape of the precast, post-tensioned arches, there's literally no other bridge like it in the world." The West 7th Street Bridge re-opened to traffic just 120 days later, a month sooner than originally planned.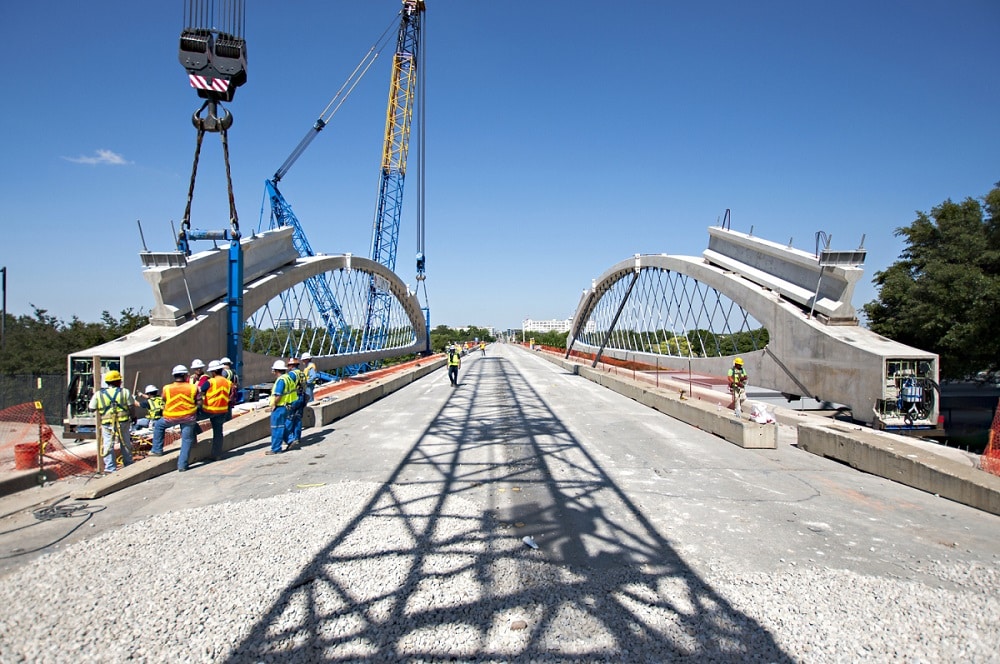 With pioneering and award-winning projects, our work in Texas has played a key role in making Sundt a top contractor, consistently earning rankings in ENR Texas & Louisiana's Top Contractors list and winning multiple Best Project honors. Sundt's most recent award-winning projects in Texas include the recently completed Beacon Rec Center in Arlington, San Pedro Creek Culture Park in San Antonio, and the GO 10 freeway reconstruction in El Paso.