The senior living market has been one of the most affected by the pandemic, pushing designers, builders, owners and operators to adapt to the changing needs of the older adults they serve. Project teams must now account for a "new normal" in some areas while recapturing the "old normal" in others. With a resurgent demand for new and renovated housing in this market, a few key trends are emerging.
Leaders in Sundt's Building Group are bringing a wealth of experience and detailed plans to address these trends. According to 33-year industry veteran Tucker Macon, Project Executive for Sundt's Southwest District, the way builders approach the following will shape the future of senior living construction.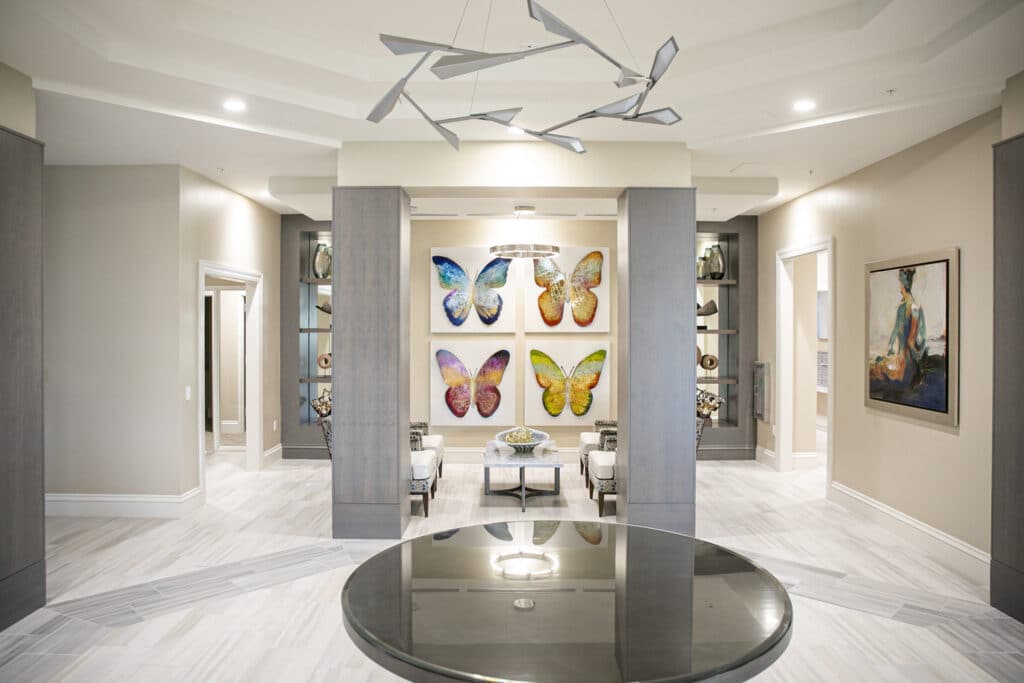 1. Demand is Back, Supply is Playing Catch-up
The market's pent-up demand from the past year is now here in full force, said Tucker, who is overseeing $145 million of senior living construction in the greater Phoenix area. "You have a lot of older adults who delayed their decision to move during the pandemic and are now looking for housing options." When demand slowed last year, Tucker explained, some owners chose to put new projects on hold, while others continued in anticipation of a vaccine and a return to normal. "We have clients in both scenarios, and we're able to either phase or streamline projects as their operations allow."
Another factor is Arizona's recent population growth, with a sizable portion of new residents being 65 and older. "The market demand for active and senior living is like a faucet being turned on, but the labor pipeline for some builders just isn't there," said Tucker. With a strong regional and national network of skilled tradespeople, as well as self-perform capabilities, Sundt has been able to weather these shortages. In other cases, we've operated "lean" using the resources at our disposal, said Tucker: "Instead of making excuses because of the pandemic, our teams have maintained their schedules and problem-solved around supply-chain issues and workforce shortages."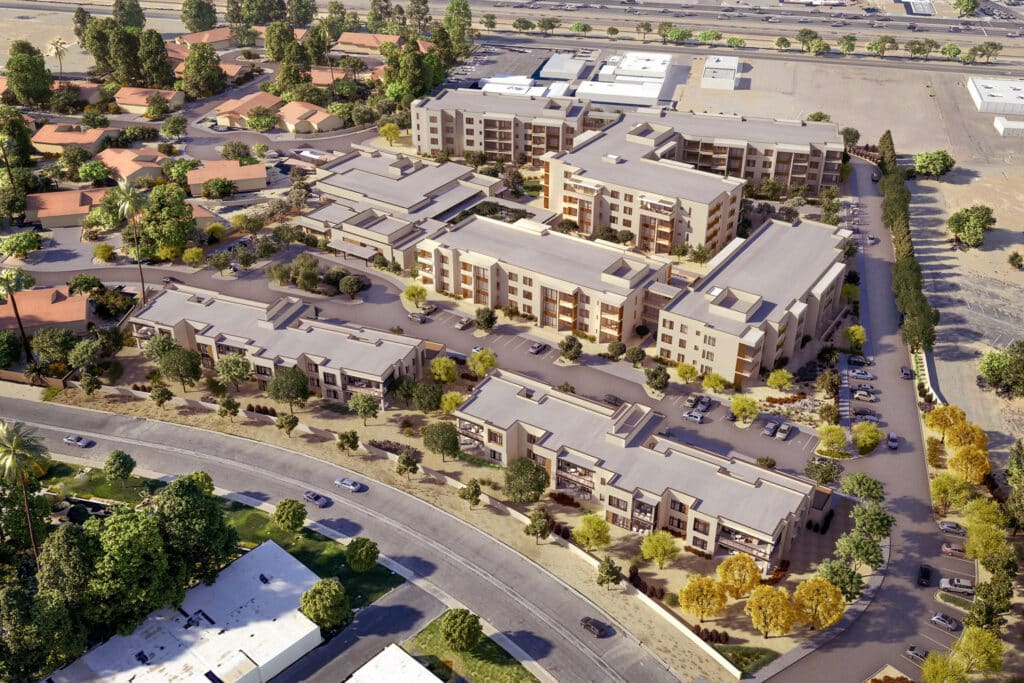 2. Design Based on Flexibility and Safety
The balance between quality of life and safety has become an area of increasing complexity for senior living clients, and one that a lot of new and existing projects are seeking to address. "There's so much focus on community involvement in this space, getting residents out and interacting with each other," said Tucker. "But how do you do that, let alone scale it up or down, while still following health and safety protocols? The answer is complicated, and has pushed owners and designers to think outside of the box."
One solution is amenity spaces and common areas designed and built with flexibility in mind. "We're now seeing more 'neighborhoods' or 'ecosystems' that can quarantine if needed, without residents being isolated or having less access to amenities," said Tucker. "The idea is to build adaptability into these communities so people can socialize as they once did, but also have the ability to quickly separate or convert spaces when the need arises." And, just like in other markets, residents need options. "Take dining areas for example—you still have the desire for a more traditional, high-quality dining experience but now with added capacity for delivery or pick-up."

3. A Need for Renovation and Innovation
As occupancy rates return to pre-pandemic levels, senior living clients are aiming to build not only more units but higher-quality units. "There's a lot of dated product on the market, which requires upgrades on a number of levels," said Tucker. "To expand and renovate within occupied communities, a builder needs to really integrate themselves with the staff and keep in step with residents' needs."
On Sundt's recent work at Sun Health Grandview Terrace, our primary focus was resident safety and well-being. We worked to limit noise and vibration, accounted for potential emergency situations, and offered a "concierge service" to help residents navigate through work areas. Our team went above and beyond to create not only a safe jobsite but a larger culture of respect and camaraderie with residents.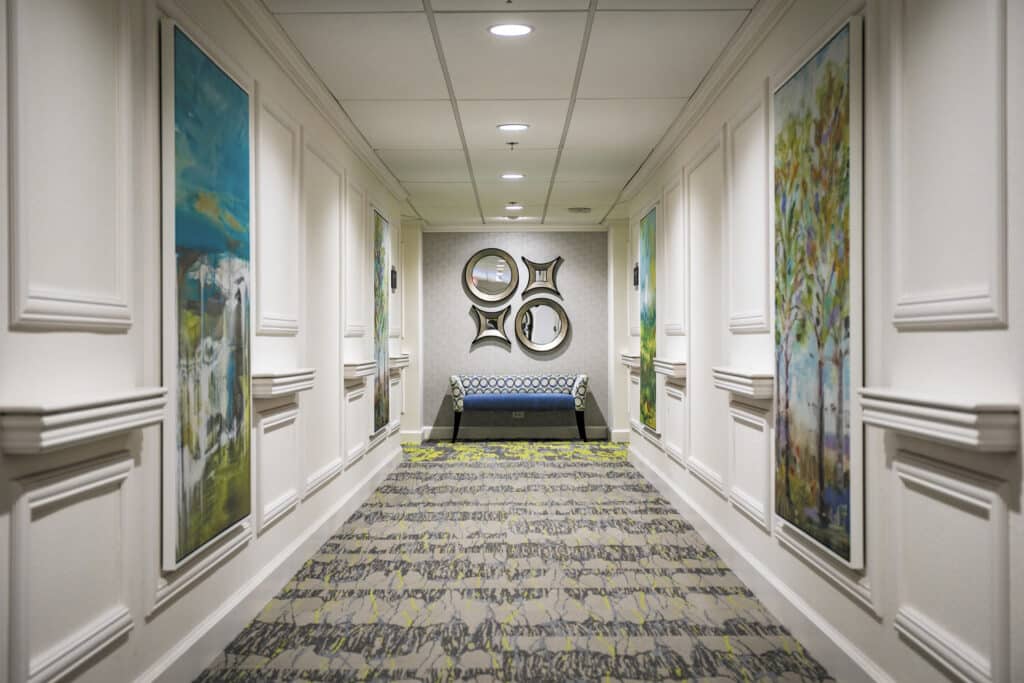 We have 300 residents living with us. To remodel this space, we had to bring about some serious changes—changing the noise level, changing direction of access, changing locations of amenities, and so on. It was very important for Sun Health to partner with someone who knew our processes, and who would communicate with us. We felt that Sundt met that expectation.

– Bhakti Gosalia, Vice President of Operations, Sun Health
Looking beyond the renovation of existing properties, some senior living clients are moving away from conventional models altogether. Through innovative partnerships with universities and equity groups, owners are building intergenerational, urban senior living communities. "We've seen this trend starting to catch on in cities like Tempe and Tucson, and Sundt is well positioned to build these kinds of projects," said Tucker. "We have cross-market background in mixed-use, high-rise office, multi-family and senior living. Sundt also has self-perform concrete abilities and experience building in dense urban environments. Basically, we can complete this work with a higher degree of quality and efficiency."
Reflecting on senior living as an evolving market, Tucker noted some things will remain the same.  "Regardless of what the future looks like, I think we're going to continue advocating for our clients and the people they serve. We're going to work collaboratively with owners and designers to solve complex challenges, from both a construction and a business standpoint. And ultimately we're going to put the safety of residents and staff first. Doing those things well is what makes Sundt a builder of choice."