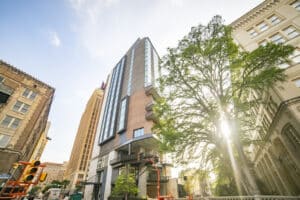 SAN ANTONIO (April 20, 2021) – Sundt Construction, Inc., recently completed the newest addition to the San Antonio Riverwalk, Canopy by Hilton. Located on the northwest corner of North St. Mary's and Commerce streets, the 20-story hotel offers a nod to the city's past and a glimpse at its future.
"Our project team worked hard to deliver this new hotel within the confines of an extremely tight lot and surrounded by heavy vehicle and foot traffic," said Jon McKelvain, project executive for Sundt's Building Group. "Throughout the project, the team worked to be a great neighbor to surrounding businesses, residents and visitors, all while completing this new option for visitors along the Riverwalk."
The boutique hotel features 195 guest rooms, over 3,000 square feet of meeting space, and a restaurant with an outdoor terrace overlooking the Riverwalk. Starting on the fifth floor, the hotel cantilevers 14 feet out over the historic Esquire Tavern, which dates to pre-Prohibition times. The cantilevering increased the floor plate and allowed for additional space for floors up through the roof level, featuring a more modern look with open glass and steel.
The building's design integrates the Civil War-era Alamo Fish Market. Its façade and lobby incorporate limestone and brick, including sharing a common limestone wall with the Esquire Tavern visible in the hotel's lobby and restaurant.
Sundt has 50 years and nearly $3 billion of project experience in the Lone Star state, with offices in San Antonio, Dallas and El Paso. The company is currently busy in the downtown San Antonio area working on the San Pedro Creek Improvements, Broadway Street improvements and recently started construction on Port San Antonio's Innovation Center.
About Sundt
Sundt Construction, Inc. (www.sundt.com) is one of the country's largest and most respected general contractors. The 131-year-old firm specializes in transportation, industrial, building, concrete and renewable power work and is owned entirely by its approximately 2,000-plus employees. Sundt is distinguished by its diverse capabilities and experience, unique employee-ownership culture and depth of self-perform expertise in nine major trades. Much of Sundt's workforce is comprised of skilled craft professionals who, together with the company's administrative employees, enable Sundt to fulfill its mission to be the most skilled builder in America. Sundt has 11 offices throughout California, Arizona, Texas and Utah and is currently ranked the country's 52nd largest construction company by ENR, the industry's principal trade magazine.
# sundt.com #
Media Contact:
Kimberley Hoidal
Sundt Construction, Inc.
480.293.3001 (office)
520.282.3018 (mobile)
kahoidal@sundt.com