It's a long way from the cotton fields and pecan orchards of San Elizario, Texas, to a career as a cost engineer helping make transformational projects a reality across the state of Texas.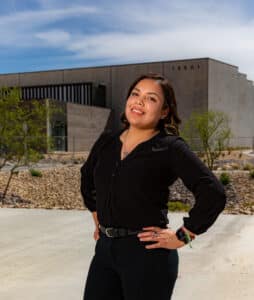 But for Sandra Perez a graduate school internship helped shorten the distance between where she started and where she hoped to go.
"I did an internship with Wright-Dalbin Architects, who were working on projects for the Housing Authority of the City of El Paso. I helped with the administration of certain projects and ended up working on four or five projects Sundt was involved with," Perez said. "My job included everything from participating in weekly meetings to answering RFI's, and I was fortunate enough to get to meet Sundt's project manager and superintendent on that project and they offered for me to send them my resume."
By demonstrating her talent and expertise during the internship, Perez was able to land a job at Sundt, working on the City of El Paso's Eastside Regional Park project. If a student approaches the opportunity correctly, she said, an internship can create a lot of value.
"Go with the intention to learn. Everyone has something to teach you. They may have a lifetime of job experience. You have to be open-minded. Yes, we learned things in school a certain way, but there are many ways to do things. There's so much you could learn."
That's exactly the approach that impressed Henry Espalin, project manager for Eastside Regional Park.
"Whether it's a fulltime job or an internship, don't be afraid to get your hands dirty. Get in, get involved and ask questions," he said. "That's the only way you're going to learn this industry."
Perez, who holds a bachelor's degree in architecture from Texas Tech University and a master's degree in construction management from the University of Texas at El Paso, is putting what she learned as an intern and her unique educational background to work on major projects across the state.
"Having the architectural background gave her insight on what to look for when it came to submittal reviews," Espalin said. "It makes for a well-rounded team, having the ability to sit there and work through situations. There's not just one way to a solution. Sometimes you just got to combine things to find a solution that's viable."
In addition to the Eastside Regional Park project, Perez worked on the Denton County Administrative Complex in North Texas where her eye for architecture earned some funny looks but also provided her a unique perspective on the project.
"Though it's new construction, it's based on their old courthouse so there were some things that I notice that others don't when it comes to the architecture of the old building versus the new building," she said. "I'd often get asked, 'Why are you taking a picture of that?' and I'd just explain, 'Because people don't do it that way anymore.'"
While architecture is an interest, construction is a passion for Perez.
"I've always wanted to see how the building comes together from the ground up, not just how it looks on paper," she explained. "It's all a team effort to make sure it all works on time. Sometimes you have to go to the [concrete] pour at 2am just to make sure it's happening how it's supposed to."
Even though some college students may view internships as a fleeting summertime activity, Perez likens the role they play in building a career to the role everyone plays in building a new facility.
"Even if you hammered one nail, you should be proud to be part of the team," she said. "You should also be proud of the work you do as an intern. That's what's going stand the test of time in terms of your future career."