After leaving the nonprofit world for construction nearly 15 years ago, employee-owner Liz Harvey has continued her work to serve the community and help others do the same. Liz serves as a Business Development Representative for Sundt's commercial building operations in Dallas, and she is nearing the end of her term as the North Texas Sundt Foundation board member.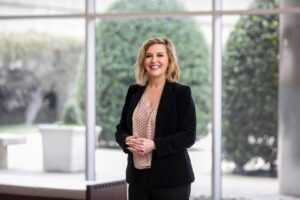 Just as Sundt builds infrastructure to sustain communities, Liz and her fellow foundation members help construct the "human infrastructure" required to help families and children in need. This week, Liz spoke with us to share about her experience as a Sundt Foundation board member, as well as the excitement she and her fellow employee-owners share for the future of Sundt's philanthropic efforts across North Texas.
How did you get into construction, and what led to your involvement with the Sundt Foundation?
My career journey began in the nonprofit world, working for an organization called Drug Prevention Resources. It was a smaller outfit, and I wore several hats. When the organization was going through some transitions, one of our board members contacted me about a business development position in the A/E/C industry; she said she knew I'd be good at it. So, I took the leap, and this industry was a great fit. My passion for nonprofit work never left, though. In the years that followed, I stayed involved in fundraising, event coordinating and volunteering with various charitable partners, including Hearts and Hammers, the Special Olympics, and ACE Mentoring of Dallas/Ft. Worth.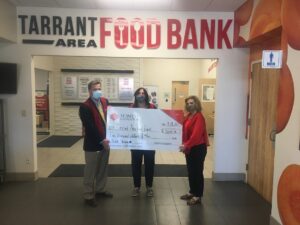 When I started with Sundt, our then Area Director Eric Hedlund encouraged me to get involved with the Sundt Foundation because of my background.  I began my involvement then and joined the board officially three years ago. At the time, there wasn't really a "how-to" manual to coordinate foundation matters for such a large giving area. But multiple people from this office and San Antonio came alongside me to build up our donor and volunteer involvement.
Looking back on the last five years, what volunteer experience has stuck with you the most?
There are so many, especially from our partnerships with GRACE Grapevine and Tarrant Area Food Bank. I'd say the one that impacted me most was when our team toured the Arlington Life Shelter when they were expanding their facility. You don't realize how homelessness affects all parts of a person's well-being, and it's especially devastating for children. Our foundation's grant to the shelter went to cover kids' trauma assessments, play therapy and counseling services.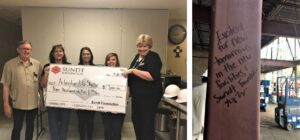 Essentially, the money our employee-owners gave went directly to change life outcomes for these kids. To see the reality of daily life for them and their families, and the difficulty of breaking out of that cycle—you just don't know people's stories until you've talked with them. It all just hit me when our team toured the shelter. I'm so grateful for organizations like Arlington Life Shelter, and proud that we were able to play a small part in their work.
With the events of the past year, and the hardships from Covid and the recent winter storms, how has the Foundation stepped up to help people in the Dallas-Ft. Worth area?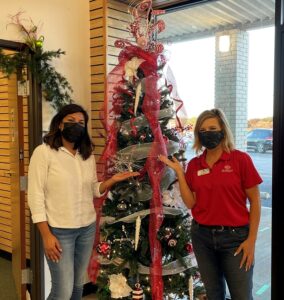 I'll start by saying: I'm blessed to work for an employee-owned company that does essential work. People at Sundt already have a heart for giving back. But to see these crises facing our community, and to go beyond our quarterly grants to provide emergency relief, it demonstrated the true purpose behind everything we do. The Sundt Foundation sent emergency storm relief donations to TAFB and the Help SA initiative, and these came after the foundation gave $200,000 in Covid relief last year to 20+ nonprofits across our regions, including food banks, nonprofits dealing with domestic violence, and organizations serving front-line healthcare workers. Our leadership didn't have to do that, but they chose to. I think that's just a part of who we are.
For the rest of 2021, what are you excited about?   
I'm excited to pass the torch to Barbara Terry, who will be replacing me on the board and will do an amazing job. In general, I look forward to seeing how our employee-owners will serve as good stewards of our time and resources. It can be a challenge, you know, serving such a large area that includes the metroplex and surrounding counties. A lot of our operations folks are busy building, but it's great to see leaders and project teams stepping up to serve the communities surrounding their projects.
When I see people like Josh Bunting or Holly Horsak and the ways their teams go above and beyond to serve their communities, I feel confident in the values that we're helping to spread. It really is a culture of giving back, and our people have bought into that. We serve as a bridge, connecting people in the community with the resources and help they need. Even though I won't be a board member, I'll still be a foundation member and will continue working toward that mission.
Liz's enthusiasm is contagious. She has done an outstanding job of leading our groups to identify opportunities that allow our time and money to make an impact. I appreciate her dedication to keeping us engaged in making a difference for the communities where we live and work.

– Joe Dooley, Vice President – Texas Regional Manager, Sundt Transportation Group
About the Sundt Foundation
Sundt's purpose is to build environments where its clients, employee-owners and communities prosper. The Sundt Foundation was established in 1999 as a way for employee-owners to give back to their communities. The organization is funded primarily by contributions from Sundt employees, which are matched by the company. To date, the Foundation has awarded more than $11 million in donations. Nonprofit organizations interested in applying for a grant may visit sundtfoundation.org for more information. Sundt has offices in Tempe and Tucson, Arizona; Salt Lake City, Utah; San Antonio, Dallas and El Paso, Texas; and Sacramento, San Diego and Irvine, California.