SALT LAKE CITY (March 25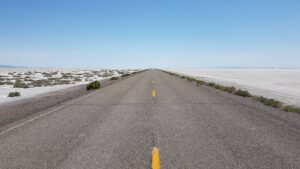 , 2021) – Sundt Construction, Inc., recently started work on a cable barrier project for the Utah Department of Transportation (UDOT) along Interstate 80 (I-80) near Wendover, Utah, in Eastern Tooele County.
"Our team is looking forward to starting another project on I-80 for UDOT," said Sundt Project Manager Thiago Bezerra. "Improving the safety of roads within our communities and making travel easier is something our team is passionate about."
The project will add 42 miles of cable barrier on both the westbound and eastbound shoulders between Milepost 0 to 20 of I-80 along the Bonneville Salt Flats to improve traffic safety. The project team will also improve the shoulder grading and add signage.
In the Fall of 2020, Sundt completed the I-80 westbound highway improvement project six months ahead of schedule. The project improved traffic flow by adding an exit-only lane on westbound I-80 and an auxiliary lane from the off-ramp of State Road 201 to the on-ramp of State Road 36. UDOT recognized the project as its Project of the Year. The Associated General Contractors of America (AGC) Utah Chapter awarded it its Highway Project of the Year for projects under $5 million. The publication Utah Construction and Design honored it as its Highway Project of the Year for projects under $10 million.
For more than two decades, Sundt has expanded and improved infrastructure in the Beehive State. The company performed the award-winning Redwood Road and I-215 Interchange project and in 2019 it broke ground on the new Water Reclamation Facility for Salt Lake City's Department of Public Utilities located in northern Salt Lake City. The $528 million facility will serve more than 200,000 customers over a 110-square-mile service area.
About Sundt
Sundt Construction, Inc. (www.sundt.com) is one of the country's largest and most respected general contractors. The 131-year-old firm specializes in transportation, industrial, building, concrete and renewable power work and is owned entirely by its approximately 2,000-plus employees. Sundt is distinguished by its diverse capabilities and experience, unique employee-ownership culture and depth of self-perform expertise in nine major trades. Much of Sundt's workforce is comprised of skilled craft professionals who, together with the company's administrative employees, enable Sundt to fulfill its mission to be the most skilled builder in America. Sundt has 11 offices throughout California, Arizona, Texas and Utah and is currently ranked the country's 52nd largest construction company by ENR, the industry's principal trade magazine.
###
Media Contact:
Kimberley Hoidal
Sundt Construction, Inc.
480.293.3001 (office)
520.282.3018 (mobile)
kahoidal@sundt.com