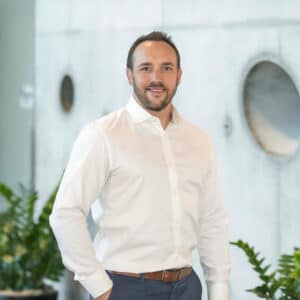 PHOENIX (March 22, 2021) – Sundt Construction, Inc., promoted Alex Charland to operations manager for its Industrial Group. In his new position Charland will be responsible for field and business operations for the group's mining, power and process sectors.
"Alex has demonstrated proven success on our water, mining and power projects," said Sundt's Industrial Group President Rich Keil. "I have no doubt that he will continue to deliver in his new role."
Charland has been in the construction industry for nearly two decades. He joined Sundt in 2007 as a field engineer for a water treatment project and has steadily advanced through several positions including project manager, senior project manager, project director and now operations manager. He has over $1 billion worth of direct project experience.
Charland earned his bachelor's degree in construction management from the University of Wisconsin-Stout and is OSHA 30 Hour certified. For over a decade, he has worked with Sundt's college intern recruitment efforts at his alma mater in Wisconsin. In early 2021, he was recognized by Engineering News-Record (ENR) Southwest as a Top Young Professional.
As an industrial construction expert for over 100 years, Sundt has raised the bar on scheduling, safety and efficiency as well as innovations to reduce natural resource consumption, minimize environmental impact and improve our overall quality of life. A recognized leader in critical infrastructure, the firm has worked on projects worth $4.5 billion over the last decade and is ranked No. 1 in the industrial category by Engineering News-Record Southwest, the industry's leading publication.
About Sundt
Sundt Construction, Inc. (www.sundt.com) is one of the country's largest and most respected general contractors. The 131-year-old firm specializes in transportation, industrial, building, concrete and renewable power work and is owned entirely by its approximately 2,000-plus employees. Sundt is distinguished by its diverse capabilities and experience, unique employee-ownership culture and depth of self-perform expertise in nine major trades. Much of Sundt's workforce is comprised of skilled craft professionals who, together with the company's administrative employees, enable Sundt to fulfill its mission to be the most skilled builder in America. Sundt has 11 offices throughout California, Arizona, Texas and Utah and is currently ranked the country's 52nd largest construction company by ENR, the industry's principal trade magazine.
###
Media Contact:
Kimberley Hoidal
Sundt Construction, Inc.
480.293.3001 (office)
520.282.3018 (mobile)
kahoidal@sundt.com