TEMPE, Ariz. (February 16, 2021) – Sundt Construction, Inc. promoted Jacob Nunn and Robert Heaton in its Tempe office. Both Nunn and Heaton had served as interns for the company.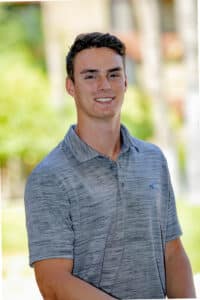 "Both Jacob and Robert were valuable interns on our team," said Stew Grauer, Vice President and Phoenix Regional Director. "We are thrilled to welcome them full time and looking forward to seeing them grow within the company."
After serving as an intern on Sundt's Grandview Terrace improvement project, Nunn was promoted to field engineer. He is currently working on the Royal Oaks Inspirata Point expansion. Nunn earned his bachelor's degree in industrial engineering from Arizona State University in 2020.
Also promoted to field engineer, Heaton served as an intern on multiple projects across the Valley. He assisted the project team on the Gila River Hotels & Casinos – Wild Horse Pass expansion, the Timothy J. Meenk training center for Sunstate Equipment, as well as a data center and a manufacturing facility.  After working on preconstruction efforts, Heaton is currently on-site working at Royal Oaks along with Nunn. He is pursuing his bachelor's degree in construction management from Arizona State University and anticipates graduating this year.
Sundt's award-winning internship program is currently recruiting its next group of interns. The program provides dedicated mentors and a structure that will prepare the next generation of construction professionals to move from graduation directly into purpose-driven work with an innovative builder. For more information on how to apply, visit www.sundt.com/careers/internships.
About Sundt
Sundt Construction, Inc. (www.sundt.com) is one of the country's largest and most respected general contractors. The 130-year-old firm specializes in transportation, industrial, building, concrete and renewable power work and is owned entirely by its 2,000-plus employees. Sundt is distinguished by its diverse capabilities and experience, unique employee-ownership culture and depth of self-perform expertise in nine major trades. Half of Sundt's workforce is comprised of skilled craft professionals who, together with the company's administrative employees, enable Sundt to fulfill its mission to be the most skilled builder in America. Sundt has 11 offices throughout California, Arizona, Texas and Utah and is currently ranked the country's 52nd largest construction company by ENR, the industry's principal trade magazine.
###
Media Contact:
Kimberley Hoidal
Sundt Construction, Inc.
480.293.3001 (office)
520.282.3018 (mobile)
kahoidal@sundt.com