HUBBARD, Texas (February 11, 2020) – Sundt Construction, Inc., completed the Texas Department of Transportation State Highway 31 (SH-31) bypass project located 30 miles east of Waco, Texas.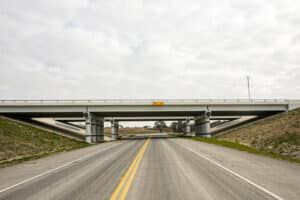 "With record rainfall and a remote site, our project team displayed tremendous grit to complete this project on schedule," said Joe Dooley, Vice President and Texas Regional Director for the Transportation Group. "The bypass allows traffic an alternate route to bypass downtown, providing relief for its residents and convenience for those passing by."
The $63.9-million project improved nearly 10 miles of SH-31. Sundt's team created a 5.5-mile realignment of the highway around the town, widening and reconstructing the existing two-lane rural highway to four lanes with 12 new bridges, 32 concrete culverts and over two million cubic yards of embankment.
The new bypass will help reduce congestion by routing through-traffic around Hubbard's southern end rather than through town. New grade separations at five existing intersections will improve safety by eliminating crossings with the highway and improved drainage to mitigate flooding.
Sundt has been instrumental in transforming Texas. The company has a long history of using innovative techniques to build iconic projects like  Reunion Tower, creating a gateway into Fort Worth with the 7th Street Bridge. The company is near completion on the Denton County Administration Complex Phase III and the State Highway 31 relief route improvements in Corsicana. Recently, Sundt completed the Beacon Recreation Center in Arlington, Texas and the CPS Energy headquarters in San Antonio.  The company has 50 years and nearly $3 billion of project work throughout Texas, with offices in Dallas, San Antonio and El Paso.
About Sundt
Sundt Construction, Inc. (www.sundt.com) is one of the country's largest and most respected general contractors. The 130-year-old firm specializes in transportation, industrial, building, concrete and renewable power work and is owned entirely by its 2,000-plus employees. Sundt is distinguished by its diverse capabilities and experience, unique employee-ownership culture and depth of self-perform expertise in nine major trades. Half of Sundt's workforce is comprised of skilled craft professionals who, together with the company's administrative employees, enable Sundt to fulfill its mission to be the most skilled builder in America. Sundt has 11 offices throughout California, Arizona, Texas and Utah and is currently ranked the country's 52nd largest construction company by ENR, the industry's principal trade magazine.
###
Media Contact:
Kimberley Hoidal
Sundt Construction, Inc.
480.293.3001 (office)
520.282.3018 (mobile)
kahoidal@sundt.com