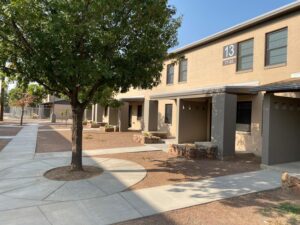 EL PASO, Texas (January 26, 2021) – Sundt Construction, Inc. recently completed its renovation of the Housing Authority of the City of El Paso's (HACEP) Sherman residential community.
"I'm proud of our team for showing resilience and preserving during these difficult times and placing a huge amount of importance on the job and end goal," said Luis Licon, Sundt's project manager. "The residents and their families now have the joy of a new home during these turbulent times."
The $27 million renovation project involved upgrades to 28 existing two-story apartment buildings and eight single-level apartments. Originally built in 1953, the apartments were formerly used as housing for military members and their families.  The construction manager at-risk project started in November 2018. El Paso's Carl Daniel Architects served as the architect of record.
In March 2018 Sundt completed the first phase of the community, demolishing and fully reconstructing 21 low-rise buildings. The Sherman complex now contains 178 modern units, making it one of the larger communities in HACEP's portfolio.
Sherman Ridge's renovation is part of HACEP's initiative to revitalize all affordable housing communities in its portfolio throughout the Borderplex, using funding from the U.S. Department of Housing and Urban Development's Rental Assistance Demonstration program. This is one of Sundt's eight projects with HACEP. The company is currently renovating the Tays apartments and has completed Father Pinto, Chelsea, Sun Plaza and Blue Flame property renovations.
During the past ten years, Sundt has completed millions of dollars in project work in the El Paso region. The company is currently working on the Texas Department of Transportation's I-10 Connect project and recently completed phase 1 of the Beast Urban Park, which is part of the Quality of Life bonds. The company has offices in El Paso, Dallas and San Antonio and over $3 billion of past work throughout Texas.
About Sundt
Sundt Construction, Inc. (www.sundt.com) is one of the country's largest and most respected general contractors. The 130-year-old firm specializes in transportation, industrial, building, concrete and renewable power work and is owned entirely by its 2,000-plus employees. Sundt is distinguished by its diverse capabilities and experience, unique employee-ownership culture and depth of self-perform expertise in nine major trades. Half of Sundt's workforce is comprised of skilled craft professionals who, together with the company's administrative employees, enable Sundt to fulfill its mission to be the most skilled builder in America. Sundt has 11 offices throughout California, Arizona, Texas and Utah and is currently ranked the country's 52nd largest construction company by ENR, the industry's principal trade magazine.
###
Media Contact:
Kimberley Hoidal
Sundt Construction, Inc.
480.293.3001 (office)
520.282.3018 (mobile)
kahoidal@sundt.com