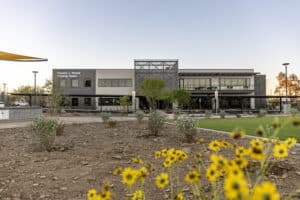 PHOENIX (December 21, 2020) – Sundt Construction, Inc., recently completed work on the Timothy J. Meenk Training Center for Sunstate Equipment, Inc., located on the corner of 56th and Washington Streets in Phoenix.
"We are happy to complete another successful project for Sunstate," said Ben Perrone, Sundt's Project Director. "Our team worked hard to deliver this critical facility for the organization. In addition to well needed safe workspace, they can provide cutting-edge training for their employees."
The construction manager at-risk project features a two-story 28,000-square-foot office building, parking lot and site improvements. The facility will serve as the national training headquarters for employees from across the country.  Sunstate's sales and administrative staff will also relocate into the new building.
Sundt has been building critical infrastructure across Arizona for more than 90 years. Headquartered in Tempe, the company continually ranks in the top five of ENR Southwest's Top Contractors. Sundt's current work in the Valley includes expansions for Gila River Hotels & Casinos – Wild Horse Pass and the Royal Oaks Community. Recently, the company completed the Canopy by Hilton Tempe and the award-winning Gilbert Road Light Rail Extension.
About Sundt
Sundt Construction, Inc. (www.sundt.com) is one of the country's largest and most respected general contractors. The 130-year-old firm specializes in transportation, industrial, building, concrete and renewable power work and is owned entirely by its 2,000-plus employees. Sundt is distinguished by its diverse capabilities and experience, unique employee-ownership culture and depth of self-perform expertise in nine major trades. Half of Sundt's workforce is comprised of skilled craft professionals who, together with the company's administrative employees, enable Sundt to fulfill its mission to be the most skilled builder in America. Sundt has 11 offices throughout California, Arizona, Texas and Utah and is currently ranked the country's 52nd largest construction company by ENR, the industry's principal trade magazine.
###
Media Contact:
Kimberley Hoidal
Sundt Construction, Inc.
480.293.3001 (office)
520.282.3018 (mobile)
kahoidal@sundt.com