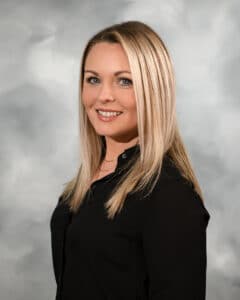 SACRAMENTO, Calif. (December 16, 2020) – Tanya Husum has joined Sundt Construction, Inc., as a business development representative in its Sacramento office. She will provide support to the district's leadership with client engagement and community relations.
"We're excited to have Tanya on board," said Jim Larrieu, Vice President and Northern California Regional Director for Sundt's Building Group. "Her extensive experience within the local construction industry will help Sundt continue to expand its resume in Northern California."
Husum brings over 10 years of experience in the construction industry. Before joining Sundt, she served as a strategic sales specialist. Husum was responsible for business development and account management to distribute building materials to general contractors, architects, engineers and other industry professionals. She developed lasting relationships with clients and industry partners across multiple organizations.
Husum earned her bachelor's degree in business administration and management from California State University, Sacramento, and is involved in multiple industry groups including California State Healthcare Engineers, International Interior Design Association and Construction Specifier Institute.
Sundt continues to enhance Northern California; currently, the company is building the Hornet Commons adjacent to the Sacramento State campus, the new Shasta County Courthouse in Redding and the new five-story wing at the Oroville Hospital. In the Bay Area, the company is working on the Southeast Water Pollution Control Plant and New Headworks Facility and constructing a senior living property for Avesta in Novato.  Sundt has over 70 years of diverse project experience throughout the state of California.
About Sundt
Sundt Construction, Inc. (www.sundt.com) is one of the country's largest and most respected general contractors. The 130-year-old firm specializes in transportation, industrial, building, concrete and renewable power work and is owned entirely by its 2,000-plus employees. Sundt is distinguished by its diverse capabilities and experience, unique employee-ownership culture and depth of self-perform expertise in nine major trades. Half of Sundt's workforce is comprised of skilled craft professionals who, together with the company's administrative employees, enable Sundt to fulfill its mission to be the most skilled builder in America. Sundt has 11 offices throughout California, Arizona, Texas and Utah and is currently ranked the country's 52nd largest construction company by ENR, the industry's principal trade magazine.
###
Media Contact:
Kimberley Hoidal
Sundt Construction, Inc.
480.293.3001 (office)
520.282.3018 (mobile)
kahoidal@sundt.com