TEMPE, Ariz. (December 10, 2020) – Sundt Construction's Ronald R. Stuff, the company's senior vice president, general counsel and chief compliance officer, was elected a Fellow of the American College of Construction Lawyers (ACCL).  He is only the fourth Arizona attorney to receive the honor.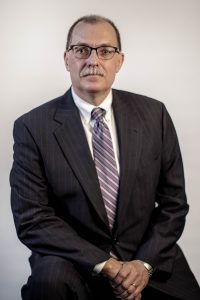 "I am equal parts honored and humbled to be invited into the College," said Stuff. "I've greatly admired both the organization and its Fellows for years. ACCL represents the highest levels of skills, professionalism, ethics and collegiality for an industry in which I have spent my entire professional life."
Stuff's construction experience spans nearly 40 years. He graduated from Georgia Tech with a bachelor's degree in civil engineering with highest honors. Stuff worked for several years as both a field engineer and structural designer before entering Harvard Law School, earning his Juris Doctor.
Stuff was in private practice for 12 years before moving in-house with an international engineering, procurement and construction company. He joined Sundt Construction in 2014 as its third general counsel in the 130-year life of the company. Stuff has been recognized in the fields of construction law by Chambers USA, Who's Who of Construction Lawyers, Best Lawyers in America® and has a Martindale-Hubbell Peer Review Rating of "AV," which represents the agency's highest ethical rating.
In 2017, he was named Arizona Corporate Counsel of the Year in the large private company category by the Arizona Chapter of the Association of Corporate Counsel, the State Bar of Arizona and Arizona Business Magazine. Stuff is a frequent author and speaker on construction topics, including corporate leadership, dispute resolution and risk management.
Founded in 1989, the ACCL is a national organization of lawyers who have demonstrated skill, experience, high standards of professional and ethical conduct in the practice or teaching of construction law, and dedication to excellence in construction law's specialized practice. The organization has a limited, invitation-only membership of approximately 250 lawyers from the United States, Canada, Great Britain, France and Australia.
About Sundt
Sundt Construction, Inc. (www.sundt.com) is one of the country's largest and most respected general contractors. The 130-year-old firm specializes in transportation, industrial, building, concrete and renewable power work and is owned entirely by its 2,000-plus employees. Sundt is distinguished by its diverse capabilities and experience, unique employee-ownership culture and depth of self-perform expertise in nine major trades. Half of Sundt's workforce is comprised of skilled craft professionals who, together with the company's administrative employees, enable Sundt to fulfill its mission to be the most skilled builder in America. Sundt has 11 offices throughout California, Arizona, Texas and Utah and is currently ranked the country's 52nd largest construction company by ENR, the industry's principal trade magazine.
###
Media Contact:
Kimberley Hoidal
Sundt Construction, Inc.
480.293.3001 (office)
520.282.3018 (mobile)
kahoidal@sundt.com