When people hear the term adaptive re-use, they often picture an old, crumbling building being gutted and transformed into something entirely new. Yet, in many cases, the process is a bit more nuanced. Tarrant County College (TCC) acquired the downtown Fort Worth headquarters of RadioShack in 2008; the property was new and state-of-the-art. The challenge was that it wasn't initially designed to be a college. Since then, the Trinity River development has become TCC's flagship campus, undergoing a series of changes, move-ins and upgrades to better serve students and instructors.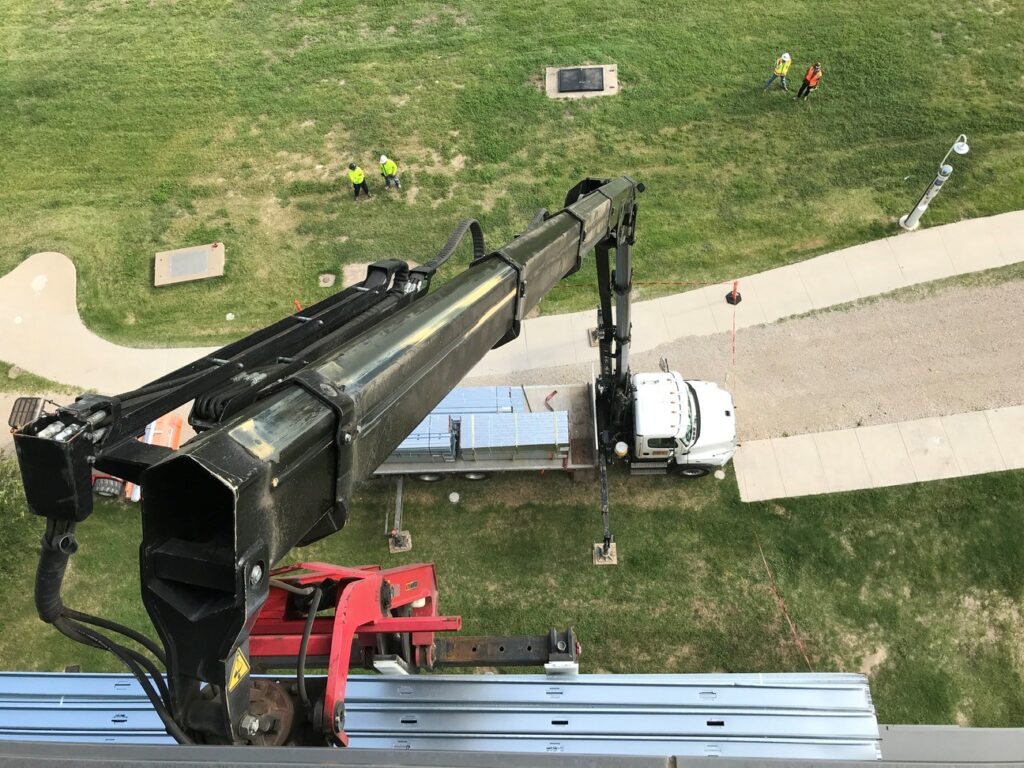 Beyond the classroom, though, there are many other key spaces and infrastructure required to run a college, let alone a district of six campuses serving over 100,000 students. As one of Texas's largest colleges, TCC offers 60 different career and technical programs, serving a wide range of students both in person and online. To do this successfully—even before the added challenge of COVID-19—has required TCC's leadership and support staff to become more collaborative and flexible in their approach.
For this reason, TCC chose Sundt to renovate their Trinity River administrative and support department workspaces. The project involves 177,000 square feet of renovation work spanning six floors of the Clear Fork and West Fork towers. Once finished in 2021, the modernized meeting spaces, new offices and updated technology will help TCC's leaders connect students with the skills they need. Especially now, Tarrant County's workforce will need to up-skill as the region faces an uphill climb toward full economic recovery.
Flexibility is the New Name of the Game
District leaders have set goals for their new space in anticipation of how colleges and workplaces will look in the future. "TCC is pretty advanced with their technology and facilities standards," said Emily Gilmore, Senior Associate with project architect Bennett Benner Partners. "A lot of their standards that we implemented on this project had already set them up for future flexibility."
The project involves relocating multiple departments to new, upgraded spaces. Working with leadership, administration, IT, security, and others, there are several distinct needs present at the same table. "Working with so many individuals and differing needs, we knew we had to offer big-picture solutions that would accommodate everyone," said Joseph Strub, Preconstruction Manager for Sundt's Texas District. "The right end product should meet specific needs while still bringing everyone together as a larger, cohesive unit."

Things like spacing, distributed gathering areas, more open spaces for collaboration throughout the building—and the ability to change office configurations as departments' needs evolve and teams grow—were all factored into the job. Energy efficiency was also a big point of emphasis. "TCC uses all data-enabled light fixtures, which allows them to program each fixture independently," said Emily. "It's not the most exciting item, and most people won't notice a huge difference. But from an energy usage and flexibility standpoint, this is a huge upgrade."
Low-Maintenance Systems and User-Friendly Tech
Technology changes fast, as do people's preferences. Anyone familiar with RadioShack's story would agree. But as things get more complex, the best tech remains simple and easy to use. The recent rise of certain video-conferencing apps is a case in point. TCC is mindful of this dynamic as it updates the Trinity River campus' AV capabilities.
"Essentially, every place that people can meet will have video-conferencing, and displays will have built-in PC's and uniform touchscreen controls," said Daniel Bruce of trade partner ABLe Communications. "The idea here is that collaboration should be really easy—whether people are working in person, calling in from another campus, or working remotely, or a hybrid of all three."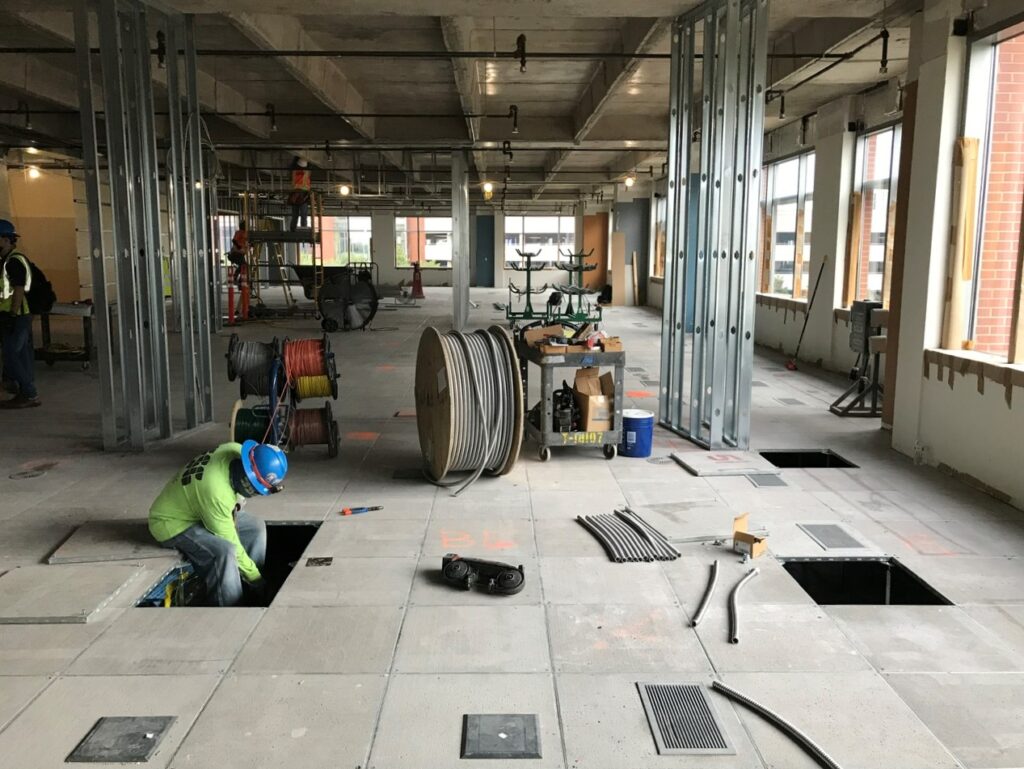 The uniform, user-friendly approach applies to spaces ranging from small conference rooms to bigger multipurpose rooms with demountable partitions, to the large boardroom with multiple mics, PTZ cameras, and displays. "It's crazy to think how things from just 10 years ago now are obsolete," said Daniel. "The new technology being implemented here will bring TCC's staff up to speed, and allow them to adjust to the future as systems and needs change."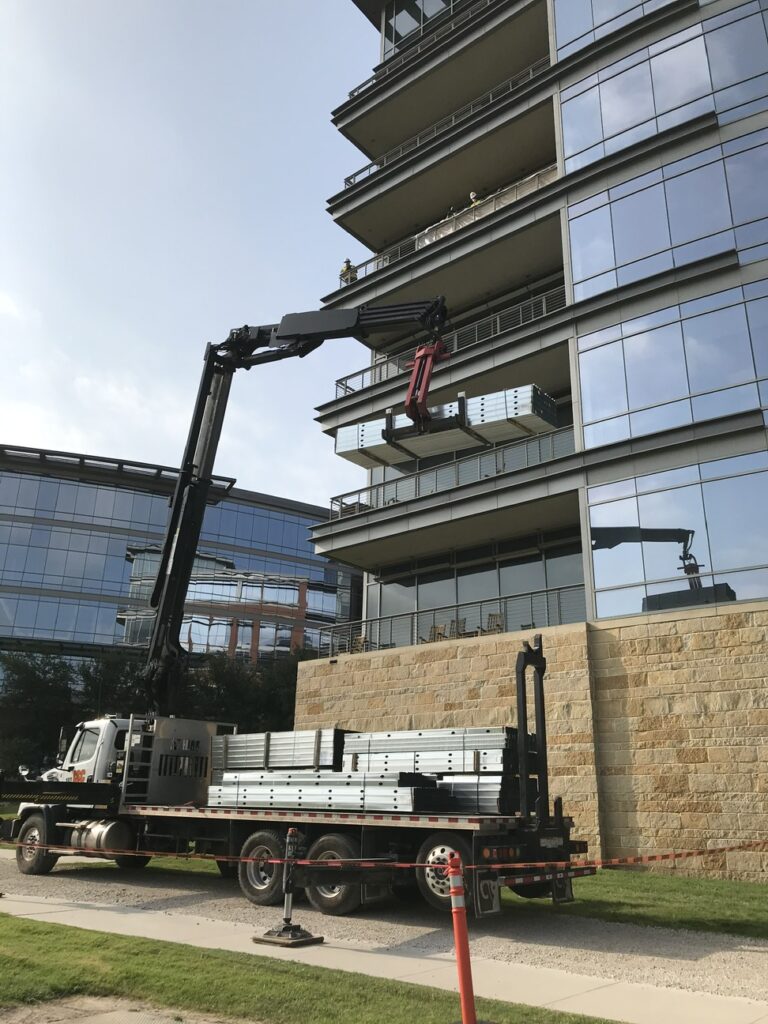 An Adaptive Re-use for a College Adapting to the Future
While the project may not fit the traditional picture of adaptive re-use, the transformation going on here at TCC is no less significant. The renovation work strengthens the college's culture as much as it meets operational needs.
"The campus was never very old when TCC purchased it, but it always had a different identity to it," said Emily. "This project is going to give TCC a new brand identity within the space. And, when all is said and done, it's going to better equip them to achieve their mission as a provider of affordable higher education in a changing world."