SAN DIEGO (October 14, 2020) – Ryan Nessen has been selected to lead the California District for Sundt Construction's Building Group. As Senior Vice President and California District Manager, Nessen will provide direction to the district's leadership team and is responsible for the district's overall performance, including acquiring and executing work.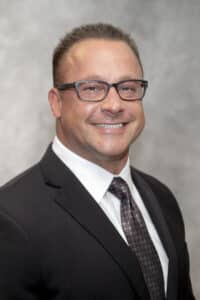 "Ryan has done an outstanding job as the regional director for Southern California," said Teri Jones, Sundt's Building Group President. "With his strong leadership qualities and depth of experience, I am confident he will lead the way to more success for California."
Nessen brings over 25 years of construction experience to his new role, including 17 years at Sundt. He has overseen numerous high-profile projects for Sundt, including three at the San Diego International Airport: the Terminal Two Landside expansion, the Rental Car Center and the Air Support Facility, currently in progress.
Nessen has diverse project experience, having managed Sundt's San Diego State University Aztec Student Union and the South Campus Plaza/Student Housing project, as well as San Diego Community College District's City College Math and Social Sciences building and parking structure. Additionally, he serves on the Board of Directors for the Sundt Foundation, which awards grants to nonprofit organizations dedicated to helping the disadvantaged and responding to natural disasters.
Nessen started his career in the field as a U.S. Navy Seabee Builder 1st Class. He has since served as a project superintendent, project manager, vice president, operations manager and Southern California regional manager. Nessen is a certified LEED® Accredited Professional (AP), DBIA Professional, and both a Certified Construction Manager (CCM) and a Certified Professional Constructor (CPC). He earned his associate degree in construction management from San Diego Mesa College and received his bachelor's degree in business management and MBA from the University of Phoenix.
For over 70 years, Sundt has delivered diverse projects throughout California. The company continues this work today on the San Diego International Airport's support facilities, the new five-story wing at the Oroville Hospital, Southeast Water Pollution Control Plant and New Headworks Facility and the new Science, Engineering and Math (SEM) building and Veterans Resource Center (VRC) on the Cypress College campus.
About Sundt
Sundt Construction, Inc. (www.sundt.com) is one of the country's largest and most respected general contractors. The 130-year-old firm specializes in transportation, industrial, building, concrete and renewable power work and is owned entirely by its 2,000-plus employees. Sundt is distinguished by its diverse capabilities and experience, unique employee-ownership culture and depth of self-perform expertise in nine major trades. Half of Sundt's workforce is comprised of skilled craft professionals who, together with the company's administrative employees, enable Sundt to fulfill its mission to be the most skilled builder in America. Sundt has 11 offices throughout California, Arizona, Texas and Utah and is currently ranked the country's 52nd largest construction company by ENR, the industry's principal trade magazine.
###
Media Contact:
Kimberley Hoidal
Sundt Construction, Inc.
480.293.3001 (office)
520.282.3018 (mobile)
kahoidal@sundt.com