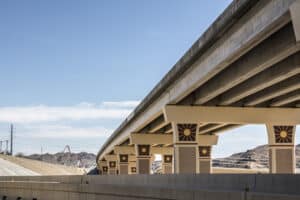 EL PASO, Texas (September 22, 2020) – Engineering News-Record (ENR) Texas & Louisiana named the Texas Department of Transportation's Go 10 Collector-Distributor (CD) Lanes project as its 2020 best project in the Highway/Bridges category and selected the Housing Authority of the City of El Paso's (HACEP) Blue Flame renovation for a 2020 safety excellence award of merit. Both of the projects were constructed by general contractor Sundt Construction. ENR is the construction industry's principal trade publication.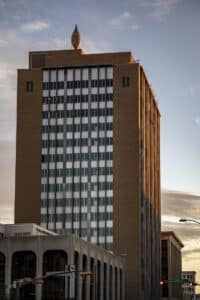 "Our team worked very hard on the Go 10 collector-distributor project," said Mark Soyster, Sundt Transportation Group's El Paso area manager. "It's an honor to be awarded for our efforts on this project and to improve the I-10 for the people who use it every day."
Go 10 was a four-year reconstruction of I-10 spanning nearly six miles. It included building collector-distributor lanes throughout the corridor, improving direct connection with Paisano Drive and Border West Expressway, adding lanes in both directions and reconfiguring ramps and overpasses at three major exits. The new CD lanes allow better traffic flow and give first responders better access and more room to address incidents.
The HACEP Blue Flame mixed-used project involved the complete renovation of the iconic 18-story former headquarters of El Paso Natural Gas. New construction includes ground-level retail spaces and 120 affordable apartments, primarily for elderly and disabled tenants. The team recently completed improvements to leased office spaces on floors 14-16 and a community room with an elevated balcony on the 17th floor.
Over the past 10 years, Sundt has completed over a billion dollars in project work in the El Paso region. Currently, the company is in the process of completing Phase 1 of Eastside Regional Park, part of the city's Quality of Life bond measure. Sundt has offices in El Paso, Fort Worth, Irving and San Antonio and has completed over $3 billion of work throughout the Lone Star state.
About Sundt
Sundt Construction, Inc. (www.sundt.com) is one of the country's largest and most respected general contractors. The 130-year-old firm specializes in transportation, industrial, building, concrete and renewable power work and is owned entirely by its 2,000-plus employees. Sundt is distinguished by its diverse capabilities and experience, unique employee-ownership culture and depth of self-perform expertise in nine major trades. Half of Sundt's workforce is comprised of skilled craft professionals who, together with the company's administrative employees, enable Sundt to fulfill its mission to be the most skilled builder in America. Sundt has 11 offices throughout California, Arizona, Texas and Utah and is currently ranked the country's 52nd largest construction company by ENR, the industry's principal trade magazine.
###
Media Contact:
Kimberley Hoidal
Sundt Construction, Inc.
480.293.3001 (office)
520.282.3018 (mobile)
kahoidal@sundt.com