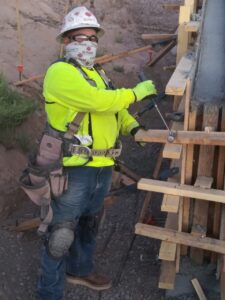 "Lupe has a true 'can-do' mind set," said Concrete General Superintendent Scott Little. "He's the employee-owner who does whatever it takes to get the job done, and no matter what the task is, you never hear him complain." Like many people, Lupe got into construction in search of better pay and benefits, and in time he grew to genuinely enjoy the work. We sat down with him via video-chat this week and discussed some of the highlights of his career and the lessons he's learned.
Since you first started in the field, what has been your favorite project or best memory thus far?
There are so many. I'm proud of everything we've built, from the water treatment plants, to the work at the airport, to all the work we've done at Arizona State University. But the one project that sticks out was a long time ago—it was the clubhouse we built for the FireRock Country Club in Fountain Hills, Arizona. It was just different; we'd never built anything like it.
Out of all those projects you've worked on, what's been the most challenging thing you've done?
I'd say any time I've worked with a smaller team but had a heavier workload. Flying tables is definitely the most challenging process. You start with the deck, then place the concrete on it, then strip the deck by dropping the table and flying out of the structure, then flying it on top of the concrete you placed the week before. It's a lot of work.
Now, as an expert in your trade, what are some important lessons you'd like to pass on to people who are new to the industry?
I enjoy working with the new guys and passing on what I've learned. I try to teach by example. And safety is the most important lesson of all. Just always make sure you're safe. Any time you're working around scaffolding of any kind, double-check that everything is secured. I'm proud to say that I've never had a major safety incident in my career.
What's the best part of working for a 100% employee-owned company?
You know, the longer I'm here the better it gets. I love getting up early and getting out to the jobsite. I'm proud of my work, and I like what I do. Some people tease me about when I'm going to retire, but I enjoy being a carpenter, and I enjoy the people I work with. So I think I'll keep going!