IRVING, Texas (January 15, 2020) – Sundt Construction, Inc. has added Joseph Strub as preconstruction project manager to its Dallas-Fort Worth region.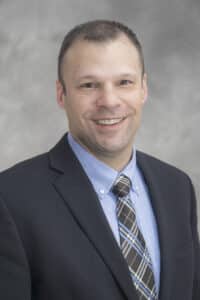 "Joe will be a great addition to our preconstruction team in North Texas," said Jon McKelvain, Vice President and Preconstruction Manager. "His diverse background in project types, and in various geographies, over his career will allow him to bring new points of view to the team."
Prior to joining Sundt's Texas District, Strub served as a chief estimator, director of preconstruction, project manager, estimator and project engineer. As preconstruction project manager, he brings experience in budget management, continuous cost modeling, LEAN integration, Target Value Design (TVD) and leadership in design management throughout preconstruction. Strub's project sector experience includes hospitals, office buildings, flight training facilities, higher education, hospitality and museums ranging from $5 million to $230 million.
Strub graduated from Iowa State University with a bachelor's degree in construction engineering and is a LEED Accredited Professional and is OSHA 30 certified.
Sundt has 50 years and nearly $3 billion of project work throughout Texas, with offices in Fort Worth, Irving, San Antonio and El Paso. The company recently completed the University of North Texas Biomedical Engineering Addition in Denton and is working on the Southeast Recreation Center in Arlington, Texas and the Denton County Administration Complex Phase III.
About Sundt
Sundt Construction, Inc. (www.sundt.com) is one of the country's largest and most respected general contractors. The 129-year-old firm specializes in building, transportation, industrial and concrete work and is owned entirely by its 2,000-plus employees. Sundt is distinguished by its diverse capabilities and experience, unique employee-ownership culture and depth of self-perform expertise in nine major trades. Half of Sundt's workforce is comprised of skilled craft professionals who, together with the company's administrative employees, enable Sundt to fulfill its mission to be the most skilled builder in America. Sundt has 11 offices throughout Texas, Arizona, California and Utah and is currently ranked the country's 54th largest construction company by ENR, the industry's principal trade magazine.
###
Media Contact:
Kimberley Hoidal
Sundt Construction, Inc.
520.750.4623 (office)
520.282.3018 (mobile)
kahoidal@sundt.com