SAN ANTONIO (December 19, 2019) – Sundt Construction, Inc. completed construction on the One Riverwalk Place parking structure in San Antonio. The parking structure is located at 700 N St. Mary's St. near the USAA office tower.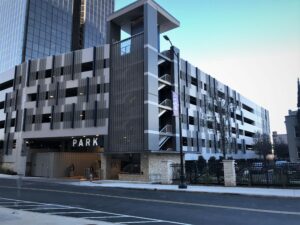 "The project team worked hard to provide these additions for One Riverwalk Place," said David Musch, Project Manager. "The demand for upgraded infrastructure in response to recent growth along the Riverwalk is evident throughout downtown San Antonio. We're proud to play a role in addressing this need."
Sundt served as the construction manager at risk on the project. The team began the project with the relocation of a new cooling tower and various utilities, before demolition and then construction of a new six-story addition for the structure, which will include a new elevator and access to the Riverwalk. The newly completed garage adds 200 new spaces along with upgrades and architectural features.
In Texas, Sundt has 50 years and nearly $3 billion of project experience, with offices in San Antonio, Fort Worth, Irving and El Paso. The company is currently busy in the downtown San Antonio area working on the San Pedro Creek Improvements, Canopy by Hilton Downtown San Antonio and the CPS Energy Headquarters renovations.
About Sundt
Sundt Construction, Inc. (www.sundt.com) is one of the country's largest and most respected general contractors. The 129-year-old firm specializes in transportation, industrial, building and concrete work and is owned entirely by its 2,000-plus employees. Sundt is distinguished by its diverse capabilities and experience, unique employee-ownership culture and depth of self-perform expertise in nine major trades. Half of Sundt's workforce is composed of skilled craft professionals who, together with the company's administrative employees, enable Sundt to fulfill its mission to be the most skilled builder in America. Sundt has 11 offices throughout Arizona, California, Texas and Utah and is currently ranked the country's 54th largest construction company by ENR, the industry's principal trade magazine.
###
Media Contact:
Kimberley Hoidal
Sundt Construction, Inc.
520.750.4623 (office)
520.282.3018 (mobile)
kahoidal@sundt.com