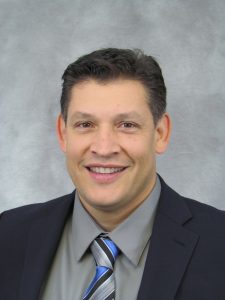 Sundt Project Director and former UTEP football standout Joe Riccillo is tackling a new challenge: increasing his company's philanthropic efforts on a local and national level as the new Vice President of the Sundt Foundation. With nearly a decade of charitable work in El Paso, the Sundt Foundation has made a significant impact with local nonprofits. This week, Joe took some time out of his busy schedule to talk about his role in both building and giving back to the community.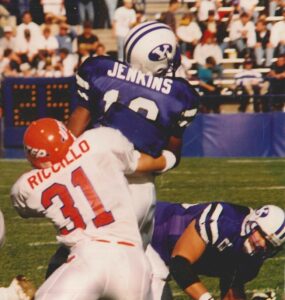 For those who don't know you, how long have you been in El Paso, and how long have you worked in construction?
I've lived in El Paso coming up on 30 years, minus a couple, and I've been in construction since 1998. It's kind of a funny story. I moved up to Denver and was doing NFL tryouts after playing college football at UTEP, and I realized I needed a job. With my electrical engineering degree, the first position I found was with an electrical subcontractor. Then I moved back to El Paso and began working for a general contractor. So that's how I started in this field. What keeps me in this field is that it's always changing. Every day, every project presents something new and challenging. Also, this field is largely about people and relationships, and I love that aspect—working as a team for a common purpose.
Speaking of which, is there a past Sundt project here that you're really proud of? 
For me, the El Paso Regional Communication Center is one that stands out, especially in light of recent events. It was one of our first county/municipal projects in El Paso, and there were many local leaders heavily involved in its design. When the tragic shooting occurred in August, that facility—in the middle of a catastrophe—really shined. The staff there had certain capabilities they wouldn't have had with their former facility. It was a proud moment for us to hear how the new building played a role in aiding first responders and both local and federal law enforcement.
What stands out to you about El Paso as a city?
I think El Paso is one of the most welcoming places I've ever been. You won't find a more kind or friendly community—and this is what people tell me too when they come to visit us here. From a business standpoint, we're at the epicenter of a larger binational community of about three million people between El Paso, Las Cruces and Juárez across the border. These cities and markets are intertwined, and we rely on each other in so many ways. Also, El Paso as a community has really a high level of involvement with charitable giving and volunteering.
On that note, tell me about the Sundt Foundation's presence here in El Paso: why is this such a big priority?
Giving back is part of our company's purpose. By embedding this in our workplace culture and contributing together, we're able to help out on a much greater level. Having employees take ownership of the grant selection process makes a big difference as well. I'm impressed with how Sundt's people have stepped up, but we're always looking to increase participation. As Sundt grows our business in this region, our work to create prosperity for communities has to grow alongside that. So, scaling up our involvement and our giving here is a big part of my new role as Sundt Foundation VP.
What are some causes or organizations where we've been able to make an impact?
We're in a unique position to help out; we have the resources to give generously but also the ability to be nimble and respond quickly. This allowed us to give a special emergency grant to help victims of the mass shooting within days of the event. And there are so many other cool stories. We supported a group of doctors from Texas Tech El Paso who adopted a clinic and performed free mammograms for under-served women. We're also involved with Big Brothers Big Sisters, and we were the first "client" of Oso Good, a culinary program started at Bowie High School. We support an organization called Reynolds Home, which houses homeless women and children, including some who are fleeing domestic violence. Most recently we helped host the Big Dig event for kids with the American Cancer Society, the first of its kind in El Paso. And those are just a few—but every time we award grants or volunteer with these organizations, I'm just blown away by the amount of impact they make with the level of resources they have. Giving a little bit really does go a long way; a lot of times it makes you stop and think about what you have, and it makes you want to do more.
The Sundt Foundation just celebrated its 20th anniversary. What was significant about this milestone?
We did a yearlong, company-wide campaign to increase employee participation and reach $10 million in total grants awarded since the foundation started in 1999. At every level of the company, we challenged people to get involved. Last month it was announced we surpassed our $10 million goal, and we made notable increases in craft and admin participation here in El Paso and our other regions. Lots of factors were involved, with events like our Shave It or Save It Fundraiser. What really made the difference though was multiple small contributions spread out across the company. It was a big achievement to hit our giving goal, but our company has also grown a lot in the past few years. The way I see it is: this is great, but we're just getting started.
Moving forward, what foundation work are you most excited about for the new year? 
The goal is to still to increase participation, which requires us to get the word out at the jobsite level. Communicating with our front lines and those who are new to Sundt is a big point of emphasis. Also, getting the word out within the community: more and more organizations are realizing how we operate, and they're seeing how easy it is to apply for a Sundt Foundation grant. But we can always do more. El Paso feels like a city with the heart of a small town. When tragedies happen, when under-served people need help, when families and kids face hardships, our city is one that steps up. We don't shy away from people in need—we move toward them. So, tapping into that spirit here is key, and my goal is to further identify causes that our employee-owners are close to. That way we can create even more involvement and have an even greater impact.