SALT LAKE CITY (November 22, 2019) – The Sundt Foundation awarded $17,000 to three Salt Lake City nonprofits during its fourth-quarter disbursements.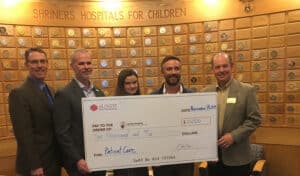 "This quarter marks the Intermountain Region's largest quarter in grant distributions to date, which provided grants to three different organizations supporting disadvantaged children," said Dustin Murphy, Sundt Foundation board member. "It's exciting to watch Sundt's presence in Utah continue to grow as well as our contributions to communities in this region."
The Sundt Foundation awards grants quarterly to area charities that support disadvantaged children and families. Nonprofits are selected through an application process and reviewed by a committee of Sundt employee-owners.
Fourth-quarter grants include:
Shriners Hospital for Children, which received $10,000, provides care to children with neuromusculoskeletal conditions, burn injuries and other special healthcare needs.
Ronald McDonald House, which received $5,000, provides affordable lodging and services to families who have critically ill or injured children being treated at one of Salt Lake City's five pediatric hospitals.
Intermountain Healthcare Foundation, Inc., which received $2,000, provides medical care to children who are victims of sexual abuse and provides support to local children's hospitals.
About the Sundt Foundation
Sundt's purpose is to build environments where its clients, employee-owners and communities prosper. The Sundt Foundation was established in 1999 as a way for employee-owners to give back to the communities in which they live and work. The organization is funded primarily by contributions from Sundt employees, which are matched by the company. To date, the Foundation has awarded more than $10 million in donations. Nonprofit organizations interested in applying for a grant may call (480) 293-3000 or visit https://www.sundt.com/social-responsibility/community-involvement/ for more information. Sundt has offices in Tempe and Tucson, Arizona; Salt Lake City, Utah; San Antonio, Fort Worth, Irving and El Paso, Texas and Sacramento, San Diego and Irvine, California.
About Sundt
Sundt Construction, Inc. (www.sundt.com) is one of the country's largest and most respected general contractors. The 129-year-old firm specializes in building, transportation, industrial and concrete work and is owned entirely by its 2,000-plus employees. Sundt is distinguished by its diverse capabilities and experience, unique employee-ownership culture and depth of self-perform expertise in nine major trades. Half of Sundt's workforce is comprised of skilled craft professionals who, together with the company's administrative employees, enable Sundt to fulfill its mission to be the most skilled builder in America. Sundt has 11 offices throughout California, Arizona, Texas and Utah and is currently ranked the country's 54th largest construction company by ENR, the industry's principal trade magazine.
###