TEMPE, Ariz. (November 7, 2019) – Richard Carlucci recently joined the Sundt Infrastructure Development Group as a bid director. He will be responsible for public-private partnership (P3) bids and private development opportunities.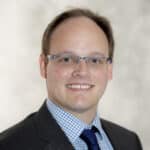 "Richard has significant experience in the P3 market," said James Geer, Senior Vice President and Sundt Infrastructure Development Group Manager. "His deep understanding of project financing and development will make an immediate positive impact on our group."
Carlucci brings a range of skillsets to his new role, including project finance, commercial negotiations with owners and partners, proposal development, strategic partner evaluation, and alternative technical concept development. He joins Sundt from Ashurst LLP, where he led a team advising the State of Maryland on its $10 billion I-495/I-270 P3 project. Prior to this, Carlucci was a Commercial Director at Skanska Infrastructure Development where he served in leadership roles on bidding teams for both the automated people mover (APM) and consolidated rent-a-car (ConRAC) projects at Los Angeles International Airport. His knowledge stretches across a broad range of markets including aviation, transit, toll road/highway, and petrochemical.
Carlucci earned his bachelor's in economics and political science from the University of North Carolina at Chapel Hill. From there, he earned his juris doctor degree from Brooklyn Law School in New York.
About Sundt
Sundt Construction, Inc. (www.sundt.com) is one of the country's largest and most respected general contractors. The 129-year-old firm specializes in building, transportation, industrial and concrete work and is owned entirely by its 2,000-plus employees. Sundt is distinguished by its diverse capabilities and experience, unique employee-ownership culture and depth of self-perform expertise in nine major trades. Half of Sundt's workforce is comprised of skilled craft professionals who, together with the company's administrative employees, enable Sundt to fulfill its mission to be the most skilled builder in America. Sundt has 11 offices throughout California, Arizona, Texas and Utah and is currently ranked the country's 54th largest construction company by ENR, the industry's principal trade magazine.
###
Media Contact:
Kimberley Hoidal
Sundt Construction, Inc.
520.750.4623 (office)
520.282.3018 (mobile)
kahoidal@sundt.com