NEW BRAUNFELS, Texas (September 19, 2019) – The joint venture of Yates-Sundt Construction recently reached a milestone by raising the final slab of its innovative foundation at the Comal County Jail project, located off of the Interstate 35 frontage road in New Braunfels.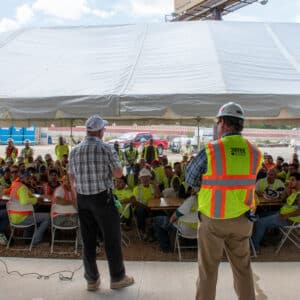 "This is a milestone for our team since it's the region's first use of this foundation system in commercial building," said Jon McKelvain, Sundt's Vice President and Preconstruction Manager. "We wanted to make sure the foundation wouldn't fall prey to our clay soil and still have the same structural integrity and reliability of a traditional suspended foundation."
Because of the clay soil found in the area, which expands and contracts with seasonal moisture, the joint venture decided to use a Tella Firma Foundation. The innovative foundation system incorporates steel helical piers and lifting mechanisms to elevate the concrete slab, creating a 10-inch void space to accommodate for the active clay soil without damaging the foundation.
Once complete, the new jail resting on this foundation will bring increased capacity with room to expand, updated technology and modern design. The facility will operate on a pod system, with four pods divided into six sections. Each pod will be able to hold up to 144 inmates. The pods will have dayrooms, recreational areas, visitation links that allow families to visit via a video feed and other amenities. If needed, the county can add two more pods. Staff will be able to supervise the housing pods and exercise yards from a second-floor control room, a safer and more efficient option.
HDR is the architect of record for the project, which broke ground in 2017.  The facility is expected to start operations in the summer of 2020.
Sundt has 50 years and nearly $3 billion of project work throughout Texas, with offices in San Antonio, Fort Worth, Irving and El Paso. The company is currently working on the CPS Headquarters renovation, Canopy by Hilton San Antonio Riverwalk and San Pedro Creek Culture Park in San Antonio.
About Sundt
Sundt Construction, Inc. (www.sundt.com) is one of the country's largest and most respected general contractors. The 129-year-old firm specializes in building, transportation, industrial and concrete work and is owned entirely by its 2,000+ employees. Sundt is distinguished by its diverse capabilities and experience, unique employee-ownership culture and depth of self-perform expertise in nine major trades. Half of Sundt's workforce is comprised of skilled craft professionals who, together with the company's administrative employees, enable Sundt to fulfill its mission to be the most skilled builder in America. Sundt has 11 offices throughout Texas, Arizona, California and Utah and is currently ranked the country's 54th largest construction company by ENR, the industry's principal trade magazine.
###
Media Contact:
Kimberley Hoidal
Sundt Construction, Inc.
520.750.4623 (office)
520.282.3018 (mobile)
kahoidal@sundt.com